Smoothies are a great source of nutrients that are essential for the optimum performance of your body and also ensure your overall sound health. However, the same smoothies can be a significant threat to your health, depending on what you put inside your Pampered Chef Cooking Blender — the ingredients.
Want to learn how to make smoothies? It's super simple.
All you need is a fruit or vegetable (depending on the type of smoothie you're making), a blender, and a base—which can be water, yogurt, or even milk. Get your proportions right, especially for the base, and blend in the ingredients of your choice.
You can choose your ingredients depending on your nutrition goals, favorite flavors, or texture needs—or based on the fruits and vegetables readily available around your kitchen to minimize food wastage.
Remember, the quality of your smoothie will greatly depend on the type of blender you use—and so get the best blender. You don't necessarily have to own the most expensive but a reasonable one that will bring out the perfect taste of your smoothie.
Why choose the Pampered Chef Deluxe Cooking Blender?
Blenders may look the same, but they aren't equal. Their efficiency varies with quality, and so go for something quality that will give you a smooth and tasty drink within the shortest time possible.
If you choose to settle for a cheaper blender (which could get the job done), then prepare to be patient, especially when it comes to blending frozen fruits or breaking down ice cubes. It will take more time as compared to when you use a blender with a powerful motor.
The latter liquefies and crushes through your ice cubes within seconds, and requires no particular order of placing in the ingredients. Yes, there is some order to follow when using a cheap or low-quality blender—whereby you first put in the liquid then follow with your frozen fruit or ice cubes.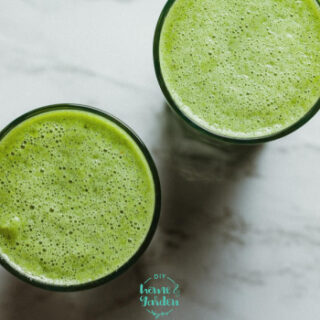 How to Make Smoothies with the Pampered Chef Cooking Blender
Here, you will find basic operational instructions for using your Pampered Chef Cooking Blender to make delicious and nutritious smoothies
Materials
Fruits or vegetables of your choice, about one to two cups, sliced
1/2 to 1 cup of milk of your choice (dairy or non-dairy, like cashew or almond or oat milk)
Flavorings, like cinnamon, honey, or syrups
Tools
Pampered Chef Deluxe Cooking Blender
Instructions
PREP: Clean and pit all fruits, you should have a total about two cups of fruits and/or vegetables. Measure the milk or vegan milk alternative--and any additional flavorings--that you prefer.
ADD: Put all the ingredients you chose into the Pampered Chef Deluxe Cooking Blender.
ATTACH: Place the blender onto the base unit, locking the lid into place firmly.
SET AND BLEND: Set the dial to the smoothie setting, then press it to start the blending cycle.
SERVE: At the end of blending, pour into a glass, garnish, and serve.
The Best Blender for Smoothies: The Pampered Chef Deluxe Cooking Blender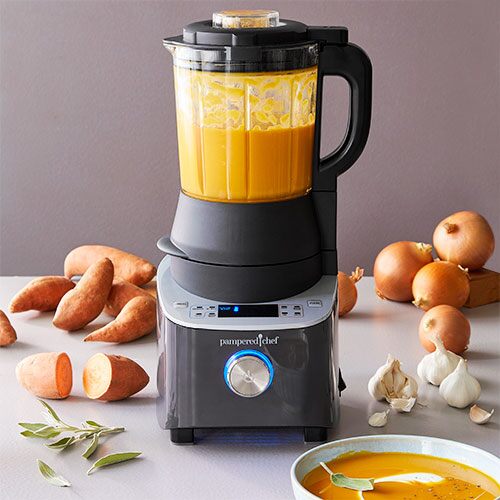 The Pampered Chef Deluxe Cooking Blender is a cut above the usual smoothie blender. In fact, many smoothie aficionados consider it the best blender for making creamy smoothies. It has a Smoothie setting that runs for the exact amount of time that it takes to turn out most concoctions. However, you can also override that with a custom setting.
When you're not blending smoothies, you'll find many other uses for the Pampered Chef Deluxe Cooking Blender. You can make homemade baby foods, jams, jellies, soups, and more. Unlike many brands, the Pampered Chef Cooking Blender can actually cook foods. Hence the name 🙂
I digress. Let's stick with why this is the best blender for smoothies for today.
This unit features a powerful motor. It makes quick work not only of pulverizing plant materials into a smooth texture but also in dealing with ice. Ice chunks in a smoothie are annoying and distract from the flavor.
The unit also arrives from Amazon with a couple of useful accessories for smoothie blending.
You receive a strainer bag to filter out any remaining stems or large particles. Just place it in your glass, pour in the contents from the blender, and carefully lift the strainer bag out. It will catch anything that might remain.
You'll also get a cool cleaning brush. It has bristles on one end and a pick on the other. This enables you to get any bits of debris from underneath the super-sharp blades without injury.
Smoothies and nutrition
What do you gain by consuming your favorite smoothie? Here are some nutritional facts about smoothies.
Fruit smoothies
Fruits are high in vitamins and minerals that are much-needed by your body to stay healthy daily. They also contain antioxidants that help protect cells from the damage often caused by the harmful free radicals and, in turn, reduce your susceptibility to cancer.
Below are some of the nutrient-rich fruit categories to help with your choice of ingredients:
Tropical fruits—these fruits are high in potassium, vitamin C, folate, and manganese to help manage your blood sugar; nourish your bones, thyroid gland, and nerves while also ensuring their optimum performance. They include pineapple, kiwi fruit, papaya, avocado, coconut, mangoes, and bananas.
Citrus fruits—they include oranges, tangerines, lemons, and grapefruit. Citrus fruits are rich in folate, potassium, and vitamin C that help promote healthy cells, support your heart function (by managing your blood pressure), and boost your immune system, respectively.
Pomes fruits—these are excellent sources of potassium and vitamin C, which help build a robust immune system and keep your blood pressure in check. They include apples, pears, and loquats.
Melons—are also rich in vitamin C and include watermelon, honeydew, and cantaloupe.
Drupes—include plums, cherries, nectarines, apricots, and peaches. Their fiber contents and antioxidant properties help reduce cholesterol levels and protect against arterial damage, respectively.
Green smoothies
Just like the name implies, these smoothies usually exhibit a green color, stemming from the green fruits and vegetables they're made from.
They're another great source of minerals, vitamins, and antioxidants—which work together to power up your body system.
In addition to enhancing your daily intake of fruits and vegetables, consumption of green smoothies also come with several health benefits which include:
Five Top Benefits of Consuming Healthy Smoothies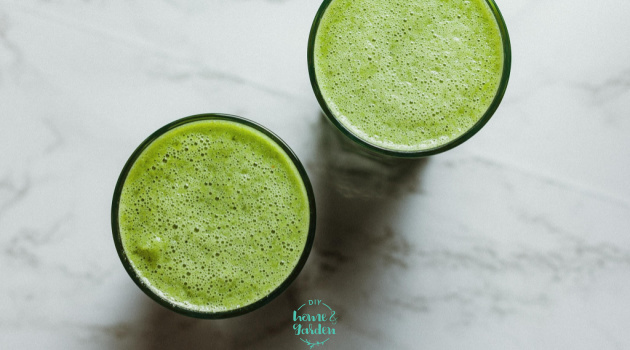 Give these a try to enjoy better health.
1 – Enhances digestion
If you've ever suffered from constipation, then you must have heard of the famous saying that goes 'you should take lots of fruits and veggies.' But ever wondered why? Well, fruits and veggies carry the essential fiber nutrient. Unlike juices, smoothies utilize the whole fiber in the fruits and vegetables, thus helps improve digestion while also offering relief to the common digestive disorder symptoms.
2 – Hydration
Chances are high that you don't always hit the recommended eight 8-ounce glasses of water a day, right? And sometimes, consuming even two drinks can be a struggle. Yes…! However, with smoothies, you're hydrating your body. Though famous for their rich fiber and vitamin contents, fruits and vegetables also contain water, which makes around 60-90% of their materials. So munching a couple of such products in smoothies could be equivalent to swallowing 10 ounces of water per day. Sounds great! Remember keeping your body hydrated is very crucial as water cleanses and detoxifies the body.
3 – Protection against free radical damage
In addition to antioxidants, greens also contain phenolic compounds—which help keep your body healthy by fighting various illnesses such as cancer.
4 – Lowers blood pressure
Supplementing smoothies with protein from rich sources such as protein powder or Greek yogurt help to lower their (smoothies') sugar content, thus ensuring little absorption of sugar into the bloodstream, which, of course, translates to lower blood pressure.
5 – Aids weight loss
A simple act of replacing at least one of your regular meals with some green smoothies is enough to relieve you of that weight headache. This is because, the smoothie, by lowering your overall calorie intake, increases your vegetable, fruit, and fiber intake while also heightening your craving for healthy foods.
And all these work to your advantage if you're up to shedding some fat.
Three Healthy Smoothie Recipes for the Pampered Chef Cooking Blender
Ready to get started? Go ahead and try these simple healthy smoothie recipes.
1 – Banana and pineapple smoothie
Plenty of potassium and Vitamin C with the creamy protein of Greek yogurt.
Ingredients
4 ripe bananas (frozen)
2 cups of pure pineapple juice
A large handful of your favorite berries
½ cup of plain Greek yogurt (nut or oat milk works if you enjoy vegan foods)
Process
Start by pouring the pineapple juice into the blender.
Proceed to slice the bananas, and add them to the blender.
Add in the berries and Greek yogurt, and then blend it on the Smoothie setting until it becomes creamy
Serve right away.
Note: You can as well make dairy-free smoothies by incorporating almond milk or soy milk.
2 – Kale and spinach smoothie
This green smoothie is chock-full of nutrition.
Ingredients
A small handful of kale (standard size)
2 cups of fresh spinach
1 tsp. peanut butter
1 cup almond milk
A frozen sliced banana
Process
Place your spinach, peanut butter, almond milk, and kale (all at once) into the blender. Then blend until smooth.
Add the banana then blend until smooth (use the smoothie setting).
Ready to serve.
3 – Classic Strawberry-Banana Smoothie
A classic flavor combo you can drink on the go!
Three bananas
2 cups of frozen strawberries
1/2 cup of ice cubes
1 cup of almond milk
Cut the bananas into slices. Put them into the blender
Add the frozen strawberries, ice, and almond milk.
Set the Pampered Chef Deluxe Cooking Blender to the Smoothie setting and let it go to work.
The Takeaway: You Can Make Healthy Smoothies with the Pampered Chef Cooking Blender
In almost no time at all, you can have one of the best smoothies ever. The Pampered Chef Cooking Blender powers through the ice and will deliver the smoothest beverage you ever dreamed of. Use the recipes we shared today as a baseline and take it from there. Let your creativity flow and come up with your favorite recipes to suit your preferences and nutritional needs.