If you're a keen gardener, the chances are that you embrace garden design in the same way you do interior decor. Shaking things up on occasion is probably one of your favorite things to do. Nothing refreshes the look of that outside space, after all, like a brand new design. The best way to freshen up the great outdoors? Layer your garden.
Of course, redoing your backyard is nowhere near as easy as applying a new coat of paint. To refresh your yard, you'll need to think a little harder than those simple options. You could try planting new flowers, of course, but the impact won't be half as great as you're hoping. Instead, then, you'll need to get your thinking cap on and consider how you could add interest to your space.
There are many different options here depending on your needs. One of the most exciting would be to introduce different levels into your outside space. This layered method of gardening has been growing in popularity for years, and it's easy to see why. If you get stuck in with something like this, you'll barely recognize your backyard when you're finished. Instead, it'll look like a tropical oasis or a magical fairy kingdom fit for exploration. As if that weren't enough, those different levels could also offer the following benefits.
A vantage point from which to see
When your yard is all on one level, it can be difficult to see it in its entirety. There are probably flowers in the far corner which you haven't set eyes on in months. And why would you? Unless you make a specific effort to go down there, that's a pretty forgotten section of your garden. If you add higher levels, though, you create a vantage point from which to see your outside space in its entirety. A raised patio, for instance, could see you sitting and admiring the furthest flowers. This would even free you up to play around with your planting patterns and being able to enjoy them when they bloom. You could color-code your flowers, or even plant them to blossom into a picture. These are things you might not necessarily see if you were on their level, but are sure to appreciate from up high.
You can grow more things when you layer your garden
Levels like these may also give you a chance to fit more into a small space. You could certainly incorporate a patio area, flower beds, and a lawn space with this method. If you went all out, you could even fit something like a fire pit into your lower level. As you can see from these backyard landscape ideas, that alone could keep you using your outside space through the winter. You could even create raised vegetable planters and incorporate a veg patch which would never be possible otherwise. All you need to do is layer your garden.
A garden unlike anyone else's
We all like the idea of our yard being unlike anyone else's, don't we? The decor is a personal thing, after all, and setting trends here is always an exciting feeling. Yet, the majority of general landscape ideas come from other sources. When you layer things up, though, it's much easier to get creative. The chances are that no one else will have your exact pattern of layers, or your steps leading to the lower levels. Something as simple as this, then, could see you with a garden unlike anyone else's.
A chance to add texture
Different levels here also provide you with a fantastic chance to add texture to your yard. Given how much interest this can bring, that's a goal worth working towards. No longer will you need to make do with a blank lawn that doesn't inspire anyone. Instead, play around with incorporating different textures onto each level you include. You could opt for a wooden raised patio, a layer of stones, or even a level consisting of flowerbeds. And, of course, you can dedicate one level to the lawn you don't want to lose. All these different textures together can look like a lot of fun. They're sure to add that magical element of exploration to any outside space.

If you've only ever had a garden on one level before, it's well past time you gave a layered garden a go. You can go as far out as you like with this, but it doesn't have to be a big job. Installing a raised patio isn't all that difficult. Even that one layer could see you enjoying these benefits.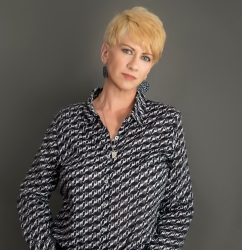 Latest posts by Deborah T
(see all)