Tomato soup is a hearty, cool-weather classic. When the weather turns, I can't seem to get enough. I cooked this recipe in the Pampered Chef Deluxe Quick Cooker. For those of you haven't taken the plunge and purchased one, I'm including the stove top method and a crockpot method.
Truthfully, I cooked this batch the other day. It was drizzly and overcast–but still in the 80s here in North Carolina. Meh. I'm in the ari conditioning.
This soup has a creamy, silky texture–without the added fat of cream. For those who have followed my WW, thanks for the messages of support! This soup has zero smartpoints, thanks to sugar-free diced tomatoes at the grocery store. Yay!
Because you start with canned ingredients, this is a quick-cooking soup. From can to completion in only 35 minutes of so. That makes this an ideal recipe for quick after work or busy weekend afternoons when you feel like lazing around instead of fixing dinner. Cook a batch of this soup, make some quick grilled cheese, and dinner is ready in moments.
And, you can also place the contents in your slow cooker, set it on low for 6 hours, and let it go.
But…Tomato Soup from Canned Tomatoes?
Some might wonder about using canned tomato products and call a foul on this. Bear with me–a little food science.
However, a 2015 study suggests that (unlike many veggies and fruits) cooking time actually enhances the efficacy of tomatoes as a vitamin source. So, that time the tomatoes spend in the canner actually help to increase the levels of the naturally occurring antioxidant called carotene. Specifically, it produces one called lycopene. The researchers also state that adding a drizzle of extra virgin olive oil to the tomatoes increases that impact.
Let's break those terms down.
Antioxidants:
Antioxidants help your body fight a condition called oxidative stress. These stem from pollutants and chemicals that wage a daily assault on your body.
In essence, oxidative stress damages your body by attaching to healthy cells and consuming them for their nutrition. So, you are left with damaged, unhealthy cells. This leads to inflammation, certain forms of cancer, and chronic illness.
What are the sources that spur the growth of antioxidants?
Poor dietary choices (high in fat, sugar, cholesterol)
Tobacco, smoked or chewed!
Alcoholic beverages
Environmental pollution
Chemicals used in cleaning
Pesticides
Radiation exposure
Quite frankly, they are everywhere around you! So, consuming a diet to help stop them in their tracks is a fantastic way to contribute to your health.
Cartenoids:
Cartenoids are phytonutrients–translate to plant chemicals. They are responsible for giving fruits and veggies their vibrant colors. They help the plant synthesize the sunshine during growth. And, when you eat the fruit, you gain protection, too–from those nasty antioxidants.
Other than tomatoes, eat the following to gain these benefits:
Watermelon
Sweet potatoes
Bell peppers
Carrots
Oranges
Kale
Melons
Mango
Spinach
Tomato soup is one way to benefit from this protection.
Lycopene:
Lycopene is one of those protective cartenoids you'll get from eating tomatoes. This compound gives tomatoes their rich red tones. And, canned tomatoes are a primary source of this antioxidant.
In fact, Harvard University cites canned tomatoes as the top source of lycopene when stacked next to other lycopene-rich foods.
| | |
| --- | --- |
| TOMATO PRODUCT/PER SERVING | MICROGRAMS OF LYCOPENE |
| ½ cup tomato puree | 27,192 |
| 1 c canned tomato juice | 21,960 |
| ½ c. marinara sauce from the grocery aisle | 6,686 |
| 1 tbl ketchup | 2,506 |
| 1 tbl. salsa | 1,682 |
| 1 slice raw tomato | 437 |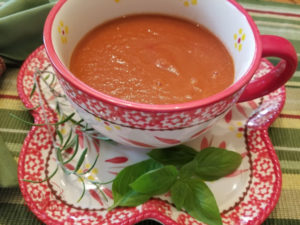 Clearly, serving for serving, canned tomato products are powerhouses from a nutritional standpoint.
Not to mention…they are easier to prep, inexpensive. Therefore, you'll feed your family easily and can eat healthfully on even a tiny budget!
The Pampered Chef Deluxe Cooking Blender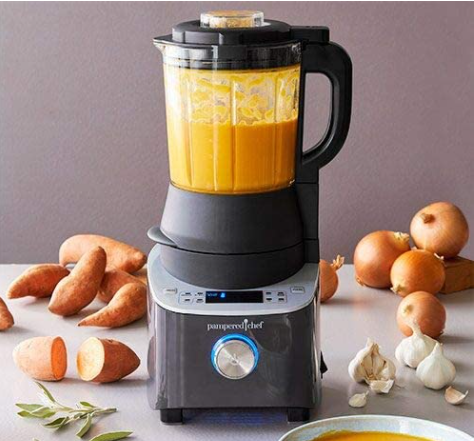 Curious about the Pampered Chef Deluxe Cooking Blender? It is the ultimate kitchen tool. Some competing blenders heat or warm food, but they cannot actually cook your food. This baby can!
It performs a multitude of functions in your kitchen:
Blends frozen cocktails or slushie beverages
Makes smoothies
Grinds grains into alternative, plant-based milks (oat milk, rice milk)
Smoothes nuts into butter (peanut butter, almond butter
Cooks homemade jams and jellies
Purees and cooks veggies and fruits
Makes delicious homemade soups–in 30 minutes!
Since I got my sample of this unit in from Pampered Chef, I have not stopped finding ways to use it! In fact, I use it daily. That's unlike my old blender which didn't power through ice very efficiently. My protein shakes are airy, creamy and delish. I've made a few different soups, and I've made the best apple butter I've ever tasted.
Oh, and my boring legal disclaimer…in case you didn't see the Pampered Chef logo in the right sidebar…I am a Pampered Chef Consultant. You can click on the PC image to read my disclosures.
Homemade Tomato Soup with Basil Recipe
Ok, enough with the science lesson and my not-so-subtle ravings about why the Cooking Blender will rock your world. Here's your tomato soup recipe.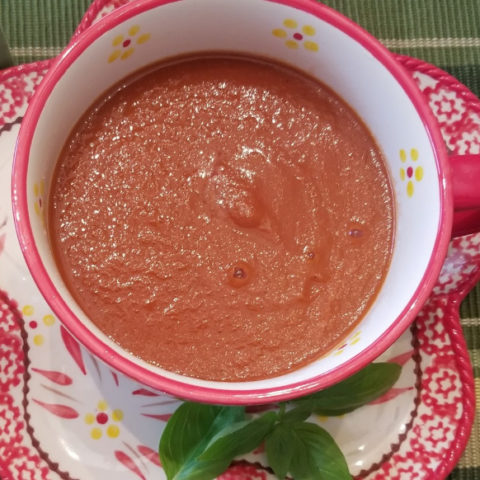 Tomato Soup with Basil (in the Pampered Chef Cooking Blender)
Serve homemade tomato soup in about 30 minutes of cooking time with this yummy recipe. For those on WW, there are zero points in this soup--if you choose salt-free, sugar-free diced tomatoes!
Ingredients
One 14.5 oz can of low-sodium chicken stock
1 - 28 oz can of crushed tomatoes
One 14.5 oz can of sugar free, sodium-free diced tomatoes
2 tsp of Stevia (takes the edge off of the tomato acidity)
1 clove of garlic, skin removed
Fresh sweet basil leaves
Rosemary, fresh
Parsley, fresh
Instructions
Place all ingredients in the Pampered Chef Deluxe Cooking Blender.
Close the lid firmly, and make sure the vented top is securely on the lid.
Select the "soup" setting and turn on the blender.
Notes
If you are making this on the stovetop, you will need to manually dice your garlic and chop your herbs.
If you want to add a healthy fat, drizzle a bit of olive oil into the soup before serving.
Recommended Products
As an Amazon Associate and member of other affiliate programs, I earn from qualifying purchases.
Nutrition Information
Yield

6
Serving Size

1
Amount Per Serving
Calories

338
Total Fat

1g
Saturated Fat

0g
Trans Fat

0g
Unsaturated Fat

0g
Cholesterol

0mg
Sodium

454mg
Carbohydrates

85g
Fiber

3g
Sugar

80g
Protein

3g
All information and tools presented and written within this site are intended for informational purposes only. I am not a certified nutritionist and any nutritional information on diyhomegarden.blog should only be used as a general guideline. This information is provided as a courtesy and there is no guarantee that the information will be completely accurate. The nutritional labels are a product of online calculator apps. Even though I try to provide accurate nutritional information to the best of my ability, these figures should still be considered estimates. If you believe you have a medical condition, food allergies, or other concerns, please consult a doctor.
Tomato Soup with Basil – Stovetop
If you don't own the Cooking Blender, here's how you can modify this recipe to make it on top of the stove.
You will need to peel and dice your garlic. Then, you will add all the ingredients, and cook on the top of your range. Cook over medium heat on a simmer and be careful not to let it stick.
After the herbs and tomatoes have simmered for 30 minutes, use your immersion blender. Or, place in a countertop blender and smooth out any remaining chunks of tomatoes.
Homemade Tomato Soup in the Crockpot
So, you love setting your crockpot for the day? You can definitely do that with this recipe. Yes, I tested this! In fact, before the Cooking Blender days, this is how I made this very same soup.
Follow the same prep instructions as with the stovetop version. At the end of 6 hours of cooking time, blend the ingredients. It's as simple as that y'all!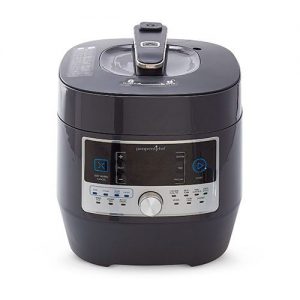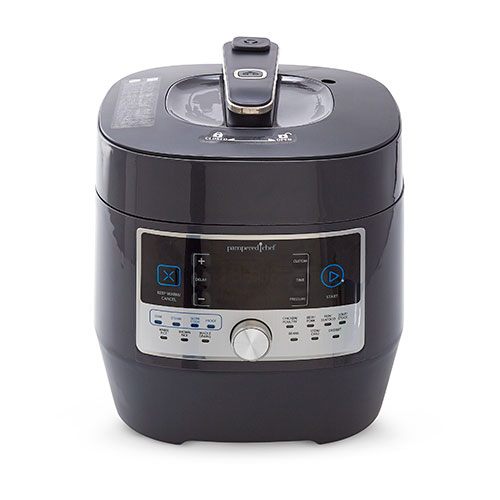 The Bottom Line on Making Homemade Tomato Soup
This recipe is uncomplicated and soooo easy to make. You're going to want to make it over and over again. It's hearty, filling, and savory. It stands head and shoulder above the yucky condensed soup you'll purchase at the grocery store–and costs less money per serving.
So, grab your ingredients and go…I know you're dying to make this.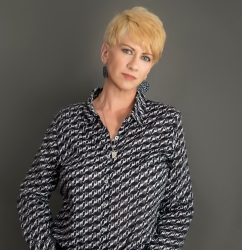 Latest posts by Deborah T
(see all)