Zucchini is a favorite summertime staple for so many of us who love to garden. The thing is, you get it by the boatload, then it's gone in just a few weeks. Fortunately, this fruit is available in the grocery store almost year-round.
And that's a good thing when it comes to enjoying a savory bowl of zucchini soup. Because when the zucchini is ready to harvest in the 95° heat here in the Carolinas, most of us aren't in the mood for a piping hot bowl of soup!
This soup has a slightly creamy texture without the fat that you'd find in many cream soups. It's not a super-thick soup, thanks to the water content of the zucchini itself. Instead, it has a pleasant texture I'd call "silky."
You might be wondering how we've made a creamy soup without the fat. The answer is simple—swap out the cream or milk for non-fat, plain Greek yogurt.
I made my zucchini in the Pampered Chef Deluxe Cooking Blender. This device is far more than your average blender. In addition to mixing Pina Coladas. In fact, it cooks and purees foods. So, the zucchini and other ingredients cook into a delicious meal in just 30 minutes. I will also include instructions for making a pot of zucchini soup on the stovetop or in your slow cooker, as well.
Oh, and in case you don't see the Pampered Chef logo on your screen (mobile phone users), the FTC requires me to clearly disclose that I am a Pampered Chef Consultant. Therefore, should you decide to purchase anything via his blog post, I may receive compensation. Don't worry, no pressure to purchase.
RELATED RECIPE: Tomato Soup in the Pampered Chef Deluxe Cooking Blender (or crockpot)
Zucchini Nutrition
Have you ever looked at the nutritional value of a zucchini? It's jam-packed with nutrients. This means that whether you're making this soup because you're looking for recipes that support your weight loss efforts or you just want to try something new, the result is the same. You are treating yourself to a scrumptious dish loaded with nutrients as well as big, zesty flavors.
One note. This nutritional data assumes that you will leave the skin on the fruit. The skin is where it's at from a nutritional standpoint. Don't worry about that, though, from a textural impact. The blender will take care of smoothing out the bits of skin so your soup will have that fabulous texture.
One medium zucchini = approximately 33 calories.
| | |
| --- | --- |
| NUTRIENT | % USDA RECOMMENDED DAILY |
| Total fats | 0% |
| Saturated fat | 1% |
| Polyunsaturated fat | 1% |
| Trans fat | 0% |
| Cholesterol | 0% |
| Sodium | 0% |
| Carbohydrates | 2% |
| Dietary fiber | 8% |
| Vitamin C | 58% |
| Vitamin A | 7% |
| Calcium | 3% |
| Vitamin B6 | 15% |
| Magnesium | 8% |
Surprisingly, zucchini is not completely fat-free. In fact, it does contain a small amount of fat. Who knew? However, that amount tallies up to be a marginal amount of the USDA guidelines per serving. Not so bad.
So, instead, let's focus on the good of zucchini. And, remember, the value is in the skin—the inside of zucchini averages out to 92.73% water, according to the United States Department of Agriculture.
As you can see from the chart above, you can eat zucchini to deliver several vital nutrients to your body—primarily Vitamins C and B6.
Vitamin C
We all know that we need to get Vitamin C into our diets. It turns out that zucchini helps to fill this need! Plus, Vitamin C contains antioxidants that protect us against free radicals that damage our cells, cause inflammation and premature aging.
Vitamin B6
Vitamin B6 supports brain health, metabolic processes, and the creation of red blood cells. Of course, these are vital functions.
But here's the thing about B6. Your body doesn't manufacture it. You must intake it through the foods you consume or dietary supplements. And eating zucchini is a tasty way to help you reach your daily goal.
The Pampered Chef Cooking Blender
Next, let's talk just a moment about the Pampered Chef Cooking Blender.
When I first heard about this product, I doubted I'd use it. I had a previous blender. But it was kind of a one-trick pony. It blended mixed drinks. Most of the time, it took up space in the cabinet above the fridge.
Plus, I had friends who purchased other brands of high-end blenders thinking they could cook baby food. However, they were sadly disappointed. Turns out they heated food effectively, but the concoction did not come up to a boiling point to simmer the food into the softer texture.
The Pampered Chef Cooking Blender cooks the food. It cycles through blending and cooking, so you don't need to stand nearby worrying about stirring or wonder if the food will cook evenly. Trust the process…it will!
The motor delivers enough power to even grind grains into alternative, plant milk. Think oat milk or rice mild for vegans. Or, you can grind nuts into butter effortlessly.
So, yes, I now keep my blender on top of the counter because I am finding more and more uses for it.
In fact, I just made room in my cabinets by getting rid of my electric food processor. Between the Deluxe Cooking blender and my Pampered Chef Manual Food Processor (for smaller tasks), I find that I no longer need it. With ridding my cabinets of the old blender and that separate food processor, I've freed up tons of space in my tiny kitchen storage space. Buh-bye!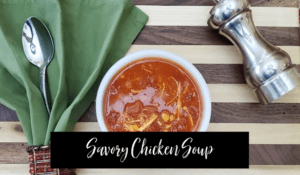 Recipe: Savory Zucchini Soup in the Pampered Chef Cooking Blender
As y'all know, I prefer recipes that are simple but packed with flavor. This is no exception. It has just six ingredients, and the southwestern flavors will satisfy your cravings for savory foods.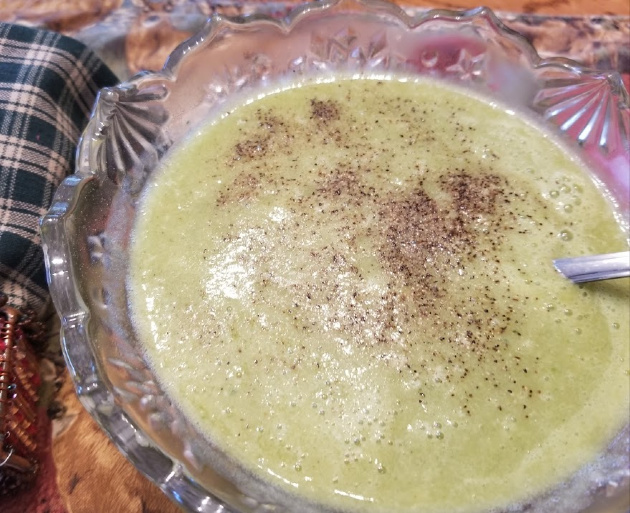 Zucchini Soup (Pampered Chef Cooking Blender or a Crockpot)
This nutrititious Zucchini Soup has a silken texture and unexpected Southwestern flavors.
Ingredients
3 small to medium zucchini, skin on, cut into chunks
¼ of a peeled red onion
2 cloves of garlic, skin removed
2 tsp. Pampered Chef Southwest Seasoning blend
3 cups of sodium-free chicken stock (3/4 of a box)
¼ cup of non-fat, plain Greek yogurt
Instructions
Put the first five ingredients into the Pampered Chef
Cooking Blender. Be careful not to go past the "hot maximum fill" marking, or 6cups. The molecules will expand as the unit heats the soup!
Set the Cooking Blender dial to the "soup" function and press start. The Cooking Blender will spring into action and cooks and blends your zucchini for the next 30 minutes.
After the timer signals you, add in the plain, non-fat Greek
Yogurt, replace the lid securely and use the "pulse" feature to work the creamy yogurt into the soup.


Notes
If you don't have the Pampered Chef Southwest Seasoning
Blend, you may substitute another brand. Or, you may purchase it online, here.
For those of you who are on a sugar-restricted diet or
Weight Watchers WW, this has no added sugars. For WW, as long as you don't use a seasoning blend with sugar, this soup calculates to zero smartpoints.
To make a vegetarian soup, swap the chicken stock out for
vegetable stock.
Recommended Products
As an Amazon Associate and member of other affiliate programs, I earn from qualifying purchases.
Nutrition Information
Yield

6
Serving Size

1
Amount Per Serving
Calories

85
Total Fat

2g
Saturated Fat

1g
Trans Fat

0g
Unsaturated Fat

1g
Cholesterol

5mg
Sodium

697mg
Carbohydrates

9g
Fiber

1g
Sugar

5g
Protein

8g
All information and tools presented and written within this site are intended for informational purposes only. I am not a certified nutritionist and any nutritional information on diyhomegarden.blog should only be used as a general guideline. This information is provided as a courtesy and there is no guarantee that the information will be completely accurate. The nutritional labels are a product of online calculator apps. Even though I try to provide accurate nutritional information to the best of my ability, these figures should still be considered estimates. If you believe you have a medical condition, food allergies, or other concerns, please consult a doctor.
Zucchini Soup in the Crockpot or on the Stovetop
If you don't have a blender that will cook for you, don't worry. You can still make this delicious and savory soup.
Here's how you will prep the ingredients:
Dice the zucchini and onion and add them to the pot or crockpot liner.
Grate the garlic into the pot
Add the chicken stock and seasoning blend. Simmer the entire batch until the veggies are very soft–this may take 4 to 6 hours in the crockpot. Plus, it will probably take around 45 minutes on top of the stove.
At the end of your cooking time, pour the contents into your blender and blend until all the zucchini skin is micro-fine so you don't encounter flecks of skin as you eat.
Then, add the Greek Yogurt at the end, and blend until you incorporate it.
Remember you are looking for a smooth, silky texture, not a heavy cream.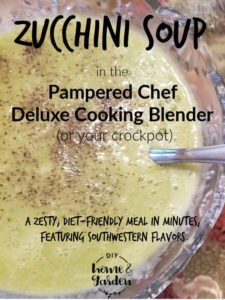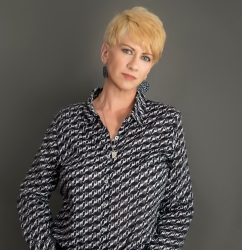 Latest posts by Deborah T
(see all)