Always trying to perfect your home's exterior? You're not alone. Here are some tips to help make your house the envy of the neighborhood.
Home cladding can make a huge difference to the overall finish of your house. From striking white boxed with a perfectly finished rendering to patterned bricks that fit neatly with the surroundings, the exterior of your house is always going to have an impact.
But your cladding choices aren't the only thing to consider. You need to decide whether you would like your building to stand out or blend in. You should also make sure that the landscaping you choose works with your house to highlight its architectural high points and hideaway any low points!
Whether you are making eco-friendly upgrades or just want to bring your home up to date, here's what you need to think about.
Cladding Options
Finding cladding to last is about balancing the best materials with the cost of installation. You should also consider the lifespan of the materials you choose. For example, vinyl siding installation is an ideal solution as the material is long-lasting, the effect is beautiful and the cost is entirely reasonable.
There are all kinds of cladding options you might like to consider though. Hardwoods are really popular as they are an environmentally friendly solution and can be left untreated. The downside is that hardwoods can be quite expensive and do require maintenance. However, you could choose a cheaper wood and preserve or color it.
Paints and Details
Painting the outside of your house is the best way to clean up dirty render but instead of going for a default minimalist color like white, you might like to think outside the box. Millennial pink is absolutely everywhere and can create a lovely soft exterior finish for your home. In total contrast, painting your house black could be the bold move you are looking for. Black actually recedes so though it is undeniably bold, it also has an understated subtleness.
Adding details to your house exterior is also a nice way to draw the eye to the best features of your house. For example, changing your window frames can make a big difference, especially if you have recladded the outside of your house. Other smaller details might include the color you paint your front door, adding window boxes and hanging baskets and your choice of outdoor lighting.
Each idea gives a nice look to your home.
Planting and Garden Design
How your house fits into the landscape is a really important factor as this will create the first impression people have. Even if you don't have much land around your house, what you do with it can change everything.
If you would like your home to blend better with its environment, you should consider introducing climbing plants to your house. They will happily work their way over your cladding, creating a green wallpaper. On the other hand, straight, clipped lawns and topiary could give your house the clean lines you have always dreamed of to match that perfect white cube.
Whatever you choose to do with your home's exterior, make sure it reflects your personality and taste. This is your opportunity to design a first impression that truly shows who you are. You'll make a priceless impact on your home's curb appeal.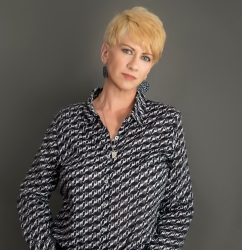 Latest posts by Deborah T
(see all)