Are you and your love planning on throwing a romantic backyard wedding? Congratulations!
Perhaps you want to share the day with your family and close friends at a place that means so much to you to enjoy the biggest day of your life. We have some helpful hints to make your big day a success.
A backyard wedding can be a show stopper. It allows you the liberty to choose the date and time for your big event. Otherwise, you might need to wait for months or years to get a spot in traditional venues. Whatever the reason, you'll love the intimate feeling that comes only with a backyard wedding.
Better yet, the money you spend on fantastic patio accessories to set up for the big day is well-invested. So celebrate your love with an affordable but memorable wedding. And, you'll enjoy some of these splurges for many years to come. A big part of success comes from your ability to prepare your home ahead of time, minimizing last minute panic.
1 – Lighting Up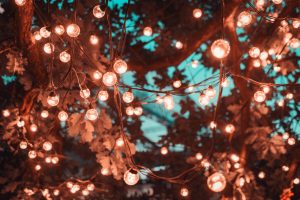 Partying into the night? Consider buying string lights for the dance floor or lanterns to light the pathways around your garden.
You're at liberty to use as many light strands as you want. Even better, you can start stringing the lights early, as you're not limited to a restricted "set-up time" that goes with a rented venue.
We suggest stringing the lights around trees and throughout their canopies. Consider adding candles and lanterns to tables, trees, chairs, and other natural shrubberies.
The sparkle and glow are romantic and perfect for your special evening. What a memorable backdrop for such a momentous occasion in your life.
2 – Chairs and Tables
Use furniture that enhances your wedding's overall décor and theme. While you need chairs for the ceremony and tables and chairs to sit down to eat, create conversation areas with patio chairs. Setting up this way will distinguish your backyard wedding venue and underscore the intimacy of the setting.
Ensure there's enough space for your guests to sit. Be mindful of the elderly or who may need physical accommodations. These folks might need a proper chair, not a lawn chair.
Use rental chairs and tables for guest seating. However, invest in a patio dining set for the head table—and decorate it to suit your style. Consider the table a wedding gift to yourself and a practical memento of your special day. You will utilize and enjoy it for years to come.
3 – Set the Mood with Flowers for Your Backyard Wedding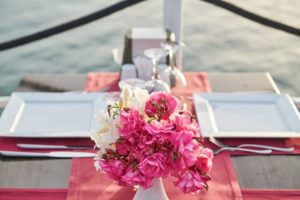 When you are planning an at-home wedding, you're responsible for setting the mood for the event. Do this by creating some sweet little tabletop floral arrangements for all the tables—and don't forget a stunning bouquet.
Although it feels good to decorate for your wedding, it's essential to engage a florist. Instruct them to use the same flowers and colors that are growing in your landscaping. This coordination with the florist will ensure a cohesive look throughout your property.
On the other hand, and if the budget is not a hurdle, consider hiring the florist to handle the whole ball of wax from a décor standpoint. It will save you time and hassle in the long run.
4 – Slow Dancing
At the reception, you will share your first slow dance, and your guests will need somewhere to groove the night away. Dancing with high heels on grass is no fun. Don't forget; it's a twisted ankle waiting to happen. Having a dance floor guarantees safety to your guests and the grass growing in your yard.
You could engage experts in designing and defining the dance floor area. However, an easier option is to purchase an oversized patio rug to define the dance floor and smooth out the surface. Like the patio table turned head table, you will have the carpet to decorate your deck or patio with after the wedding.
5 – Climate Control
Before setting a date for your big day, consider the time and season. For instance, is it during a cold or hot season? Which patio accessories will keep your guest comfortable?
If you're hosting a wedding during on a chillier season, then patio heaters are a necessity. These are typically available at wedding rental shops, or you can invest in one to keep for yourself! Consider the fuel source when you are making your purchase.
Conversely, you may want to supply paper fans or shade umbrellas to your guests if you're exchanging vows under the hot afternoon sun. They'll double as darling favors to your guests.
Also, plan for the rain. You may get lucky and have sunshine throughout your wedding day. But what happens if it rains? What will you do? Rent a large tent to move under in case of rains. Consult wedding rental stores on the best tent size and color that complements your overall décor and style.
6 – Start Landscaping Early
Hosting your wedding in the backyard allows for a more relaxed environment. But ensure the yard is neat, tidy, and appealing. There's something extraordinary about wedding photos set against a backdrop of lush, green lawn
You must be proactive. Learn how to grow and maintain green grass. Several weeks ahead of your event, treat your yard with weed and feed. Don't wait until close to the big day to do this. Otherwise, the weeds look brown as they wither away from the treatment. And that's not the image you want for your wedding!
By doing this, your lawn will be ready in item for your wedding. Be sure to learn the secrets of keeping your lawn greener, thicker and healthier with minimal effort.
Two days before the wedding, hire a professional landscaping expert to prepare your lawn and garden for optimal results. Completing this task two days in advance allows you the time you need to set up the table, chairs, tents, and all the other patio accessories you'll need to pull off the day.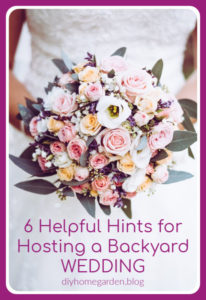 Get Planning Your Backyard Wedding!
Are you convinced now that you can pull off the romantic backyard wedding you've dreamed of? Put your current inspiration to work and get planning your special day. You got this!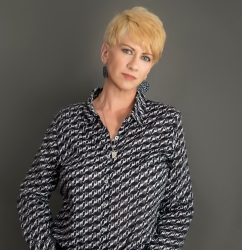 Latest posts by Deborah T
(see all)