The question is popped, the Facebook status has been updated to "engaged", and now it's time to prepare to say I Do. After looking at traditional wedding options you've realized that $25,000 could pay off your student debt… or be put towards a house… rather than going towards the cost of the average American wedding.
Before you panic, know that there are numerous ways you can save some serious cash on your big day. Between opting for a DIY venue and crafting your own wedding favors, there are endless ways to make your wedding affordable, unforgettable, and uniquely yours. Here are some of the best ways to save money on your wedding.
Craft Your Own Signage
Cute and crafty wedding signage is all the rage right now. But don't be fooled, many of those signs are super expensive, even though they look homemade and DIY. Don't spend hundreds on fancy handwriting. With some pallets, a steady hand, practicing with a pencil before the paint, and some patience, you too can craft cute signs that actually are DIY. For some inspiration, check out this decorative pallet sign: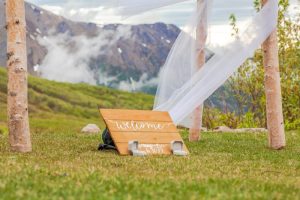 If country chic isn't really your style, there are still numerous signage options that you can make yourself. Grab an easel, a white poster board, and someone with a steady hand to craft a minimalist welcome sign that would be the perfect fit for a modern wedding.
DIY Your Own Photo Booth
Sure, traditional photo booths are fun, but they are spendy at nearly $550 for the night. And while disposable cameras at each table can be fun for guests, you'll end up with a lot of wasted shots. Sure enough, you don't want any of those when you say I Do.

Skip the overpriced photobooth and spend a night with some friends making a DIY photo booth. All you'll need is a blank wall in your venue, a backdrop, and photo booth props. There are numerous ideas online, and if you don't feel like being that crafty, there are always plenty of options available online.
Don't Skimp on the Table Top
Spend your money wisely. Your DIY wedding can look just as sumptuous as an event planned by a professional. One way to achieve this is to create magnificent tablescapes that will make your guests ooh and aaah. You can rent linens or shop around online to find the best table liners cheap. After all, you are using them only one time!
Be sure to top the tables with romantic candles, centerpieces, and other elegant display pieces. Tables are a wedding decor element where you want to impress!
Propagate Your Own Succulent Centerpieces
Not only are succulents especially trendy right now, but with a bit of a green thumb, you can propagate your own succulents and turn them into affordable (even free) centerpieces that can double as a take-home wedding favors for your guests. Though this does require a bit of planning ahead (succulents can take up to a year to be full-grown), it can save you the money you'd otherwise spend on expensive floral arrangements.
If you already have a succulent collection, this process could be entirely free. If you have to purchase plants to propagate from, you'll still save money as one plant could potentially propagate 10 new plants. There are a variety of ways you can choose to display your succulents, but one of the best ways may be in the form of a succulent terrarium. Add a few to make a larger centerpiece, or opt for one plant per jar for a take-home gift.
Opt For A DIY Wedding Venue
Although setting up your own venue is more than just an easy and fun DIY project, it can help you save some serious cash. In fact, on average, newlyweds will spend between $12,000-$14,000 on the wedding venue alone. Aside from that, many venues will require you to use their vendors, eliminating a lot of the potential customization you could have if you use your own home venue.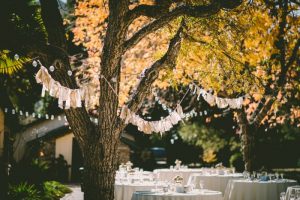 I know what you're thinking. Planning to say I Do on a tight budget. That sounds like a lot of work. It is, but the benefits far outweigh the workload. You'll be able to choose any theme you want, and you won't have to worry about booking out a venue up to a year in advance. You'll have more flexibility in terms of preparing everything, which you'll find to be especially useful as you discover how stressful wedding planning (and realizing you're actually getting married) can be.
Craft Cheap (And Memorable) Wedding Favors
The best part about wedding favors is there are a wide variety of different options that you can make at home for relatively cheap. Wedding favors can be cutesy or functional and can be a fun way to represent who you are as a couple. Personally, I've seen everything from fishbowls (yes, with live goldfish) to mini ketchup bottles (personalized, of course) to the standard bubbles.
Here are some fun and cheap wedding favors that your guests won't forget:
Seed Bombs

: fun to make and eco-friendly, too! Perfect for the couple that is gardening obsessed.

Flavored Cooking Salt

: for a functional favor that your guests will actually use.

Wedding Mixtape

: super cheap and super memorable for you and your guests! Everyone will love this "throwback" gift.

Cocktail Set

: Skip the expensive open bar and opt for these instead.

Flavored Extracts

: this is another useful favor that your guests can use after the wedding. Craft these whenever you have orange peels and you'll save money while utilizing kitchen scraps!

Lace Tambourine

: for the musically inclined couple. These will be especially fun as the night progresses!

Soy Candles

: everyone can use another candle, and if you play your cards right, these can cost very little.
Create Your Own Bar
Though some venues may require you to utilize their bar (which can cost an average of $90 per person for an open bar), others may allow you to provide the drinks. If you opt for a DIY venue on a family or friend's property, you can definitely make your own bar.
You'll save a ton of money on beer, wine, and liquor, and only those who drink will be accounted for. Oftentimes at wedding venues, you'll pay for everyone, regardless of whether they drink or not. Not to mention, you can craft super cute cocktail cups that can double as take-home favors. What a great way to celebrate your I Do Day
At the end of the day, this all sets the tone for an important day–the day you will say I Do to your true love. Spend more time focusing on the process than perfection. Breathe deeply. And congratulations on your special day.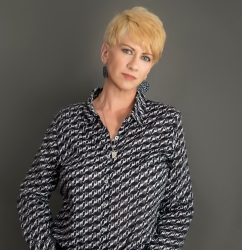 Latest posts by Deborah T
(see all)