Summer is a wonderful time of the year. The last situation you want is to be working hard in and around the house when the weather is nice. Therefore, start to prepare your home for summer so that you can sit back and relax and enjoy the season when it arrives.
There are projects you're going to want to complete now so that your home is in good condition and in order for summer. Be prepared to invest a little time, money, and energy into preparing your home so that it's not only beautiful to look at and live in but also functional.
4 Smart Tips to Prepare Your Home for Summer
Take a look at how easy it is to get your house ready for the heat ahead.
1. Get to Work Outside
It's a wise idea to get to work outside as you prepare your home for summer. There are many projects to tackle, including trimming your trees and taking care of your lawn. Clean off the deck and BBQ area and clear out any debris that's sitting in your gutters. It's also a good time to confirm you have a working hose that you like, plant some new flowers or lay down mulch, and spruce up your front door. Start early because some of these projects will require a little extra time.
2. Confirm You Have Good Airflow
Another way to prepare your home for summer is to confirm you have good airflow. The temperature will rise, and it'll become warm in your house if you don't have ways to cool it off. One idea is to turn your ceiling fans counterclockwise, which will provide you with a boost of cold air in your home. Also, it's in your best interest to service your air conditioner. You don't want it to break down in the middle of summer when ac companies are busy, and summer is in full swing. It's best to get in touch with ac repair services now so that your unit is in good working condition for the season.
3. Wash Your Windows & Screens
There's likely a lot of dirt and grime on your windows and screens from the prior seasons. Therefore, prepare your home for summertime by washing your windows and screens. You can use a spray bottle with a window cleaning solution and then squeegee them so that they're streak-free. Pay attention while you're cleaning your windows and look for signs of dry rot and water damage from the winter months. Also, re-caulk or replace damaged weather stripping to help control the temperature in your home.
4. Organize the Garage & Your Tools
If your garage is a mess and you've been piling items in it since fall and winter, then now is an excellent time to tidy it up. Organize your garage by clearing out your items and hosing it down and then putting each item back neatly and in its place. Have a look at all your yard and garden tools as well, and take the time to determine what needs replacing and cleaning. It may help to buy some wall organizers so you can hang your tools and this way they'll take up less space.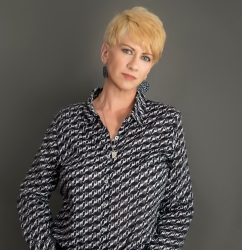 Latest posts by Deborah T
(see all)