Red dead ahead! You'll see red everywhere in home decor for fall and winter this year. So what are the season's top crimson colors for home decorating?
According to Pantone, the world's authority in color, Chili Pepper (Pantone 19-1557) and Biking Red (Pantone 19-1650) promise to reign supreme.
Reds are rich and warm. Lend that warmth to your home for the long, cold months that are just ahead of us. You'll love curling up in red and staying cozy all winter long.
These are not simple, primary shades that we see this fall. They are complex hues with warm, spicy undertones that add flair and style and even an exotic appeal. If you love neutrals with a splash of color, these will pair gorgeously with gray, beige, tan, or white. For the more daring and adventurous, pair them with other spicy tones like mustards and olive–think of the colors of Morrocco or Tuscany for inspiration.
The easiest ways to dress up your home decor in garnet? Read on.
RED DEAD AHEAD: EASY WAYS TO DECORATE WITH RED
1 – Red accessory pieces
Are you a commitment-phobe when it comes to color? Use red accessories. You'll be able to remove the pieces and replace them with the next trend color. Consider red lamps, vases, urns. Each will make a statement–and will look fantastic during the holidays! Even an old attic find like a Tiffany lamp with tons of warm accents can go with this color.
2 – Small pieces of red furniture
Refinish one or two small furniture pieces in this fashionable hue. It makes maximum impact with minimal effort. Plus, you can easily update it when you're over the red.
On the other hand, maybe you're a real red lover. At least, I know that I am! Invest in an entire furniture suite of red. Be sure to choose clean lines to keep the look updated instead of stuffy. Finally, skip old outdated red furniture. Opt for simple and clean lines.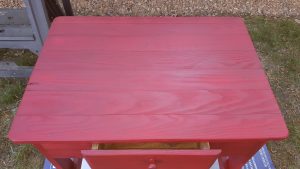 3 – Red accent wall
If you fear that the strong tones will swallow up an entire room, try another approach. Instead of painting all four walls in red, choose an accent wall. You can paint it or wallpaper it, your choices. This enables you to enjoy the crimson trend in a smaller dose. And, you'll be able to transition it to the next fashionable color with relative ease.
The accent wall option allows you to achieve a beautiful balance of both worlds.
4 – Window treatments
As we head towards cool, dreary or snowy weather (depending on where you live), it makes sense to "warm up" your rooms with color. Another easy way to accomplish this without a long-term commitment is to hang window treatments in crimson hues.
You can make no-sew window scarves on even the tiniest of budget! Then, when spring rolls back around, switch back to an airier and lighter vibe in the space.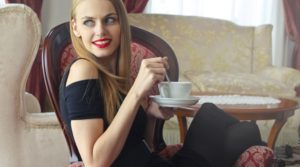 5 – Choose textiles
Other than window treatments, consider red for your other textile options. From Scandinavian-inspired cozy pillows and fluffy throws to majestic accent rugs, you'll find this bold style EVERYWHERE in home decor this season.
RELATED CONTENT: Is Your Home Ready for Fall?
Final Thoughts on Red for Fall
Red is a very real trend that's about to happen. Right now! So get those creative juices and think of some ways to incorporate the red dead ahead trends in your own home this fall. If you have a way to incorporate this bold color choice, share in the comments or share your idea with DIY Home & Garden on Mewe or Facebook.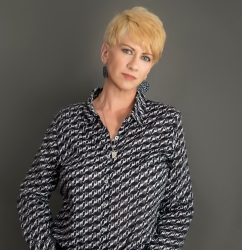 Latest posts by Deborah T
(see all)