I recently saw…and fell in love with…an antique child's school desk which I purchased and upcycled into a charming end table. My new end table adds a unique rustic charm to my living room where it now holds a special place. It sits centered under the picture window and holds a lamp which lights up the room every evening.
RELATED POST: 6 Ways to Upcycle an Old Chair
I purchased the desk from a picker in Bertie County, North Carolina. As the Hubby and I turned the desk over to clean it, we found a piece of paper taped over that read: "Wake Co Pub School System, Raleigh, NC." I used to live in Raleigh, and I was delighted to find this little piece of history.
This find led me to do a little bit of research. Here's what I learned from a local history buff.
The history of this school desk is a kind of cool story. Here in North Carolina, there were a number of schools built in the 1930s as the Great Depression ended. These schools replaced the old, dilapidated one-room school houses which served the small rural communities.
When these "new schools" were being built, carpenters installed pine flooring. Pine trees are abundant in the Carolinas. As the carpenters installed the floors, they cut the ends off into scraps. These scraps were later utilized to build wooden desks for the children. Waste not, want not!
Here's what the desk looked like when I purchased it.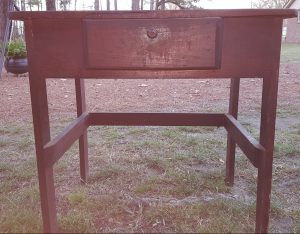 Upcycling the desk
Honestly, I thought this would be a cute end table even before I realized it was 90 or so years old and a part of local history. However, it was grimy and filthy and had several layers of heavy stain and lacquer.
It took a couple rounds of coating the desk with stripper and scraping through all the gross varnish. Then, I sanded it. And sanded it. And sanded it. Then the hubby gave it one last blast with the sander.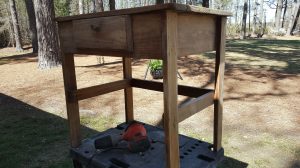 I selected to paint the piece in Valspar Aspire Paint + Primer in Posh Red. I chose red because I have a transitional style living room. The walls are khaki with crisp white trim. I love red and wanted to add another red piece to the room. Plus, the Posh Red paint was already on hand so I gave it a try. I was so glad I did!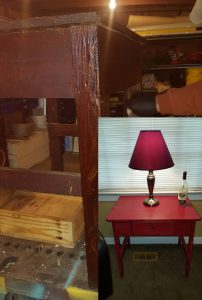 A Second Coat… Or Not So Fast?
After one coat of the Posh Red paint, there were some wood grain and rich tones from the antique wood kind of peeking through. My husband and I decided it was just perfect. We had chosen not to fill in holes and marks with wood filler to help it to keep an authentic feeling. So this one coat of paint was a great choice.
To give credit where it's due, my husband is the painter in the house. He is a much better painter than I am. I have the overall vision. I select the pieces, negotiate the price we pay, decide how it should look. He's definitely the carpenter & painter.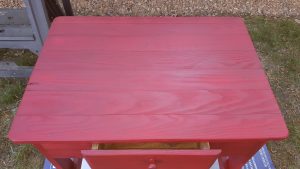 Finally, we decided not to varnish the end table to seal it. Instead, we applied furniture wax that made the wood grains even richer in tone. We applied the wax and let it harden. My husband used his car wax buffer which removed the wax and left a subtle shine.
The Bottom Line
This upcycled project was a lot of fun. We filled our need for an end table. Better than that, we restored a unique piece of furniture that's relevant to our state's history. We know we will enjoy this piece for many years to come.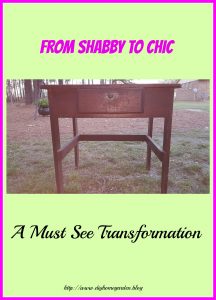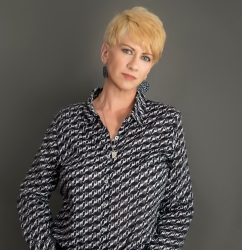 Latest posts by Deborah T
(see all)