Is your home bursting at the seams? Houses that are lacking in space are becoming more commonplace. The current housing market and financial uncertainty mean that people cannot afford to take the next step on the ladder in order to purchase a larger home when they need to. Instead, let's look for ways to maximize space you already do have.
Many of the newly built homes are also smaller than ever, developers want to maximize profits on house sales, so build houses which only just meet minimum size requirements so that they can fit as many properties as possible onto land. We all need extra space for differing reasons, perhaps your family has grown, you need space for an office or you have accumulated lots of possessions that need accommodating.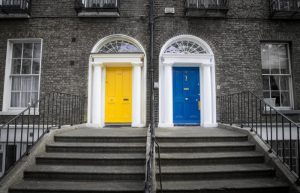 One of your first steps toward creating more space within your home is to maximize the actual space you have. To do this task effectively you need to declutter and take a good look at your home in order to identify where space could be created. For example, if you have a garage, could this be converted into usable living space? Your car could be happily housed on your driveway, protected from the elements with a cover from carports.
Read on for inspiration on how to maximize and create space in your home.
Declutter to Maximize Space
The thought of decluttering your home can be overwhelming. We are a nation of hoarders and we attach emotional connections with items which we are never going to need again. However, to make that extra space which your family can enjoy, you need to develop a ruthless streak! Only keep things with immense sentimental attachment, or items which you will definitely use again – get rid of everything else!
The process of decluttering can actually be potentially lucrative. If you have ever had any success in selling unwanted items on auction sites such as eBay, you will realize that people will buy almost anything. Divide your unwanted stuff into categories – sell, give to charity, keep and throw away.
Decluttering is a gradual process and it would be a huge task if you were to tackle the whole house in one go. You need a plan and you need to tackle one area at a time.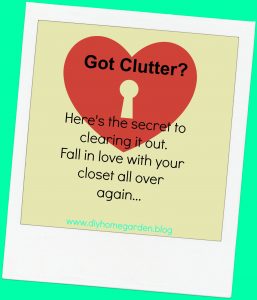 Here are some ideas to get you started decluttering and on how to maximize space.
1 – Living area
Clutter has a habit of building up in living rooms at an alarming rate. It is a space that is used daily by the whole family. It doesn't take long for newspapers and magazines to pile up and correspondence to mount up on all available surfaces! Sort through bookshelves and declutter drawers. Shred correspondence which you know longer need and file the rest.
Check that you have enough storage options in the room and don't forget the vertical space on the walls. Add shelves and storage units as necessary, storage pieces with doors have the bonus factor of hiding away things out of sight.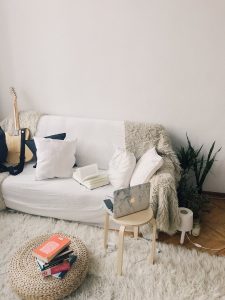 2 – Kitchen
Another room in daily use is the kitchen. Kitchen cupboards become full and messy very quickly if you don't check what items you already have if you go shopping. Get rid of everything past its use-by date, you will be surprised by what you may find!
Get rid of any mismatched crockery, glasses, cutlery, and mugs to make space. Keep sides clear of clutter and get rid of any kitchen gadgets which you will never use. Everyone has a juicer, mixer or sandwich toaster languishing at the back of a cupboard, which felt like a good idea at the time!
Another area which is likely to need decluttering is the cupboard under your sink, do you really need all those half bottles of floor cleaner and shoe polish which is well past its best?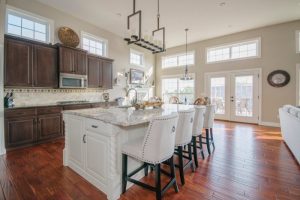 3 – Bedroom
Bedrooms should be an oasis of calm, which is conducive to sleep and rest, not a dumping area for piles of washing, the ironing board, and the kids' toys! Declutter wardrobes and drawers so that you can put clothing away, get rid of old magazines, and pass on any paperbacks, which you will never read again to the charity shop.
Makeup and toiletries are also an area where clutter can build up. Streamline everything to products that you actually use. Last year's toiletries set from your great aunt will be gratefully received by the school fair raffle committee!
4 – Bathroom
Similar to your bedroom, your bathroom cupboard needs decluttering on a regular basis. Get rid of any nearly empty bottles of products and invest in some good storage, so that everything can be hidden away.
Once you have decluttered your home you will feel so much better and you will be able to see where further improvements can be made.
5 – Decorate
Thought and consideration need to be given to decorating small homes, in order to give the illusion of space. Dark colors, if used everywhere, will have the effect of drawing in walls, which can become a little oppressive in a small house. That doesn't mean that you should totally avoid color, as a splash of color in a light-colored room will make it brighter.
You could consider using paint or wallpapers in order to distinguish different areas in a room, for example, if you have an office situated in an alcove, consider decorating the wall behind it in a different color or pattern, which will have the effect of making the room appear larger and multidimensional with extra aspects to it.
6 – Mirror Tricks
Another aspect of home decor that can give the illusion of space is the clever use of mirrors. Mirrors placed in strategic positions can really open up a room. Also, try to let your decor flow through your home rather than having hotchpotch rooms that don't really connect. The same flooring used throughout can create the illusion of space.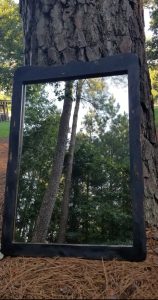 7 – Create an Open Space
A way of creating space, which is a little more involved, is that you could consider knocking separate rooms into one. For example, a kitchen and a separate dining room could become a large kitchen diner. This will allow more light into the room too. Just get a qualified builder to do the work and check the wall you are removing isn't weight bearing.

8 – Storage
Never underestimate the amount of storage you need. Storage is great for keeping everything tidy and out of view. Try to go with a theme rather than a load of different boxes and styles, this will help keep the look "streamlined".
If you have children storage is even more important, especially if your aim is to tidy it all away at the end of the day. Loft spaces, sheds, and garages are also perfect for storing items, but don't let it get out of control and remember if you don't need it, get rid!
Maximize Space by Extending Your Home (if decluttering was not enough)
It may be possible to extend your home. As well as give you much-needed space, extending your home should also increase its value. There are many ways of extending your home, you could go for the traditional single story or two story extension or look into utilizing your loft space or garage.
If your extension creates rooms such as an extra bedroom or bathroom, your home will become more desirable if you ever decide to sell. If money is tight a more cost-effective way of extending your home is with a conservatory or garden room. For advice and inspiration take advice from builders and architects and remember you may have planning regulations to adhere to.
Here are some ideas for extending your home:
Extension
A well-planned extension will add value to your home as well as increase the square footage considerably. You could consider extending your kitchen, making an extra bedroom or family room. Take advice from the experts and they are likely to come up with ideas that you wouldn't have otherwise considered. Check planning regulations in your area.
Additional bedroom
Changing your home from a three bedroomed house to four-bedroomed will add considerable value. It will also be useful to your own family if you have added children to your family. A spare bedroom can also be useful for guests, as a study or playroom. Many people convert loft and attic spaces into an extra bedroom. Ensure that any conversion meets building regulations, otherwise your home won't be able to be considered as a larger property for selling on purposes.
Extra bathroom/ensuite
Adding an extra will be much more convenient for a growing family. It will alleviate the arguments in the morning when everyone is competing for the shower and it will make your home more desirable to buyers. Ensuite bath and shower rooms can be easily fitted into the smallest of spaces now, which promotes a more flexible living option.
Conservatory/garden room
Look at your outdoor space and consider adding it to your living space. Conservatories are cheaper to construct than a traditional extension but still adds valuable living space. Ensure you take advice and opt for premium materials, which will pay dividends in hot and cold weather.
Garden rooms can be situated in your garden and hooked up to electricity in order for it to be warm in winter. Many people construct garden rooms as a work from home space, a den for teenage kids, or a playroom. There are so many options and garden rooms are cost-effective to construct.
Hopefully, you will now be inspired to maximize space you already do have!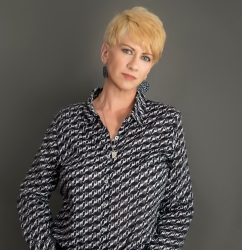 Latest posts by Deborah T
(see all)