Sprucing up your home is a bug that gets under your skin and makes you want to keep doing your DIY thing. Once you take on one project, it leads to another and then another.
Have you recently moved house? Or, have you been meaning to get around to putting your own stamp on your home? Maybe you just want a change?
If you're planning a revamp, and you're looking for simple ways to bring about a brilliant transformation, here are some ideas to spruce up your home.
Color changes
Whether you've bought a new house, or you've been living in your home for several years, changing the colorway of different rooms is a straightforward, affordable means of creating a new aesthetic.
You can use paint or wallpaper to add color or choose colored accessories to lift plain or neutral walls. Think carefully about the function of the room you're decorating before you select a shade or colorway.
Colors can impact our moods, so it's best to go for a color that will set the right tone. In the bedroom, for example, you want to be able to unwind and relax, so opting for a neutral, subtle tone, or a shade that is calming is a fantastic idea. Good examples include pastel blues and greens, gray, white, and beige.
If you are choosing paints, make sure you compare different shades in natural light, as colors can look very different on a wall to a paint chart. If you have compact rooms, opt for light, fresh tones and add color with accessories and soft furnishings.
Fresh new flooring
Flooring can breathe new life into your tired, dated decor, and carry a theme. Whether you're looking to inject character or a rustic, traditional vibe, or you're hoping to modernize your bathroom or create a really funky, futuristic kitchen, you can use flooring to turn your vision into a reality.
There's a vast range of flooring options available to suit all styles and budgets, and it's an excellent idea to shop around, explore magazines and online galleries and check out sites like https://www.sdaflooring.com/ before you make a decision.
Think about the furniture you have, the colors you're using, and the kind of overall aesthetic you want to create. Wooden floors work brilliantly for both modern and traditional homes, and vinyl is a practical, functional, affordable alternative to tiles for family homes and households with pets.
Focal point
If you're looking to overhaul your interiors without spending a fortune, it's worth considering creating a new focal point in each room. This could be a statement headboard in your bedroom, a chaise longue or a cool, colored armchair in your kitchen, or a quirky table and chairs set for the kitchen, for example. Look around for inspiration, and if you're on a budget, consider embracing the increasingly popular trend of upcycling.
Don't throw away old chests, tables, or sofas away before looking into options like painting, reupholstering, and making necessary repairs. If you use your creativity, you could conjure up a fabulous new focal point on a shoestring budget.
Sprucing up your home can be quite easy. You don't have to invest in a full-scale makeover. Freshen up the color palette, create new focal points, and consider updating or upgrading your flooring. Simple changes can make a massive difference.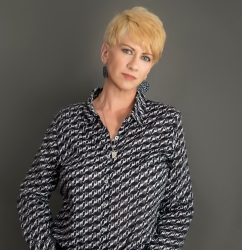 Latest posts by Deborah T
(see all)