I am fascinated with old ladders and want to share 10 ways to upcycle an old ladder with you. Recently, I was given an old, rickety wooden ladder that was going to go to the trash if I couldn't do something with it. In fact, I created two projects out of this ladder, a clematis trellis and a towel rack for my She-Shed. I loved these projects so much, that I am now obsessed with wooden ladders.
Here are photos of those two ladder upcycle projects:
By the way, the clematis that I had to brutally cut down to free off the old, broken trellis is already climbing. I will need to share updated photos soon.
Anyhoo…
While I'm trying to find another free ladder, I've been searching the internet for inspiration. I can't wait to do my next ladder project. Here are some of my inspirations for my next project:
LADDER UPCYCLE #1 and #2
If I can locate an old extension ladder, rather than the stepladder I recently upcycled, I'd love to create one of these projects.
First up is a clothing rack, painted and suspended from the ceiling. While I don't need it in my closet, it would be an added convenience in my laundry room. Drying clothes would be easy and kind of funky. Don't you agree?
Second is a shoe rack. Since I have so many shoes that I can barely get them into my closet, this would display them in a really cute way. Why stuff them in my overloaded closet? Yes, I do have a shoe problem.
#3 UPCYCLED LADDER TOWEL RACK
Next is a towel rack created from an upcycled ladder. I'd like to use this one inside my home instead of in my she-shed like the last one. It leans against the wall and can hold several towels at once. Much cuter than the bathrobe hook I have on the back of the door right now.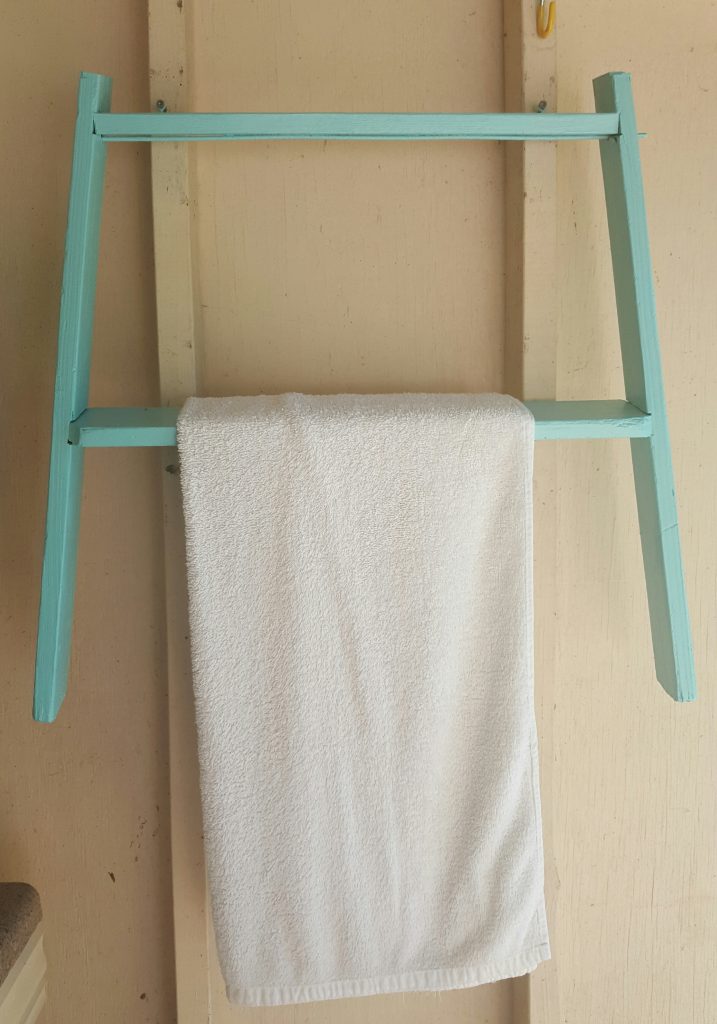 #4 – UPCYCLED LADDER: PLANT STAND
This one is so darling I just about can't even stand it! A very rustic stepladder has shelving boards run through the center and it serves as a plant stand. In fact, I bet the kitty in the background loves this ladder, too!

#5 – UPCYCLE THREE LADDERS INTO AN ARBOR
This is amazing. I'd run some ivy or plants up it, as I have no need for a wedding arbor. But this would be so charming in the boring part of my yard that I haven't landscaped yet. What a great focal point it could be.

#6 – LADDER UPCYCLED INTO A POT RACK
This is so charming. I really don't have anywhere in my kitchen. However, it would be so cute to refinish a ladder like this, add the hooks, and give it as a gift to a certain couple I know who are renovating their home on a tight budget.

#7 – HERB DRYING FROM A REPURPOSED LADDER
It's no secret that I love gardening and the more stuff I can fit into my garden, the better I like it! This repurposes the ladder and lets the gardener tie cut herbs to dry. I think it's charming as all get out. But I would worry about bugs.  I have to think on this one. Either way, it's so clever.

#8 – REPURPOSE A LADDER AS A BOOKSHELF
As anyone who reads my posts regularly may have heard, I have a very tiny corner of the living room for my home office. I have been looking for a way to add shelving that would be attractive enough to blend with the living room decor for months. I think this could be it…

#9 – LADDER UPCYCLED INTO A MUD ROOM COAT RACK
Ok. So I have a little house mid-century home where you enter directly into the living room or the kitchen. I don't have a mud room. But if I did, I would have this…

#10 – DEFINE YOUR HERB GARDEN BY REPURPOSING A LADDER
Create a charming herb garden by repurposing an old ladder into your garden. Define the space for each herb by lying the ladder flat. I'd maybe even make some decorative signs for each herb out of reclaimed tin roof rather than one sign. But that's just my own spin.  This is my favorite idea!

I am hoping that I will soon find some more wooden ladders. In the meantime, I will keep looking for inspiration and sharing ideas.  So if you have any other wooden ladder ideas, please share!
Have a happy DIY day!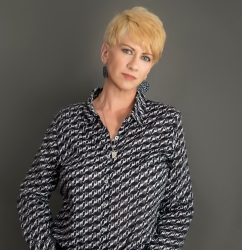 Latest posts by Deborah T
(see all)