Jalapeno Vinegar in a mason jar is a sassy and spicy way to use some of my jalapenos. My garden runneth over with jalapenos right now. Every day I harvest more than a dozen jalapeno peppers. Good hot pepper vinegar is always fun to keep on hand in the pantry.
So over the past several weeks, I've been making fresh salsa. Then, I also oven dehydrating jalapenos to store them for winter. But I almost forgot to make some jalapeno vinegar! I love to make flavored vinegar. It's a particularly fun way to use up great flavors from my garden.
LOVE FOR JALAPENO
Why do I love jalapenos?
I will admit to being somewhat of a lightweight when it comes to hot peppers. So I don't like super hot foods. But I love mild heat and spiciness. In fact, this is why the jalapeno is my favorite hot pepper. Its heat is just right. In my opinion, it's a very versatile way to season a variety of otherwise bland foods.
Jalapeno vinegar adds a savory tang and gentle heat. For instance, it's great over kale or collards. Also, you can use it when you make homemade barbecue sauces to add extra zip. Moreover, the acidity of the vinegar is fresh and clean and balances out the jalapeno heat.
It's a really easy recipe to make. In fact, it's more a method than a recipe.
HANDLING HOT PEPPERS:
Here's a quick video on how to properly handle hot peppers, including jalapeno peppers. Even a mild pepper like jalapeno can burn you if not handled safely. I know I've posted my video before, but it's important that you use precautions when you cut into any hot peppers. If you've viewed it, skip it. But if not, please do take a moment to view it before you process jalapenos.
CONTROLLING THE JALAPENO HEAT:
Remember that the heat in the jalapeno (or any other hot pepper) is concentrated in the stem, seeds, and the white membrane inside the pepper. This is an easy way to control the amount of heat. So if you like more heat, leave these jalapeno parts. Or if you want less heat, remove these parts of the pepper.
RECIPE: JALAPENO VINEGAR
Ingredients
32 oz. white vinegar 5% acidity
16 freshly harvested, washed whole jalapenos
30 black peppercorns (whole)
3 tbl freshly chopped cilantro
Directions
Firstly, prepare freshly harvested cilantro by giving it a large chopped texture. The chopping will help to release the oils that will give the vinegar a fresh flavor. Place the cilantro in a 1/2 gallon mason jar.
Put on gloves. Then cut slits into the jalapeno peppers on one side, vertically from about the middle of the pepper to the bottom. This allows some of that heat inside the pepper to seep into the vinegar. However, a slit should hold most of the seeds inside the pepper. This prevents the vinegar from becoming too hot. Lastly, place the jalapenos into the mason jar with the vinegar.

Cutting a slit in the jalapeno before covering it with vinegar will help to release the heat of the pepper.

Drop the whole black peppercorns into the mason jar.
WRAPPING UP: FILTERING THE JALAPENO VINEGAR AND STORING IT
Cap the jar of vinegar and store it in a dark, cool place for about two weeks. Swirl the mixture around every two or three days. After two weeks, strain the mixture into smaller, clean mason jars. I use a fine strainer. If you don't have one, a basket coffee filter fitted into a funnel will also work. Here's how you can use a coffee filter and funnel to strain your jalapeno vinegar:
You can also purchase vinegar/oil cruets at the dollar store and use a funnel. That gives it a very pretty presentation, as well. I like the pretty cruet if I'm giving a bottle as a hostess gift or carrying it to a gathering. But it's your preference. I personally like the mason jars because I have bunches of them on hand.
FINAL REMARKS ON MAKING JALAPENO VINEGAR
Feel free to get creative with this method. For example, I have a friend who uses two whole cloves of garlic (smashed down) and omits the peppercorns. It is a great variation! The flavors and possibilities are truly endless.
Please try your own variation if you like. Please do comment to let me know how your flavored vinegar turns out! If you want more savory recipes, then we recommend you check out this recipe: Jalapeno Pimiento Cheese.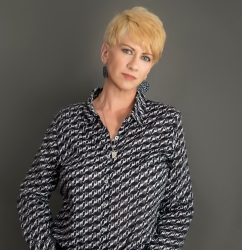 Latest posts by Deborah T
(see all)