Our kitchens can be so much more than a functional space. With a beautiful kitchen, you'll spend more time cooking up a storm, relaxing with friends at the counter, or decorating the room to your taste. The more effort we put into a room, the more we are inclined to make the most of it. Making an effort to live a greener lifestyle should always be a consideration when you are revamping a room. Whether you are painting, cleaning, or buying new appliances, let's see how you can make your kitchen greener.
4 ELEMENTS IN A GREENER KITCHEN
1 – Choose materials wisely
If you are jazzing up your kitchen, you'll likely want to buy some new utensils and accessories. It's best to avoid materials that are not biodegradable or which harm the earth in the production process. When you are replacing your kitchen utensils, go for materials like bamboo. Bamboo is a sustainable crop because it grows quickly and does not need any fertilizer. As well as this, the crop can regenerate from its roots. Hemp is another excellent material to look out for in terms of sustainable shopping. From hemp rugs to chair cushions, there are plenty of home decor options.
If you want to follow the rustic kitchen trend, include a mix-and-match collection of wood and metal fixtures.
2 – DIY cleaning
Traditional cleaning products are full of toxic chemicals that pollute the air we breathe. When washed down the sink, these will only end up in the rivers and cause further pollution. If you want a greener kitchen, it's a good idea to make your own cleaning solutions. Use white vinegar, baking soda, and lemons to scrub and disinfect your kitchen in no time at all. With the oven, you'll want to leave a vinegar and baking soda solution to work it's magic for a few hours before washing off.
3 – Update your stovetop
Generally speaking, cooking on the stovetop is more energy-efficient than cooking in the oven. For a greener use of your kitchen, try to make use of the top of your unit more often than not. What's more, some types of burners are more energy-efficient than others. Induction ranges are now considered the greenest solution. These work via creating a magnetic field that heats up the pan. You'll find that they are less expensive to run and that these units cook food quicker. While you're at it, update your appliances so that they are all Energy Star rated. From your lights to your dishwasher, the newest products are often the greenest. If you want to be more eco-friendly, put a few on your kitchen wish list!
4 – Cleanse the air
Invest in a few kitchen plants for decoration and to cleanse the air of toxins and chemicals. Plants like aloe vera, peace lilies, or jasmines can be a beautiful addition to a kitchen space. Orchids are great because the flowers will bloom for about 3 months. After this, you can keep the plant until the next time that the flowers come out.
THE TAKEAWAY ON MAKING A GREENER KITCHEN
If you're on a budget, simple things like a new coat of paint can work wonders to make a room feel new again. Why not try a nice eco-friendly non-toxic paint and see what you think? Shades of olive or dark green currently trend for kitchen walls or cupboards.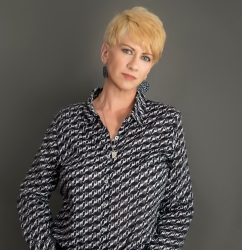 Latest posts by Deborah T
(see all)