Lots of homeowners are always on the lookout for new ways to ensure that their home design is just right. Sometimes, though, when they focus on the indoor versus the outdoor home design (or vice versa) more than the other, it can make the other seem slightly neglected.
For instance, they might have a perfect home interior design, but their garden could appear to be untended and a bit wild. Similarly, an amateur gardener might have the perfect garden, but their home's interiors could also be crying out for some TLC.
How can you focus on both your outdoor and indoor home design at the same time? Well, the answer might not be as difficult or complicated as you might have thought. You just need to focus on your home's indoor-outdoor flow. Aesthetics matter when it comes to homes.
This means that as you walk through your home, it should seem like the decor flows naturally to your outdoor area. It will encourage you to ensure both areas of your home are nicely presented. Not only that, though, but it can also make your downstairs living area feel much more spacious. This is because it will appear to spill out into your garden.
So, ready to get your home's indoor-outdoor flow just right? Here's how to do it.
Place A Patio Right Next To Your Garden Entrance
It's worth placing a patio right next to the main entrance of your house into your garden. This is where most people will put their patio, garden, or seating area, and doing so can really improve the flow from your house. If you do so and place some garden furniture on it like a table and chairs, then it will blur the boundaries between your home and garden. In the summer, when you can have the doors to your garden open most of the time, it will feel like your patio is an extra addition to your indoor living space.
Add Some Cover To It
It's also worth adding some cover to your patio. This garden upgrade will encourage you to keep on using it, such as for al-fresco meals, even if the weather isn't that great. What's more, though, it will provide you with some much-needed shade on very hot and sunny days. You will find that adding an awning to the side of your house will make your patio or seating area feel very much like it is an extension of your house rather than a feature of your garden. And that means that it will be doing wonders for your home's indoor-outdoor flow.
Add Some Patio Doors
If you don't already have some patio doors in your home that lead out into your garden, it is worth adding some now. As long as you buy your doors with a trusted company then you shouldn't have anything to worry about when it comes to patio door installation. There are a lot of different styles of doors when it comes to this type, so you will certainly have a lot to choose from. Try to go for a style that has lots of glass in the doors. This will allow for plenty of sunlight to shine through into your living space, helping to open up the room and make it feel very spacious indeed. Not only that, though, but the great view out into your garden will help with the indoor-outdoor flow.
Make Sure The Decor Flows Through
It's worth having a few decor features that are noticeable in your indoor and outdoor areas. For instance, you might want to paint your exterior walls around your patio the same color as your indoor ones. It's also worth using the same cushion covers that are on your indoor sofa on your garden sofa as well. These little details will certainly help to make your indoor space feel like it flows very naturally into your garden.
Ensure It's On The Same Level
It will be really advantageous if your garden is on the same level as your home's interiors. Most of the time, this will be the case, although some properties have gardens that have a few steps going down to them. If this is the case with yours, you could think about installing a balcony or raised level for your patio. When the garden and your home is on the same level, it will certainly help to improve the flow as it will look very much like your home spills out into the pretty outdoor space.
Hopefully, using all of these great tips and tricks will really help you to add a cohesive feeling to your home design! Whether you want pampered with luxury or a homey, cozy feeling, this method works wonders!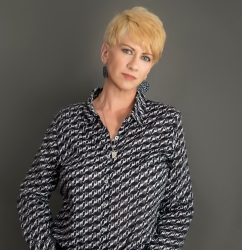 Latest posts by Deborah T
(see all)