Continuing with our upcycling trend, we'd be looking at 6 ways to upcycle an old chair. For those of us who are still not sure of the difference between recycling and upcycling, we had a post solely focused on that last week. Do check it out. It's fun and educating!
Upcycling simply means transforming or converting an item that has lost most, if not all, of its value into an entirely different piece with a brand-new purpose. Upcycling deftly combines the processes of rebirth and rebranding. For example, reupholstering a chair to make in look new = recycling. However, reimagining a furnishing altogether = upcycling.
RELATED POST: Build an Upcycled Coffee Table
So take note: an upcycled item is usually different from the original piece. So, if you take your old chair and totally revamp it like Deborah did in her yard sale and chair cushion articles, that, my dear is recycling. 'Cause the chair still remains a chair when you are done, albeit a very superior and prettier one.
Upcycling, on the other hand, gives you the option of doing something totally different and exciting with that old chair. Now the chair can still be whole (lucky you!), or most probably broken in some places, missing a seat, or even a leg or two (sighs…I know how that feels); the overall point is that it is simply not useful anymore as a chair. Instead of tossing it into the garbage can, hacking it up to serve as wood for another project or activity (yes, I'm sure some of you thought of this!), or recycling it into a brand-new chair, here are 6 ways to convert that old (and possibly broken chair) into something you'd love and need in your home:
Customized chair garden planter
I dunno about y'all but I've noticed something about gardeners (I mean those who are really enthusiastic about gardening): They think up strange and weird gardening ideas, and most times, like it or not, these ideas turn out quite nice. Case in point: a garden planter made from an old chair. Deborah gives a step-by-step tutorial on how she accomplished this feat in her own backyard. The seat had obviously run off, leaving the framework behind. So, Deborah got a container, placed it into the empty space and went a-planting.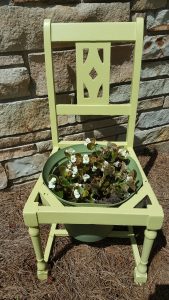 "Err….I have a chair missing a seat but I'm not much of a gardener"….. No worries, we've got you covered. Instead of a planter, you can add feeding bowls for your dogs and make your very own dog feeder:
Attract birds with this ingenious birdbath made from an old chair:
Or add this rustic drink stand to your next summer or barbecue party.
Picture frames for those cherished memories
Granted, this one ain't as easy as the garden planter idea. But if done right, there is nothing like it. Not all chairs would work for this idea. A small-to-medium sized chair with a carved and stylistic framework (most especially the back) should fit the bill nicely.
Shelves, hangers, and racks
Do you have a chair missing a seat? Are you handy with nails, hammer, and other key DIY materials? If your answer to both questions was yes, then congratulations. With the backs (and legs, if you are really creative) of your old chair, you can create stylistic shelves to give a unique feel to your home.
These shelves can also come in handy for gardening purposes:
And a hanger or rack could be made for hanging your towels:
Store, display and organize
I could have classified this under the shelf and hangers option, but it is kinda different. For one, these DIY projects are not shelves, neither are they technically hangers. They are just amazing display ideas that also serve the dual functions of great organizers and storage options.
This is possibly the coolest of all the ideas listed so far, probably because your kids are going to enjoy it. A chair missing one or two of its legs is virtually worthless, but turning it into a swing with a sturdy rope and an even sturdier tree adequately makes up for the loss. Now Tommy doesn't have to feel bad anymore because he broke the legs of that chair. Just look at the fine swing Daddy made out of it!
So yours is even double or triple the sorrow, what with two or more broken chairs. Simply line them up and with some DIY skills merge them into a bench. Now you can comfortably relax outdoors on warm breezy afternoons.