Anyone who has ever dieted knows that protein powder can help you reach your goals. WW (Formerly Weight Watchers) answered the demand for this product and introduced their own WW Chocolate Protein Booster. Technically, this powder comes in chocolate and vanilla. Being a die-hard chocoholic, I, of course, chose to try the chocolate variety, first.
In fact, I will be completely honest. I have not tried the vanilla option to date. I will try it at some point, but I love being able to give into my chocolate addiction, at least occasionally.
About WW Chocolate Protein Booster
One scoop of the Weight Watchers protein powder contains two points. Not bad, considering that each serving contains 25 grams of protein or 50% of the USDA Recommended Daily Serving.
Three other key points to share:
Gluten-free
Contains 210 mg of calcium (especially important for females)
Free of artificial flavors, preservatives, and sweeteners
In my opinion, it tastes yummy. Although I will admit, I've tasted some crappy protein products and was skeptical. It was a pleasant surprise!
And, as we have talked about before, protein helps to build muscle. In turn, those muscles help drive your metabolism. So, this is more than great chocolatey taste, it's helping you achieve weight loss.
6 Ideas of How to Use Weight Watchers Protein Powder
I could just tell you the basic stuff on the back of the package, but you'll figure those out for yourself. So instead, I have been playing with some yummy flavor combinations and getting creative. I've worked this into my diet as a low-point treat. And, on one or two occasions, I've used it to replace a meal when I was too rushed to eat well.
Regardless of how you use this protein to fuel your body, here are six scrumptious ways to use this product. In theory, each recipe should work with WW's Vanilla Protein Booster, as well!

6 Ways to Use Chocolate WW Protein Booster (or swap it out for Vanilla Protein Booster)
1 – Make decadent chocolate pudding
Double up the protein power of the protein powder by mixing the product with non-fat, unflavored, non-sweetened Greek yogurt. The result is a rich, creamy pudding that only costs you two WW smartpoints.
2/3 cup of non-fat, plain, unsweetened Greek yogurt
1 scoop WW Protein Booster
One tablespoon of unsweetened baking cocoa
Two tablespoons of Stevia (or your favorite zero point sweetener)
Mix the four ingredients with a whisk, by hand. It will take some vigorous whisking to mix in the powders, so get in there and give those arms a workout!
Chill for about 5 minutes…if you can wait that long. The whisking loosens up the proteins in the yogurt, but they will firm back up in the fridge.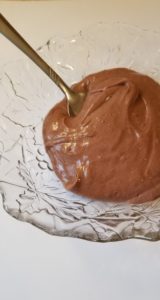 2 – Enjoy chocolate frozen yogurt
This second idea is an extension of recipe numero uno. Of course, this will also give you two smartpoints. Mix the chocolate instant pudding according to that recipe. Then, cover the pudding loosely with plastic wrap and freeze it for about 15 minutes.
One caveat. If you leave it in the freezer for longer, it will freeze fairly solid. You'll need to set it out at room temperature for 10 to 15 minutes if you don't eat it just as it begins freezing.
Yep, I learned this firsthand.
3 – Indulge in chocolate, peanut butter, and banana milkshake
If you love the flavor of peanut butter and banana together, harness your inner Elvis and enjoy one without guilt.
As you probably know, a banana in a smoothie is a whopping five points as opposed to consuming one whole. It seems like it's not worth that stiff penalty to me, so I use the banana extract to stay on track.
If you use the banana extract, this yummy shake contains only five WW smartpoints. If you throw caution to the wind and opt to blend in a real, whole banana, it'll cost you ten.
Also, you can get creative and use other flavored extracts that pair beautifully with chocolate: strawberry, cherry, and raspberry all come to mind.
1 cup of non-fat, unsweetened, plain Greek yogurt
1/2 cup of ice
1 teaspoon of banana extract
One scoop of chocolate WW Protein Booster
1 tablespoon of smooth peanut butter, unsalted
Blend all the ingredients into a thick, smooth, and yummy shake. I use the Pampered Chef Deluxe Cooking Blender on the smoothie setting. It turns out perfect shakes, free of chunks of ice, every time.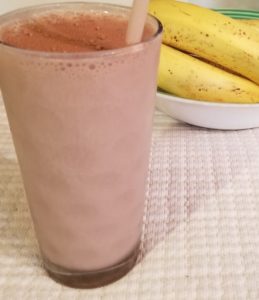 4 – Brew some java for chocolate caramel iced coffee
Love the decadent flavor of specialty coffees at coffee shop chains? They are expensive and definitely high in smartpoints.
Fortunately, you can handcraft your own blends at home in just a few minutes–and hold yourself at 2 smartpoints per beverage!
Not only will you get the protein you need, but you will also get a burst of caffeine to help you get through the day. Feel free to swap out for decaf, if you wish.
1 cup of cooled freshly brewed coffee
2 teaspoons of Torani sugar-free salted caramel syrup
1/2 cup of ice
1 scoop of WW Chocolate Protein Powder
2 pumps of Skinny Syrups Caramel foam topping
Put the first four ingredients in your blender. Let 'er rip until all the ice is gone and you have a delish coffee beverage. Top with two pumps of the Skinny Syrups foam. All these ingredients, except the Protein Boost, are zero smartpoints. Yay, you!
5 – Dive into a double chocolate milkshake
Ok. Clearly, if you are still reading this blog post, we establish that you love chocolate. So, if you're in the mood for a decadent treat that won't use up all your smartpoints at once, here's a special treat for you.
Make a doubly chocolate milkshake by adding sugar-free chocolate syrup to boost the richness. You'll use only two Weight Watchers smartpoints in this sinful-tasting shake.
One cup of unsweetened, plain, fat-free Greek yogurt
1 tablespoon of sugar-free chocolate syrup
One scoop of WW Protein boost
2 tablespoons of Stevia or your favorite zero point sugar replacement product
1 cup of ice cubes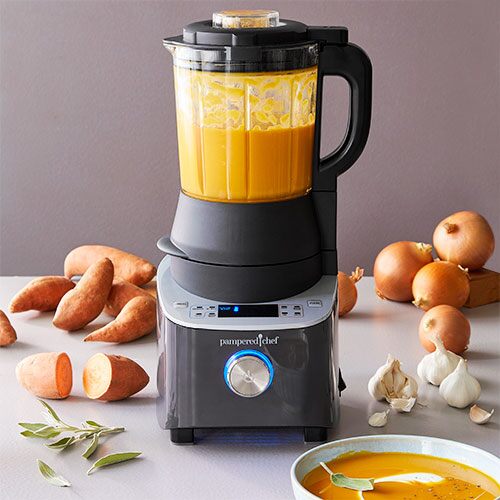 6 – Spice it up with pumpkin and a hint of caramel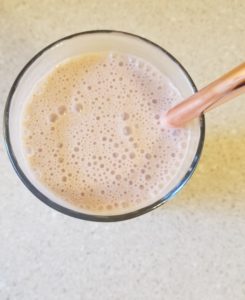 You all know from past content that I am a HUUUUUGGGGEEE pumpkin spice fan.
Fortunately, I have worked hard to makeover my favorite rich pumpkin spice treats into more reasonable recipes that will help me maintain my weight loss now that I've reached the goal.
This combines freshly brewed and cooled pumpkin spice coffee, canned pumpkin for authentic flavor, and a warm dusting of autumnal spices. Take a look.
1/2 cup of freshly brewed, then cooled, pumpkin spice coffee (if you don't have this, regular coffee will work–just add an extra pinch of spices
One scoop of WW Chocolate protein powder
1/4 cup of canned pumpkin puree (not pumpkin pie filling, they are not the same thing!)
Half cup of ice cubes
1/2 tsp. of pumpkin pie spice
2 pumps of Skinny Syrups unsweetened caramel foam (optional, but scrumptious!)
Brew and cool the coffee. Add all ingredients except for the Skinny Syrup foam to your blender, and whirl it all together until smooth. Put into a tall glass and add the Skinny Syrups foam, if you wish.
Get Started: Your Shopping List
You might not find a few of the products mentioned in your local grocery store. The Skinny Syrups flavorings come to mind–I make this purchase online. Though I've hunted high and low, I have never found it locally.
Note: I am an affiliate marketer. Should you purchase these items through my links, I do receive compensation. However, there is no additional cost to you.
And, as I always promise, I do not recommend products I don't love!
Pampered Chef Deluxe Cooking Blender
RELATED CONTENT: Zero-Point Apple Butter
From blending ice-cold smoothies and protein shakes to actually cooking soups, sauces, and jams, the Pampered Chef Deluxe Cooking Blender is an innovative product to have in your kitchen! Y'all, it even has a heated wash cycle to make cleaning up a snap.
I, too, was hesitant to order one (Yes, Pampered Chef peeps do have to pay for products, although we get sweet discounts). I already had a blender that did little but collect dust. However, I have been making hearty zero-point Tomato Soup, apple butter, and Zucchini Soup, along with blending protein powder since I purchased it.

Pantry Products:
If you attend your WW (formerly Weight Watchers) workshop regularly, by all means, purchase your protein booster from the venue.
However, if you're reading this not a WW member, here's my challenge to you. Give it a try. If you are interested in joining WW, please feel free to use this referral code link. You will earn a free month of Weight Watchers using this code!
Final Thoughts: Enjoy WW Chocolate Protein Booster (or Vanilla Protein Booster) Treats…In Moderation
Like all things you've learned from Weight Watchers, any food, any treat is fine–at least, in moderation! So, use these recipes to swap out some fat-laden ice cream milkshakes or even as a supplement. But all points count. Furthermore, drinking liquid drinks might not keep you as satiated as a real meal.
Please opt-in to receive DIY Home & Garden's newsletter. It's free, and it will contain lots of recipes, DIY and gardening hacks, and travel offers.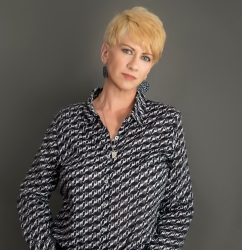 Latest posts by Deborah T
(see all)