As my garden progresses, I'm always trying to use up herbs; Spaetzle made with garden fresh herbs is a fantastic recipe. It's a quick, easy side dish that gives you home-cooked noodles in just minutes. Re-think spaetzle…it's not just a heavy winter dish. The herbs give it a light, bright flavor. Won't you delight your friends when you serve them freshly made noodles instead of the same old baked potatoes?
Spaetzle is a traditional German dish. My mother often made spaetzle when I was growing up using the technique that she learned from her German-immigrant grandmother. In fact, I say "technique", not "recipe" because the dish was not written down. She whisked up large batches of spaetzle in minutes to serve with dinner. Why large batches? Because my family loved it and ate it until we were in a near comatose state from overeating.
She usually served it with chicken and gravy or with pork roast. One thing that was for sure, we enjoyed it!
DAINTY LITTLE SPARROWS
The German word spaetzle translates to little sparrows in English. The shape of these dainty dumplings somewhat reminds one of a tiny little bird. They are very pretty little noodles.
To be accurate, I guess these are more a dumpling than an egg noodle. Some argue dumpling, but some argue egg noodle. I just call them delicious!
My mother's technique was to make the spaetzle "plain," no herbs cooked inside the dough. She added herbs as she sauced them with butter to serve. I believe this is the traditional German method. She most often popped the cooked spaetzle into a buttery skillet with onions and thyme and parsley for a quick butter sauce rather than cooking the herbs into the dough.
While those are all fantastic German-influenced flavors, you can substitute the recipe with whatever herbs you happen to have on hand in your garden. For me, at the moment, that includes parsley, chives, and sweet basil. Feel free to mix it up and play with the flavors. It really is an easy recipe.

SPAETZLE WITH GARDEN FRESH HERBS
2 cups all-purpose white flour
3 eggs
1/2 cup milk (I used 2% which works fine)
1 tsp salt –you can use more (to taste), I'm on a low-sodium diet!
1/4 tsp fresh cracked black pepper
4 fresh parsley, chopped up
1-2 tbl. fresh chives, finely chopped
6 large leaves of fresh sweet basil, finely chopped
4 tbl. butter
1 clove garlic, finely minced
DIRECTIONS, PART ONE

Prepare two pans. Firstly, boil about 3 quarts of water in a 5-quart pot. Then add salt for seasoning. Secondly, melt the butter, remove it from the heat, and toss in the minced garlic. The garlic flavor will begin to infuse the butter with flavor as it sits. But don't leave the heat or you will burn the garlic which will have a bitter taste.
I do all my prep before I make the spaetzle, it really cooks quickly. Have all your herbs chopped and in a bowl ready to go.
Mix your all-purpose flour, eggs, and milk with a whisk in a large mixing bowl. I really love this part, take your day's frustrations out and whisk it like you mean it! The texture will be fairly loose, but not runny.
DIRECTIONS, PART TWO
As your water should now be boiling gently, run the dough through your spaetzle maker. They will look wet as they push through the spaetzle maker, but they start to firm once they hit the hot water.
Boil the spaetzle for about 4 minutes. They will float to the top when they cook through.
Drain the spaetzle in a colander. Give them a stir to keep them from clumping up. I forgot stir batch when I drained them. However, after I coated them with butter I gently fluffed them up with a fork and they came out fine. Do as I say, not as I do.

Put the cooked spaetzle in a hot skillet with butter, garlic, and herbs just until they turn golden brown. Fluff with a fork.

Turn the heat back on that melted butter and garlic. Then stir in your spaetzle and give it a good stir to coat it with the buttery mixture. Finally, stir in your herbs and season with salt and pepper to taste.
NOTE:
Fresh herbs always taste better. However, don't let using dried herbs deter you from making this in the off-season. Regardless, these homemade dumplings are a winner either way!
AND SERVE!
You can use spaetzle to replace rice, potato, or pasta as a side dish with almost any meal. Once you see just how fast it is to make, it's truly difficult to accept boxed pasta. In fact, your family will love it! I bet you may even need to make a double sized batch like my mother always did!
Use this recipe to impress your family or guests with this easy herbed side dish. You will love the flavor. In addition, it's a great way to use some of those garden herbs or make a quick marinara to top it.
Please feel free to share a photo of your spaetzle to our Facebook group.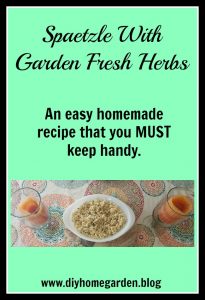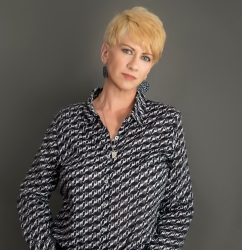 Latest posts by Deborah T
(see all)