This Savory Garden Marinara is the perfect dinner to fix on a hot summer night. It has been an extremely hot past couple of weeks here in North Carolina. And I mean too hot to even think about grilling outside.
In fact, the temperature has been about 100 degrees for the past two consecutive weeks.  That said, the local tomato crop has peaked and is now waning. So my herbs are just about spent after being beaten down by the sun.
Unfortunately, this means I have only a short time to cherish the fresh ingredients before they are done for the year.
Therefore, I decided this evening to use up a few precious last fresh tomatoes in a fresh marinara sauce. This marinara is a lighter sauce, perfect for a summer evening. Of course, I enjoyed it inside…in the air conditioning!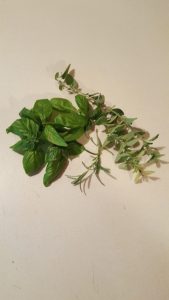 SAVORY GARDEN MARINARA AND PASTA:
five to six large fresh tomatoes – remove skins and seeds
2 tbl. tomato paste
one large sprig of fresh rosemary
a small handful of fresh sweet basil
two sprigs of fresh oregano
one clove of garlic
2 tsp. olive oil
1 tsp of fresh cracked black pepper
1 pound of cooked pasta – rigatoni, penne, or ziti seems to hold up the best
Blanche the tomatoes for one minute. Then submerge in an ice bath. Lastly, remove skins and scoop out excessive seeds.
Dice the tomatoes into fine squares.
Roughly chop up the fresh rosemary, sweet basil, and oregano.
Finely mince the clove of garlic.
Place the olive oil in a 3-quart saucepan — add the garlic and cook it until slightly softened. However, do not let the garlic burn as it takes on a bitter taste.
Add the tomatoes to the saucepan with garlic and olive oil.
Add the remaining spices and herbs – let this cook for 30 minutes with the lid half off to allow condensation to evaporate.
Stir in a couple tablespoons of tomato paste if needed. Your marinara is ready as soon as the sauce thickens.
 As the marinara thickens, boil your pasta to an al dente finish.
After you drain your pasta, stir in the savory garden marinara.
In addition, I garnished my pasta with an extra couple of basil leaves and romano cheese.
Please note that I don't recommend salt. In fact, this is because I am on a strict diet due to hypertension. But you can add salt if you'd like.  However, I find the flavors bold enough without it.
This savory garden marinara is fast, easy, fun to make, and delicious to eat.
Happy eating! Please connect on social media and share how this recipe worked for you. Have a happy DIY day.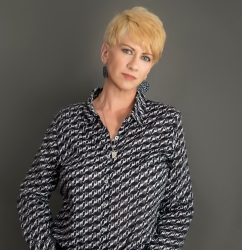 Latest posts by Deborah T
(see all)