I upcycled an old wooden ladder into a trellis last weekend. In that post, I promised you that part of the ladder which I cut down was going to make a second project. So this is that project. It's a charming, shabby chic towel rack to keep in my She-Shed.
RELATED POST: Upcycled Ladder Project One: Clematis Trellis or Garden Trellis
My she-shed has running water, thanks to a quick connection to my garden hose. I love being able to harvest my veggies and wash them right there in the she-shed. However, it was lacking a towel holder. I tried paper towels but the humidity made them a nasty, shriveled up mess. I've been meaning to pick up a cheap towel holder at the store, but ya'll know I don't do things quite so easy.
Here's how I created a towel bar from the cut-down ladder.
A Little Carpentry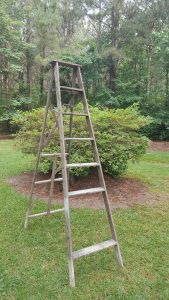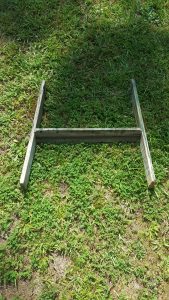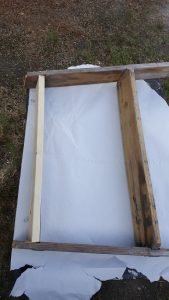 Firstly, I used the section of the ladder that had a missing rung for this project. See in the first picture? I had a scrap piece of wood in the barn that was similarly sized in thickness and about the right length. So I put it above the rusted wire that someone had used as a replacement rung and it slipped right into place! No measuring or cutting, just pure dumb luck. Then a couple of hits with the brad nailer and the piece was fastened securely to the ladder frame.
I sanded the whole piece including the new piece of wood to give everything a smooth surface, used the air compressor to blow off all the dust and grabbed my paintbrush.
Painting The Towel Rack
For this project, I used Sherwin Williams Little Blue Box. As my regular readers will testify, I love tiffany-inspired blue. I use it on many projects. I find it adds a fresh and clean color to everything. Fortunately, my husband has indulged my obsession with this color and hasn't complained about it yet.
If you are planning to use your towel bar inside, you may want to prime first. Primer does definitely make a better finish. For this project being outside, I didn't worry about it being too perfect.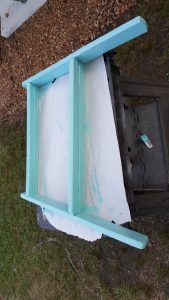 Hanging The Towel Rack
I screwed to eyes into the back and drove a couple of large-head nails through them using a power screwdriver. This secured them to the wall of the She-Shed. Nothing fancy here. They are heavy enough to withstand the high winds that we often experience in the coastal plains here in North Carolina. Also, the rack itself is sturdy enough that I can throw some of my older bath towels out in the She-Shed for when I'm working in the yard.
It sure will be convenient to be able to dry my hands. My husband likes it so well he says that he will start using it to dry his car wash towels after washing the cars.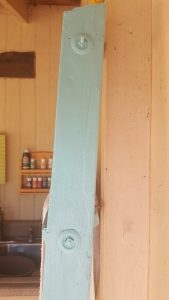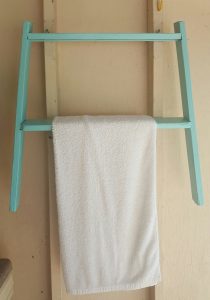 Final Thoughts on Crafting New Things Out of Old Junky Items
When I cut down that ladder last weekend, my husband was about to toss this bottom section into the trailer and haul it with the trash. He thought I'd lost my mind when I told him that I was making it into a towel rack. Actually, this towel rack is so charming that I'd bring it into my own kitchen or bathroom if I'd had the space. Look at pieces with an open mind. Think outside the box. Consider otherwise discarded items for upcycling projects and you will be able to furnish your home and garden with unique pieces.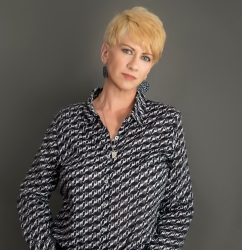 Latest posts by Deborah T
(see all)