A baby on the way? Then you know it's time to get ready all the essentials that pertain to the baby nursery; including the beautiful paintings that will not only keep your little angel's eyes crisscrossing the walls but also soothe him or her.
Babies love colors, by the way. So for obvious reasons, you would want something exciting, calming, warm, and comforting. White or orange works well for a baby nursery, although you can still use other colors of your choice—just ensure you exercise extra care when choosing the colors.
Obviously, as a parent or parent-to-be, you're full of emotions now; from the overflowing joy to the anxiety—you're just not yourself. You want to ensure everything is set before your little one arrives.
And so, yeah, babies come with a lot of stuff, which are ridiculously minute; meaning you'll definitely need a well-planned storage system to ensure the nursery stays organized. Herein, you'll find some of the organizing tips to start you off the process.
But, before that, let's take a look at the particular baby stuff you'll need to furnish the nursery. Makes sense, right?
Here are some of the essential things to include in your baby nursery.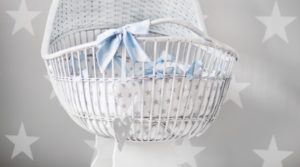 Baby nursery supplies
1 – A crib
You're, obviously, not planning to have your baby sleep with you in the same bed, and so a crib is a must-have.
Whichever crib you settle for, ensure that it meets all the safety requirements for your baby and even better; it provides the utmost comfort for your kiddo.
What more?
Oh, cute tiny mattresses and beddings. Ensure the mattress is waterproof, comfortable, and sturdy, and properly fits in your baby's crib. Crib sheets should be soft, warm enough and well fitted around the mattress such that it doesn't come out while the baby sleeps.
Note: A baby's skin is usually very sensitive, so, also be sensitive to this fact, yourself, when choosing his/her beddings. Natural fibers such as organic cotton and linen are definitely the best due to their great absorbency and breathability keeping your small munchkin comfortable all day and night.
Plus, remember to keep your baby's crib simple. If possible, avoid a lot of stuff such as bumpers, toys, and blankets until later ages since they can be really unsafe for your tiny angel.
2 – Changing station
The truth is that you're going to be making a lot of diaper changes during the first few months and you'll need a well-defined place for that particular job. You may opt for changing tables or just be creative enough to use the already available resources such as your television stand or the surface of your baby's dresser.
Whichever station you decide to serve as your baby's changing point, ensure that it's comfortable enough for the baby's body.
3 – Rocking chair
You can as well call it a feeding point. Ideally, you're the number one beneficiary of such stuff (as a mom) because it makes you comfortable—keeps you in the right position to breastfeed and put the baby to sleep. Therefore, choose it based on your preference.
If you have or are expecting double bundles of joy, that is, adorable twins, you should opt for a double rocker so that baby daddy can also join the rock-a-bye.
4 – Night light
If a full-grown person like you; who has lived in the light for all those decades can find it difficult to sleep with the full-headlights on, how about your little angel?
Peaceful sleep is all they need, therefore, ensure the lights inside the nursery are dim. Nightlights will help to guide your steps as you make late-night breastfeeding trips.
5 – Baby monitor
If you're like most parents who prefer their babies having a separate room for a nursery, then a monitor is a must-have essential for you.
Instead of walking to your baby's nursery every now and then to check on him/her, you can simply use a monitor to watch your baby from your room.
Ensure you have a night light by your bedside in case you decide to have the baby sleep with you in the same room.
6 – Nursery storage systems
Your baby needs a lot of stuff—you know that. From clothes to diapers to bibs, and to the many many miscellaneous…
This is a clear sign that you need a proper storage system, which not only helps make your little one's space tidy but also gives you peace of mind and sanity. As they say, a clutter-free space/home equals a stress-free mom.
Consider investing in closet and or drawer dividers. They make work easier when it comes to organizing your baby stuff. Hanging-baskets, spike racks, and shoe organizers are also great tools for vertical storage and help create more space in the nursery.
7 – Nursery mat
The soft and fluffy floor mat will not only make your feet comfortable while nursing your baby but also a perfect surface for your baby when he/she starts crawling and moving around.
Reminder: Diapers and wipes are must-haves. Stock as much as you can.
8 – Colorful nursery decor
Enhance the warmness and beauty of your little one's space by throwing in some wall art decor. You can choose to go with flowers, woodland animals, ocean pics, or just anything of your liking.
You'll learn perfectly well how to breathe life into your baby's nursery with her digital print wall art. If you're working with a tight budget, then this should be your first stop.
Here are 10 space-saving hacks for setting up your baby nursery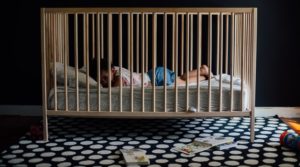 1. Make use of the space under your baby's crib
Crib skirts or plastic bins are a great way to keep excess baby stuff out the way leaving the nursery more spacious. Simply push the skirts or colorful cloth bins under the crib.
2. Convertible furniture
It's always wise to invest in furniture that your baby will grow in until he/she is ready for a youth bed.
Therefore, (if possible) go for convertible furnishings. Other than the amazing features that they come with, convertible cribs also save you money in the long run. They're able to accommodate your baby until he/she gets to the youthful stage—when you can now decide to keep the bed or buy a new one.
It's always amazing and fulfilling to invest in something that you can easily use for some other tasks in the future.
3. Use closet and drawer dividers
The seemingly tiny clothes of your little one can easily and quickly turn into a pool of clutter if left unarranged. The result? A stressed mom. You don't want that…
Therefore, consider investing in closet and drawer dividers to help you organize those tiny treasures according to size and type—giving you easy access and a sense of neatness.
4. Hang racks for books
Since this is on-wall storage, it saves a lot of floor space, unlike the bulky traditional bookshelves that ate up massive floor spaces.
Apart from making the nursery spacious, hanging racks provide a unique touch of décor since they allow for the stylish display of books. Just don't forget to lower the spikes enough so that your kiddo can easily reach them when he/she becomes mobile.
5. Grab shoe organizers to save the day
Whether your budget is so tight such that you can't afford the stylish storage system or just looking for extra storage means, shoe organizers are the best way to hang up your troubles.
Almost everything belonging to your baby; from shoes to onesies can fit into those tiny pouches of shoe organizers. And since the shoe organizers can be patched right on the back of the door, a lot of space will be saved in kiddo's nursery.
6. Store your baby's stuff in hanging baskets
Another brilliant way of going vertical to save space is by using hanging baskets. A handful of hooks and some plastic baskets is all you need. Of course, you can select them based on colors that will match your kiddo's nursery theme for extra décor.
7. Rails for baby shoes
That extra downward space left in your baby's closet is just perfect for those little adorable shoes. Grab a suspension rod, install it in the closet and use curtain rings to hang your baby's shoes. Such a cheap but ultra-classy way to organize your little one's closet, isn't it?
8. In and out trick storage trick for toys
If there are things that are going to be scattered all over your baby's room, they got to be toys. Your baby will need them when he/she hits around six months of age.
Rotating your baby's toys in and out of the nursery occasionally can save you great space. Plus, babies get bored very fast playing with the same toys so it will be a good idea to keep on rotating them; instead of stashing all of them in the nursery.
9. Make room for the crib in the closet
This hack comes from moms with small homes with reasonably large closets.
No extra room for that perfect baby nursery you've always wished for? No worries, you can still give your little angel the best by creating an extra room in the closet. Everything about babies is tiny—including themselves, beds and even clothes.
Simply remove the closet door and have your baby rest in a cool and enclosed area that still provides you the option of hanging his/her clothes, which can either be on the walls or on the rod right above.
10. Give out gently used baby gear
Donation is also one great way of freeing out extra storage space in the house. There is no need to cling on to baby gear when you no longer use them. There are families that will heartfully appreciate your donation. Giving is wealth.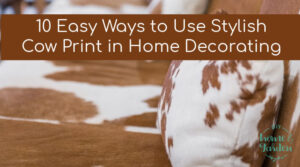 The Takeaway on Setting Up a Nursery
When it comes to purchasing baby nursery supplies, only buy what's necessary. Review all the essential items and visualize how and where you'll use them. This way, you'll end up saving more.
Consider DIY projects for some of the items (like knitting baby socks, making your own wall decors, and many others) to save even more as you set up the nursery.