Cow print entered the fashion scene in 2021, and it has trended strongly ever since. This print gives everything a fun and casual appearance. It gives a slight nod to shabby chic while staying elevated and is a neutral that you can pair with almost anything.
From clothing to upholstery to accessories, it is everywhere. Better yet, you can find it in many synthetic fabrics or stamped on organic cotton or canvas–making it available in many price ranges without actually hurting any cows.
However, we will focus on home decor, sharing twelve inspiring ways to use cowprint in your decor. Before we start, let's look at some of the frequently asked questions about using cow print to give you a better understanding of why you should.
Frequently Asked Questions About Styling With Cow Print
And so here we go.
What is cow print?
Cow print is a printed fabric motif resembling the spots on a cow. Although you'll usually find it in black and white colors, you might also occasionally spot (pun intended) it in a golden brown and white.
In home decorating, you can go all-in with upholstered furniture, or you can add little accent pieces if you're not ready to fully commit. The trend is fun and appears to have staying power for this year.
What is the deal with cow print? Why are people obsessed with cow print?
Many people express an appreciation for the cozy vibe of farmhouse chic, but they don't want to cross the line into country comfort or shabby chic. Although both are great styles, some folks want to stay more modern. Cow print's crisp black and white color motif can bridge the desire for a country print to a more contemporary taste preference.
What do I pair with cow print? What colors look best?
The primary trend in this fabric is a starkly contrasting black and white color theme. Of course, both are neutrals. Thus they pair beautifully with your favorite solid color. Try a rich barn red or a luxe, saturated teal if you want an even cozier feel. However, pairing it with a bright white or glossy black lends it a cinematic, glamorous feel that will appear high-end and more contemporary. It all boils down to your own preference.
10 Ways to Use Cow Print to Decorate Your Home
Here are ten inspiring ideas to work cow print into your home's interior design–without going all-in on a trend that might be gone. Eventually. Maybe.
Note: many of the images we share have purchase links. I have not personally purchased any of these items. I'm merely an admirer. Thus, I cannot speak to the quality or recommend any products. Finally, I am sharing these without compensation, just as discussion points. My opinions are my own.
1 – Open and airy white and cow print dining room in Geneva
The Swiss are obsessed with cows, reports one blogger. They decorate with cowbells and wooden cows and wear vests in faux prints. So it comes as no surprise that this home in Geneva added a slight touch of bovine charm to an airy white dining room.
2 – Fluffy pillows add a gentle nod to the trend
If you like the look of this design trend but don't want to invest heavily, consider a pair of faux-hide pillows. It's a very subtle way to get on board.
3 – Working design elements from the bottom (floor) up is always a good strategy
Some designers we interviewed for past articles noted how the floor is often their starting point, not an afterthought. An area rug, they say, can tie together the whole vibe of a room. This rug does precisely that!
4 – Try a cow print slipcover if you're not ready for a long-term investment
This classic ottoman gets an instant update with a slipcover. How smart is this? If you're handy with a sewing machine, you could have a blast making something like this.
5 – Bathroom accessory set
Here's another fun way to tip-toe into the world of cowprint without overdoing it. In fact, this might be one of the most affordable ways to give it a try. Invest in a few accessory pieces to top your bathroom vanity.
6 – White bathroom with a popping cow print shower curtain
See how a rich, brown cow print shower curtain breathes texture and charm into a plain white bathroom?
7 – Completely love it? Ready to invest in cow-print furnishings?
Consider spending money on furniture if you are head over heels in love with cows and ready to take the plunge. This print has long been a staple of ranch homes and Western-style, so it's really nothing new to many.
View this post on Instagram
8 – Add your favorite animal print to your home office chair
If you work from home, you need a productive workspace that inspires you. Enter the cow-print office chair.
View this post on Instagram
9 – Every room needs a blanket!
Every room in your house needs a blanket to wrap up in on the coolest days. Casually draping an inviting and cozy wrap across a piece of furniture is an excellent touch.
View this post on Instagram
10 – Comfy bedroom decor, comforters, sheets, and curtains
Cowprint even makes an appearance in the bedroom. You can dress up your bed with sheets or a comforter set or hang up curtains to decorate the boudoir. This comfortable and lived-in look might be perfect for relaxing after a hard day on the ranch. Er…in the office.
The Bottom Line: Cow Print Is Everywhere
Cow print burst into the limelight about a year ago. Since then, the hot trend has not left up even one little bit. So if you ever considered an animal print, this might present a great opportunity. That's because it has a casual and easy feeling that blends with almost every style, from casual to elegant. Will you give it a try? Tell us how you feel on social media. And until the next post, have a happy DIY day.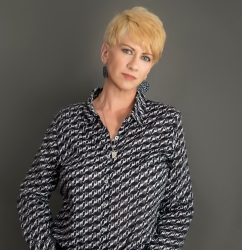 Latest posts by Deborah T
(see all)