Considering Las Vegas hotels? Don't rule out staying off-strip. Are you torn between staying at The Strip, the cosmopolitan center of all things Vegas, or choosing a more relaxed atmosphere some distance away from the bright lights and blaring noise? This can be a pretty tough decision, and that's why we've penned down the benefits and drawbacks of staying in an off-strip hotel. Hopefully, these invaluable bits of knowledge would help you make an informed decision.
Pros of Off-Strip Las Vegas Hotels
1. Everything is cheaper off-strip
The Strip is glamour-personified with its high-end attractions, exotic shows, upper-scale restaurants, and luxurious accommodations. Therefore, it stands to reason that staying in the Strip can be quite pricey. Off-strip, the reverse is the case. Rooms, food, and drinks cost less. You get to pay lower resort fees, or in some hotels, no fee at all!
Parking in The Strip is also very expensive if you own or rent a car. On the other hand, parking prices are cheap off The Strip. Some off-strip hotels don't even charge you for parking. That never happens on The Strip except you're part of a rewards program that gifts its members with free parking in certain hotels and casinos.
Generally, when you stay off-strip, your expenses are reduced and your money goes a long way. You don't believe me? Check out any travel forum online. Anyone who has stayed both on The Strip and off it can testify to the glaring price difference between the two.
2. Off-strip hotels are luxurious
Don't let all these talks of cheap food and dining turn you off staying in an off-strip hotel. If you're really particular about enjoying luxurious accommodations during your stay in Vegas, there are several resorts and hotels off The Strip that can give you that deluxe experience and still help you save cost. Yes, you can pamper your bodies with therapeutic spa treatments, attend fun pool parties, and enjoy some fine dining at stylish restaurants, all without stepping foot on The Strip.
3. Free rooms? Yes!
If sitting in the lap of luxury is really not a deal-breaker for you, you can win points by gambling and get free rooms in an off-strip hotel offering those sorts of deals. The rooms are up to the necessary standards and quite nice. You can also upgrade to a suite if you want.
4. Gambling is way better off-strip
If you love to gamble, then any seasoned Vegas veteran would tell you off-strip is the place to be. Off-strip casinos have better gambling conditions. You spend less and have a higher chance of winning. Quite fair for a casino, right?
Table games, such as craps and mini-baccarat, have lower minimums and allow for lower denominations. The house edge is also usually lower than that of The Strip's casinos, especially for blackjack and poker. And the slot machines off-strip offer better returns.
However, if you're a high roller with a decided preference for higher stakes, hobnobbing with the elite, bigger excitement, and of course, bigger losses, then The Strip is where you should be.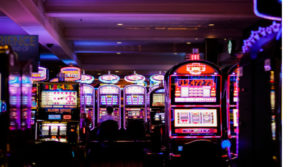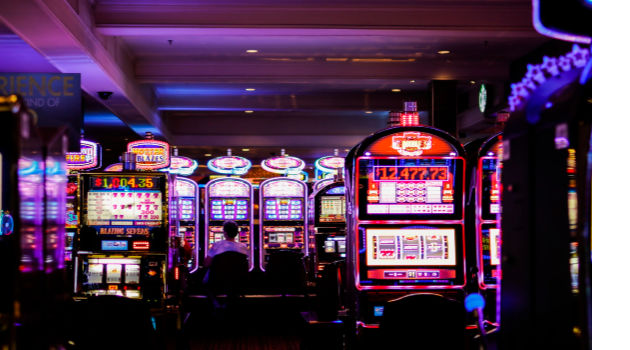 5. Meet the locals
You'd rarely get to hang out with locals on The Strip as they rarely go there. Turns out Vegans like neither The Strip nor the tourists flooding their city and prefer staying off-strip. If you want to get a chance to meet some fun locals, learn more about the city's origin and culture, and make new friends, then an off-strip hotel is the right choice for you. Regular visitors to Las Vegas claim that the people who stay off-strip seem nicer and less snobby compared to the social exclusiveness that permeates The Strip.
6. Peace and quiet
Off-strip areas tend to be less crowded as every other person is on The Strip. While The Strip is bursting with insane levels of energy and youthful exuberance, you have a calmer and more relaxed atmosphere off-strip.
The excitement and noise on The Strip could be exhausting at times. If you would love to dial down on the 'sensory overload' and not be in the thick of the excitement all day, then you should book a room at an off-strip hotel. You get your space, some quiet time, and a great view depending on the location of your hotel.
7. Enjoy a complete vacation experience
The Strip is really for those who enjoy the party life. But if partying every day and night is not your scene, then staying off-strip would offer you a more enjoyable vacation experience. Bowling halls, movie theatres, state and national parks, golf courses, museums, beaches, and mountains, ranges, and canyons for hiking and outdoor exploration abound off-strip.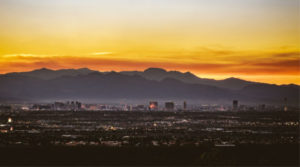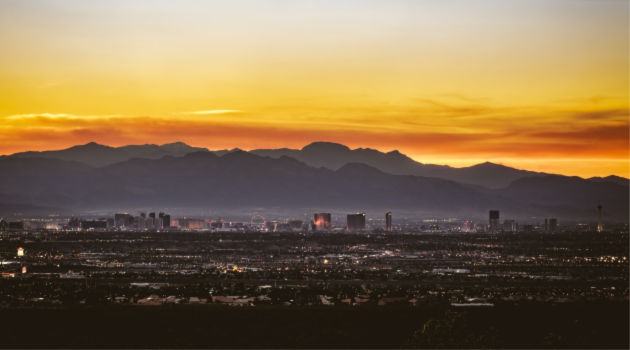 Cons of Off-Strip Las Vegas Hotels
1. Nothing beats the iconic Strip experience
The Strip is what Vegas is all about; the eye-popping shows, fascinating attractions, trendy clubs, headliner acts, sophisticated restaurants, terrific pools, and superior pool parties. And most of these are usually offered by hotels or resorts in The Strip. No matter how wonderful the best off-strip hotel is, it just can't measure up to the awesome offerings of The Strip.
2. Off-strip hotels don't offer high-end accommodations
Las Vegas hotels on The Strip are designed solely to cater to the tastes of the wealthy. Elegant furnishings, stylish interiors, and impeccable room service are the norm. On the other hand, some off-strip hotels don't even have room service. In that case, you might have to make do with cooking in the kitchenette attached to the room or eating out at cheap restaurants and bars offering affordable meals.
3. Far from the highlife
Some off-strip hotels, in a bid to attract more clientele, offer live music and several interesting performances. But they're still a long way off from the exquisite party atmosphere of The Strip. There is not as much excitement, and as long as you're not on the Strip, it always feels like that wow factor, or better still, the 'Vegas vibe' is missing.
4. Spend more on transportation
If you travel to Las Vegas to enjoy all The Strip has to offer and then decide to stay off the Strip, then get ready to shell out a substantial amount of cash for transport. The farther off-strip you are, the more you'll spend on Uber, Lyft, or taxis. On the bright side, some off-strip hotels offer free shuttles to The Strip. If your hotel is close to The Strip, you could as well walk the little distance to your destination.
It's important to point out that despite the increased cost of transport when you stay off-strip, your total expense would still be a lot less than if you had booked a hotel on The Strip. Staying on The Strip doesn't mean you won't spend money on transport. You'd still have to shell out some dough to move from one place to another.
Should I Stay in an Off-Strip Hotel in Las Vegas…or Not?
Choosing to stay in an off-strip hotel would depend on how you answer and prioritize the following questions:
1. What are your personal preferences/tastes?
What is good for the goose is not necessarily beneficial to the gander. If you love gambling, book an off-strip hotel. But ensure it has a casino, or it's at least close to one. If you dislike walking, stay in The Strip. That way, once you step out of your hotel, you're right in the middle of the action. You prefer preparing your own meals to eating out? An off-strip hotel room with a kitchenette has your name on it. Simply put, know what works for you!
2. Why are you going to Vegas?
Do you just want to have fun and party all night long with a couple of friends? An hotel located in the Strip would suit you just fine. If you're going to Vegas to see a show at a hotel on The Strip, then it makes more sense to stay at that hotel. Are you visiting Vegas for a business meeting, conference, or convention? Go off-strip.
3. What's your budget?
This is the most important question of all. Your budget plays a big part in determining if you're going to be booking a room in an off-strip hotel or not. Spend only what you can afford or you'll land yourself in serious debt or worse, get stranded with no funds.
4. Is this your first visit or your tenth?
For a first-timer, I'd strongly advise you stay on The Strip and splurge to your heart content. Enjoy the full service of The Strip's hotels and casinos, bask in that unique Vegas experience, and create memories to last a lifetime.
If it's your third or fourth visit, I'd suggest you try something new instead. Why don't you experience Vegas off The Strip this time around?
5. How long are you staying?
If you're planning a long vacation in Sin City, I propose a split trip. Go crazy at the Strip for the first few days. Then, retire off-strip to rest and recover for the final couple of days.
Final Words on Choosing from the Many Las Vegas Hotels
Once you've made your choice to book an off-strip hotel, then you need to be ready to stay off-strip. You must prepare your mind to adjust to the laid-back atmosphere. Be honest with yourself and have realistic expectations. Else, you'd just be miserable throughout your stay, always wishing you were in a nicer resort on The Strip.
Finally, research properly to know which Las Vegas hotels best suit your needs, cash in on bargain deals, freebies and discounts, and most importantly, get good value for your money.
Tahiti Village Vegas
Spend 3 Nights In A One Bedroom Suite At The Beautiful Tahiti Village Las Vegas, With 2 Tickets Cirque du Soleil Included, For Only $179!