One of the most important rooms in the home is the kitchen. It is a central hub or activity and it is used for one of the most significant daily activities that we engage in–cooking. Therefore, you should consider a kitchen makeover. Not only will you have an entirely new aesthetic, but you'll have a more functional home.
Food is not only vital for our survival, but it is also fundamental in socializing, the kitchen becomes a place that we congregate to cook and eat together brought together by food. With that in mind, your kitchen needs to not only serve a practical purpose in being somewhere that food is stored and prepared, it is also somewhere social.
Add to that the fact that an updated kitchen adds tremendous value to your home. This project increases your home's equity and makes you more money when you decide (eventually, someday) to sell it.
Here are a few tips for redecorating your kitchen so that you get all of the best out of this significant room.
Tips for a successful kitchen makeover
1 – Good Storage Is Vital
There are several types of things that get stored in any kitchen, and you will need to have plenty of space available for all of these items. Whether you are storing fresh, dried, tinned or frozen food; you will need more space for this than ever before. With family life being much busier than ever, people are inclined these days to do much bigger food shops. And, the choices available at the supermarket will make it easy for you to come away with so much.
Head to the Cabinet Store to try and find a storage solution that works well within your space. A well-constructed cupboard will have the ability for you to store more within a smaller space.
2 – A New Range
If you are looking for the finest upgrades, why not treat yourself to a range? Having a large cook tp that has a double oven will mean that you will be able to manage cooking large meals such as a large family holiday dinner with much less stress than in a basic oven. If you are getting a new cooker, it may as well have a hotplate and extra hobs too.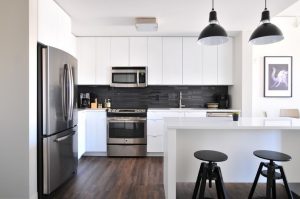 3 – A Seating Area
As the heart of the home is the kitchen, you should invest in a great seating area for your kitchen. This will give you somewhere that you can gather as a family. Or, you'll be able to have friends over for a meal. Being in the kitchen puts you right in the heart of the action when it comes to preparing and serving up the meals.
If space permits, think about getting a sturdy wooden table with chairs to match, Not only will this prove to be more comfortable to eat at, but it will also be long-lasting and hard-wearing.
And if your space is tighter, consider an island or peninsula with barstool seating.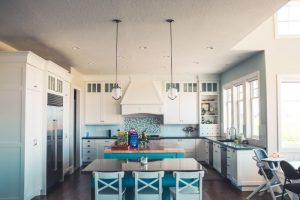 4 – Think Easy Clean
Let's be honest, you can make your kitchen pretty messy from time to time.. Having easy-clean surfaces will mean that you will find it much easier to keep on top of keeping the room clean and tidy. It will also prevent stains and mold from forming.
Also, have an extractor fan fitted to keep the room feeling much cleaner. That's because this equipment will help take out a lot of the moisture, food odors, and steam from cooking.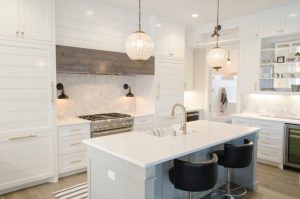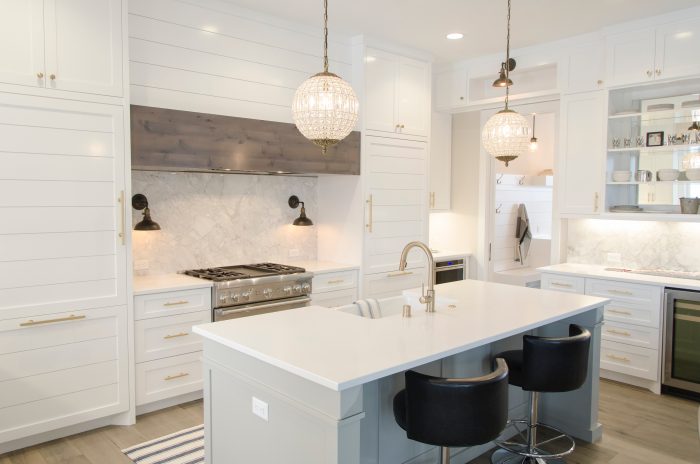 Be Confident in Your Kitchen Makeover…You Got This!
Before you begin any renovation, do careful planning and budgeting.
Save some serious cash by doing some of the easier tasks yourself: demo, painting cabinets, changing out faucets or hardware. Conserving the money will stretch your budget further, allowing you to install more upgrades. Remember, though, to not take on jobs that require special expertise if you're not able to do so. These might include electrical, plumbing, and specialized carpentry tasks.
Your priority list and the dollars you have saved will help guide you as you make these important decisions about your kitchen makeover.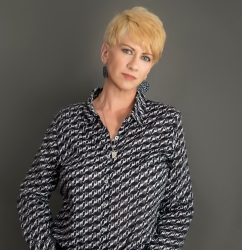 Latest posts by Deborah T
(see all)