Are you browsing for kitchen improvement ideas?
Kitchens hold a special place in most homes. It is where people gather to share meals, tell stories and build life-long memories. It is, therefore, no surprise that kitchens are often the subject of renovations. After all, a place where you will spend a lot of time needs to look good and still be functional, doesn't it?
However, most kitchen improvements tend to be costly and labor-intensive. A simple remodeling of the kitchen can easily cost thousands of dollars and take quite a few weeks. But this does not mean that you cannot spruce up your kitchen without breaking the bank. Here are 5 DIY ideas that will not only save you money but will transform your kitchen into a room you are proud of.
1 – Reconsider Your Storage Options
Cabinets dominate most kitchens and are a storage haven for most homeowners. But they can sometimes do little to improve the kitchen's appearance. However, doing things a little differently can brighten up your kitchen while still giving you room to store your items.
Have you ever considered displaying your cups and plates instead of stowing them away in a cabinet? Arranging them nicely on open shelves can drastically improve the aesthetics of your kitchen. Consider also placing some hooks on the lower brackets where you can hang some teacups. You will be amazed by how transformative something as simple as this can be.
You can also save yourself some considerable storage space by installing a pan rack in your kitchen. Not only do you get to showcase these kitchen staples, but it makes it so much easier to reach out and grab them. Additionally, having your pans on your racks makes it easy to organize your cabinets and drawers since you will get all those long handles out of the way.
Another smart DIY idea that can add plenty of storage space while still being aesthetically pleasing is using bed slats as hanging storage. There is no limit to creativity when it comes to creating unique storage options in your kitchen.
2 – Patterns and Paints
If you have a very tight renovation budget to stick to, consider giving your cabinetry a fresh coat of paint. This DIY project is cheap, easy to do, and takes very little time. When choosing a new color for your cabinets, pick a unique color to keep things interesting. For instance, mint and teal are uncommon and distinctive colors that can add personality and depth to your kitchen.
You could also enhance the backsplash in your kitchen by repainting it. Bold patterns work exceptionally well on backsplashes, and they can make your kitchen outstanding for all the right reasons.
Consider also getting beautiful wallpaper for your kitchen walls. They can act as statement pieces and are a cost-effective way to transform your space. You could also install contact paper on your shelves to give them a luxurious and deluxe look.
An interesting feature you can include in your kitchen on a budget is a chalkboard on a wall. All you have to do is purchase some black paint, the kind meant to be written on with chalk, and paint a section of your kitchen with it. Then you can draw pretty pictures on the board or leave your kids to have fun while you keep an eye on them. This chalkboard can also serve as an excellent family planner.
3 – Consider Installing New Windows
Another excellent kitchen improvement idea is installing new windows. This might be costlier than other remodeling ideas on this post, but it can have the most significant impact on your kitchen. Also, you will most likely need to hire a pro installer. Still, you will likely find the reward with the expense.
Windows in the kitchen play two essential roles. First, they let natural light into the room, which is key to having a great ambiance and good lighting. Secondly, they provide aeration and can help keep intense aromas from your cooking at bay.
If you are really squeezed for money, consider getting quality windows from a vendor with windows for all budgets. It would be best if the vendor also offered installation services since you can save some money. Why not visit this vendor's homepage to see how they can help you with your window installation process?
4 – Upgrade the Little Things
Sometimes, it's the small things that can make the most significant difference to your kitchen. Changing the knobs and handles on your cabinets, for instance, can change the look and feel of your space tremendously. In particular, brass and leather handles are trendy, functional, and beautiful, and they won't cost you much to buy and install.
Upgrading the lighting in your kitchen can also go a long way in making your space beautiful. Consider having multiple sources of lighting in your kitchen. Additionally, you can install inexpensive pendants over your island or kitchen table. They make excellent statement pieces and are a perfect example of functional décor.
Another way to perk up your kitchen is to display some beautiful art on your shelves or hang it on your walls. If you don't have any artwork to showcase, choose some beautifully-patterned plates, and arrange them on the wall. This is cheap but can still make your space beautiful.
If you have any seats in the kitchen, you can freshen up the area by changing the chairs' pillowcases. It is a simple act that can add a pop of refreshing color to your kitchen.
5 – Decorate Your Appliances
Often, appliances in the kitchen are not the most pleasant items to look at. Most have that metallic, shiny glare that does little for the room's aesthetics. Well, this does not have to be the case for you.
Why not get some colorful small accents to use as statement pieces in your kitchen? A yellow kettle or an orange fridge can go a long way in creating a theme to work around. Or you can consider repainting your current appliances a color of your choice using vinyl.
If you are looking for a temporary way to revamp your appliances, wallpaper is the ideal solution. You can make your fridge more attractive by installing some colorful or beautifully patterned wallpaper and then remove it when you want to.
The Bottom Line: You Can Make These Easy DIY Kitchen Improvements
Creating a beautiful space in your kitchen need not cost an arm and a leg. A little creativity is all that is needed to give your kitchen a custom look and luxurious feel. Try some of the ideas suggested here, and watch your kitchen transform into a room you are proud to show off.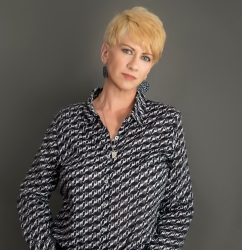 Latest posts by Deborah T
(see all)