As you pass through your kitchen, you feel agitated and disappointed with your outdated surroundings. The heart of your home has perhaps been demoted to a less useful organ, like an appendix. It has progressed over the years from a one-dimensional room for cooking. Now it is in use for multidimensional cooking, socializing, coffee chats, wine tasting, and dinner party rooms. The image of your kitchen should make you feel happy and proud for use by your family and guests. We have some fun DIY kitchen projects over here too!
According to Forbes, people on average tend to spend a staggering $25,000 to $50,000 on renovating their kitchen. For those who would love to update their kitchen on a budget without breaking the bank or your soul, consider these DIY tips below.
RELATED POST: Kitchen Upgrades (5 Essentials You Need to Know)
Cupboard Makeover
A popular choice for refreshing a tired looking kitchen is to paint your cupboard doors. There are various brands available online and at your local hardware stores. The main key to all kitchen cupboard painting is to spend time prepping.
Usually, this means removing any hardware, cleaning the doors by using some sugar soap to remove grease and grime and sometimes sanding to provide a key for the primer/paint to stick properly. Prepping properly will help your painted kitchen cupboard sustain durability and last longer. If you're unsure about which color to choose, white is a timeless kitchen cupboard color favorite. This will instantly modernize and brighten it up whilst well alongside any worktop.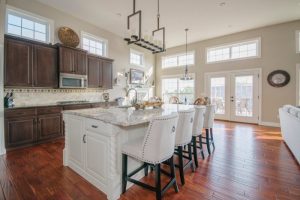 New Knobs and Fancy Faucets
Changing outdated hardware is another trick for saving your kitchen image from further regression. Something simple like changing your old fashioned brass cupboard door knobs for chrome handles could instantly create a modern twist to your kitchen. It is important to make sure when changing your handles that your new handles will fit in the holes of your old ones.
Otherwise, you may need to use some filler and paint to patch up any unsightly holes if your handles are smaller than the previous ones. Equally hardware such as a new faucet can make a large impact on not just the look but functionality of your kitchen.
You should plan to spend at least $200 for a faucet that's durable with embedded features to assist you in the kitchen. For instance, you may want a spray function or even a hands-free touch-sensitive tap. This page may help if you're a little lost in terms of what style faucet and added features to purchase.
Mood Lighting
The power of adequate lighting can change a kitchen space dramatically, whether bright lights for children to sit at the dining table and complete home-work or warm under cupboard lighting to create a relaxing atmosphere to sip a glass of wine and cook a pot roast. Lighting is the staple to change the mood and feel of your kitchen and provides much-needed updating. Perhaps opt for some easy to install strip lights from eBay, at around £15 per strip for a contemporary feel, or invest in a few copper pendant lights to plant above the kitchen island to add a rustic edge.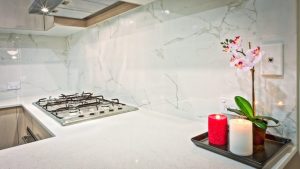 Minimalism
This is a tip that requires no money at all. Sometimes the art of helping to create a contemporary feel is to clear cluttered worktops and form a seamless clean-cut environment. If your surfaces are filled with books, plants, stationery and letters, it may be time to clear the mess away. It has been proven that simply reducing clutter can help alleviate stress. With less stuff for your eyes to dart to and from, you will have a tidy kitchen and a tidy mind and yours and other people's impression of your kitchen will instantly change.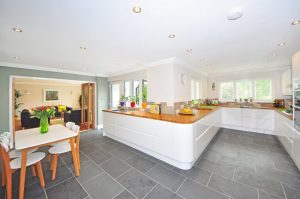 What's better, the tips above are budget-friendly. They help you to update and change your kitchen to help regain its title of the heart of the home.
---
Our contributor certainly has some valid points. Each of these sounds like something I should be doing. I have been longing for an update to my kitchen for months. Perhaps I'll give one of these a go.
What budget-friendly ideas do you have?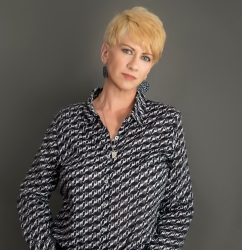 Latest posts by Deborah T
(see all)