Replacing your cupboard doors is a great way to renovate your kitchen without spending a fortune. As long as the bones of the cupboards are in decent condition, you should be able to fit new cabinet doors without much fuss. Best of all, this simple project will leave your kitchen looking like new.
New kitchen vs. new cabinet doors
When the day comes to renovate your home, many home improvement companies will try to sell you an entirely new kitchen. Even if you just want to replace the kitchen cabinet doors, they may try to talk you into a bigger project.
But why is that?
The answer is not surprising. There is a higher profit margin for outfitting you with a whole new kitchen, and contractors aren't interested in saving you money.
Unless you have the budget for a new kitchen, you should stand your ground. Request a quote for replacing the cabinet doors and drawer fronts. There's no reason you should allow someone to talk you into something more if the bones of your kitchen are still in good shape.
Is this a DIY project?
Remember, contractors, want to make money. It's in their best interest to persuade you to hire them. However, if you have confidence in your home improvement skills, you may be able to replace your kitchen doors by yourself.
Changing out the door fronts and drawers is a straightforward DIY project. You'll need the right tools to complete the job, and it also requires a bit of measuring and drilling. As long as you take your time, you can enjoy professional results.
If you don't have a lot of DIY skills, however, you may want to hire a professional fitter instead. Even though you'll pay more in the long run, a trained fitter can complete the job in just a few hours.
How much to budget for replacing kitchen cabinet doors
The total cost to replace your kitchen doors and drawer fronts depends on a few factors. Labour makes up a considerable part of the price. If you have a regular-sized kitchen, a fitter will charge about £275. Obviously, if you choose the DIY route, you won't have to budget for labor.
The price should include removing the old cabinet doors, fitting the new doors, drawers, and kickboards. However, you'll need to buy the materials separately. Most drawers cost about $26 each, while the doors run about $40. Expect new handles and pulls to cost about $3, depending on the style and material.
Hiring a local fitter is a great way to reduce your overall budget. National companies may quote you $1300 or more, while a local tradesman will usually charge much less. Most homeowners end up paying about $400 to fit or $1000 to supply and fit their replacement kitchen cupboard doors.
The Bottom Line: Replacing Kitchen Cabinet Doors Can Save Big Money
Don't get fooled by contractors who want to upsell you to an entire kitchen remodel. If your cupboards are in overall good condition, you can remove the old doors, paint the bodies of the cabinets, and install new cabinet doors.
You'll have a fresh, transformed look for a mere fraction of the price.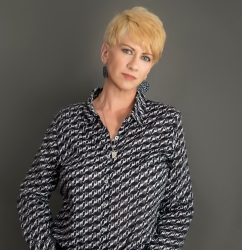 Latest posts by Deborah T
(see all)