Do you admire the look of the modern rustic kitchen?
When you are renovating your kitchen, you are always going to want to make sure that you have a strong plan in mind for how you are going to approach it. There are many reasons why that might be so important, not least the fact that you are going to have to know that you can actually achieve what you want to achieve.
One of the early decisions to make will be the overall style of the home, and there are endless possibilities here to choose from. At the moment, a lot of people are going for the rustic look, and that can be a very beautiful and interesting design to have. Let's take a look at some of the ways in which you can hope to achieve a rustic look in your kitchen.
How to Get the Modern Rustic Kitchen Look
Here are some changes you can make to add a touch of the rustic kitchen to your home.
1 – Go For The Barn Conversion Look
One of the best ways to get the rustic feel is to make the place look like a converted barn. Now, there are a few different ways of approaching this. You might actually have a barn that you want to convert into your new kitchen. If so, that is a great way of achieving this, and it's going to be a wonderful opportunity for a beautiful kitchen. But if you just have a normal kitchen space to work with, you can still achieve the same kind of effect by imagining what a barn conversion would look like and trying to recreate it as honestly as possible. Think lots of wood and a farmhouse look.
2 – Change Up The Countertops
One change you can make to any kitchen to make it more rustic is to change up the countertops to something a little rougher and rawer and more natural. You can use old bits of wood to achieve this, and an important part of it is that you will want to make sure that the edges are raw in particular. You can, in truth, achieve the same effect with some well-chosen rustic stone, so that might be worth considering too. However you do it, the countertops are always going to be an important part of the process, so make sure that you are putting a lot of thought and effort into that part of the room.
3 – Install A Copper Sink
You will by now have noticed that one of the main visual effects of this kind of style is a certain focus on browns. In particular, the dark coppery brown that the rustic look tends to lend itself to quite well. If you want to make sure that you are making full use of that color, one of the things to consider is to install a copper sink in the kitchen. These are simply beautiful and stunning, and as well as creating the rustic look they are also going to be instrumental in making the kitchen look old fashioned and chic. Check out some different copper sinks before landing on the perfect one for your kitchen.
4 – Use Distressed Furniture
If you are making any room in the home look rustic, one of the main things that you are going to want to do is to try and use some distressed furniture. You can easily create your own distressed furniture at home, and it is something that is going to make an enormous difference to the room as a whole. Just grab an item of furniture and rub it down, and consider coloring it differently too. Your aim is to make it look like an old and worn-down item, but still, maintain its charm and not go too overboard with it. Doing this with kitchen chairs and the table, for instance, might help to produce a more rustic room on the whole.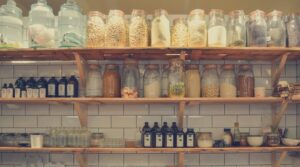 5 – Open Design & Funky Storage
An important element to the rustic kitchen look is for the design to be fairly open, and especially when it comes to how you approach the storage of items in the kitchen. If you are aware of that look where you have pots and pans hanging from a ceiling rack, that is exactly the kind of thing you should be aiming for here. Simple things like that will be all you need to do in order to ensure that your kitchen is as truly rustic as possible, so it's something that you should think about now as best as you can. You should find that this simple change really makes a huge difference.
The Bottom Line on Having a Modern Rustic Kitchen
As you can see, achieving the rustic kitchen look is actually fairly straightforward. Don't be afraid to get a little creative with the process too.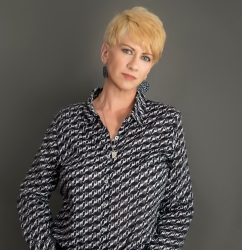 Latest posts by Deborah T
(see all)