Keto-friendly, low-carb Kale, Cheese & Sausage Breakfast Quiche is a go-to breakfast for super busy mornings. If you're on a ketogenic diet, you know how critical it is to start the day by eating right.
As winter breaks into spring, thoughts begin to turn to the beach. Ultimately, thoughts also turn to the winter weight gain that I would love to shed before beach season.
Wintertime weight gain feels inevitable for me. Every winter I pack on pounds. I work full-time, come home to sit on the couch when there's no gardening to do. Of course, I also eat more processed foods in the winter. It happens every year despite my promises to not do it again. Meh.
Therefore, I turn back to a reduced carb diet every spring. I know. Yo-yo dieting sucks. But it is my reality. I eat healthy from March to November. Then December through February I slip into winter eating habits.
I am not on a ketogenic diet. However, I do control my carb intake in conjunction with a WW (Weight Watchers) program. So, eating keto-friendly foods helps me stay satisfied. In fact, the only way I can stick to this low-carb diet to shed those winter pounds is to eat flavorful foods. I look for a combination of lower carbohydrates and the flavors of my favorite comfort foods.
Another key to success is to fuel the body early in the day. If I start my day with a hearty breakfast, I'm far less likely to slip up later in the day.
The Beauty of Kale
Fortunately, kale is the first vegetable I get every spring. It comes in by April giving me fresh greens for cooking and nice, healthy salads. And, I grow it again in the cooler months of the fall.
Kale packs your body with vitamins and minerals and gives you good nutrition. You'll be able to power through your day if you enjoy it as part of your breakfast. I know, it sounds strange as a breakfast food. However, it works for many people.
That's where my Kale, Cheese & Sausage Quiche comes in. It is rich in savory flavors, filling, and keeps within the definition of low carb and keto-friendly. It also makes it easy to get ready for work in the morning. I fix one of these on Sunday morning, and I slice it into eight servings to eat each day before work. I reheat one piece each morning and get out the door in a flash.
Oh, and I am also not ashamed to admit. When I am too tired to cook in the evening, I often eat this for my dinner by switching out ground sausage for kielbasa or beef smoked sausage!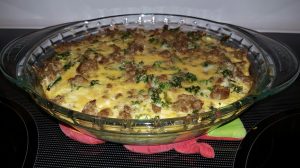 KETO-FRIENDLY KALE, CHEESE & SAUSAGE BREAKFAST QUICHE:
Every ingredient is keto-friendly!
1 lb ground breakfast sausage (you may substitute turkey or chicken sausage if you restrict your fat intake)
12 oz. finely shredded cheese (I change this up, sometimes cheddar, other times Asiago, whatever mood strikes me. Of course, you know that cheese is a wonderful part of a ketogenic diet)
6 large eggs
1/2 cup cream
2 tsp. onion powder (not onion salt)
2 tsp. ground black pepper
two large handfuls of cleaned and stemmed kale
1 tsp Mrs. Dash garlic and herb seasoning
How to make it:
Preheat your oven to 375 and spray a 9″ glass pie baking dish with cooking spray. Fry the ground breakfast sausage, breaking it into small pieces as it cooks.
Fry the ground breakfast sausage, breaking it into small pieces as it cooks. After it's cooked, use a slotted spoon to let the excess grease drip back into the frying pan. Remove it from the frying pan and place it into the glass pie dish. Let it cool down as you mix the eggs…this prevents the eggs from scrambling when you add them to the hot sausage.
Crack the six eggs into a mixing bowl. Add the half & half, seasonings, and kale. Pour the egg mixture over the sausage. Sprinkle the cheese of your choice over the top.
Bake in the pre-heated oven for about 30 minutes. Test for doneness by piercing with a toothpick to make sure eggs aren't runny. If they are, continue to bake for 5 more minutes. This varies from time to time for me, I suspect due to sometimes using large eggs and sometimes using extra large eggs.
Please note: The sausage usually includes all the salt that I can handle. I am on a salt-restricted diet due to high blood pressure. If you feel you need to add salt, you can certainly take that liberty!
RELATED CONTENT: Pan Seared Flounder over Apple and Warm Kale Salad
TRY THIS KETO-FRIENDLY BREAKFAST FOR YOURSELF!
Keeping this hearty keto-friendly breakfast on hand has helped me keep on track with my carb-busting diet. Without this, I would be snacking on high carb junk food by 10 am. If you are on WW instead of a ketogenic diet, substitute the higher fat cheese and cream for non-fat variations and count your points. I change up between the two recipes, depending on how many points I plan to use throughout the day.
Happy cooking and gardening!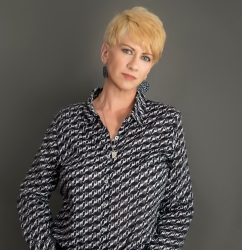 Latest posts by Deborah T
(see all)