This morning I had to drive to Raleigh to pick up my stepdaughter for the holidays, a four-hour round trip drive. Before I left, I tossed crock pot pierogies in to have a hot lunch ready and waiting when we got home.
I've seen crockpot pierogies all over the internet, but I'd never taken the time to make them. This was simple, dump in the ingredients, and go.
But first, let me warn you. This blog post is short and sweet. I could not wait to share this recipe. And, because it's so simple to fix, there are not many instructions.
I grew up in Erie, Pennsylvania. Pierogies are a staple in Western Pennsylvania. We ate them several times a week. They are delicious pillowy noodles stuffed with potatoes, cheese, onions, or other ingredients. They are like a Polish version of ravioli.
Prepping this for the crockpot literally took under 5 minutes. When we returned from Raleigh on a cold, rainy afternoon, we had a hot and delicious meal waiting for us.
Crock Pot Pierogies
Ingredients
1 box of 12 pierogies
3 cups of low-sodium chicken broth
14-16 oz package of beef kielbasa (or your favorite sausage)
1 cup of shredded cheddar cheese
1 tbl. Mrs. Dash garlic and herb seasoning
Instructions
Place the pierogies on the bottom of the crock pot. I used Mrs. T's, I've never tried any other brand, only homemade or Mrs. T for me!

Place the pierogies in the bottom of the slow cooker.

Add 3 cups of low-sodium chicken broth.
Cut the kielbasa into bite-size pieces and toss them into the pot.
Sprinkle in the Mrs. Dash for seasoning.
Sprinkle the cheddar cheese (I used a white and yellow cheddar blend) across the top.
Cook on low for 6 hours.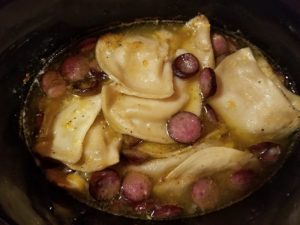 This recipe literally cannot be any easier! When I got back from Raleigh, most of the liquid had been absorbed. However, there's a lovely cheesy juice that would be delicious with some biscuits.
I will admit that while biscuits or homemade rolls would have been amazing, I was too tired from the drive and spooned up every bit of that juice. Yum!
While this might not be a traditional Chrismas recipe, it's a great recipe to try while you're busy with all those crazy last-minute holiday preparations but still want a home-cooked lunch.
If you get the chance to try these slow cooker pierogies, don't pass it up. I promise you that you will love them. Do you want another awesome slow cooker recipe? Check out our Hearty Deer Camp Casserole–another crock pot favorite in my home.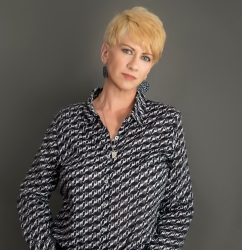 Latest posts by Deborah T
(see all)