Sloppy Doe aka Venison Sloppy Joe, is a staple in our household. My husband loves to hunt. He doesn't hunt "for sport."
In fact, he hunts because we love the low-fat, inexpensive, tasty source of protein. He harvests two deer each season. After the kill, he thanks the deer…and God…for the nourishment provided.
In fact, no part of the meat goes to waste. We butcher the deer ourselves to ensure that we minimize waste. We always get beautiful roasts, medallions, steaks, and backstrap off every deer that he harvests. When we've taken all the "good cuts" we put all the rest of the meat into the grinder and make our own ground meat.
What makes venison a good alternative
Some will argue that deer meat is "gamey" and "dry." Proper cooking is important to eliminate those descriptions. We have learned by trial and error how to best cook venison. I have experimented for eight years and have narrowed my recipes down to a few that I love and want to share.
One of the best ways to get moist, flavorful results from venison is to cook a big old pot of sloppy doe aka venison sloppy joe. The tomato-based recipe helps in two ways. First, the acidity in the tomato products breaks down the flavor that some people describe as "gamey." Second, this is a nice, moist cooking method. This means that you are adding moisture to a drier type of meat. Win-win.
This recipe makes a big batch to feed a family. I like to fix it on Sunday, eat some for whatever game we watch on Sunday, then put it into portions to take to work a few times during the week. It gets better after a day or two!
RELATED POST: Nine Point Nachos: A Venison Nacho Comfort Food
---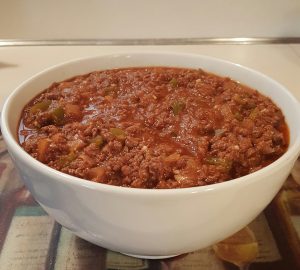 SLOPPY DOE AKA VENISON SLOPPY JOE
2 lb ground venison

1 medium sweet onion, finely chopped (I love

vidalia

)

1 large green pepper, chopped into small pieces

2-3 cloves crushed garlic

2 cups Heinz ketchup (I'm a Western PA native, it's gotta be Heinz for me)

2 tbl Heinz yellow mustard

2 tbl

brown sugar

tabasco sauce, to taste (start with 3 dashes, you can turn the heat up later if you wish)

1/2 tsp black pepper

1 cup of low-sodium beef broth

2 tsp olive oil (just enough to coat the frying pan in step 1)
First, place the olive oil in a large-sized frying pan. Then add the chopped onion and venison to the fryer pan. Cook until venison is browned over medium to high heat, depending on your range. Break the deer meat apart as it browns.
Move the onion and venison to a 4- or 5-quart pot. But no need to drain the fat, as it will have very little. Then add the green peppers and garlic, and cook over low for about 3 minutes.
Add the remainder of the ingredients. Stir well.
Finally, turn heat to low. Then allow your mixture to simmer for about 30 minutes, lid removed. Let the liquids thicken to the desired consistency. I like mine with a little moisture, as shown below: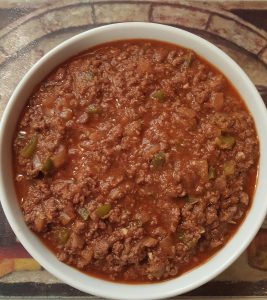 ---
Before I make my Sloppy Doe, I prepare a batch of Easy Homemade Dinner Rolls and shape them into slider-sized rolls. Then I toast these rolls after baking. Afterwards, I serve my Sloppy Doe on them. At first, it may seem hard. But they are worth the effort! They are also delicious over pretty much any bread you may have on hand.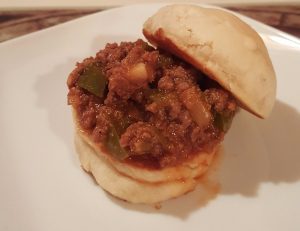 A final note
In conclusion, I leave you with a little reminder. As with all my recipes, I don't add salt. Because of high blood pressure, I must follow a reduced-sodium diet. But if you'd like add salt into your Sloppy Doe, feel free to do so!
#DeerRecipes #Venison #VenisonRecipes #deermeat #venisonmeat #vegetables #eatyourveggies #eatdeer #eatdeermeat #eatvenison #meateater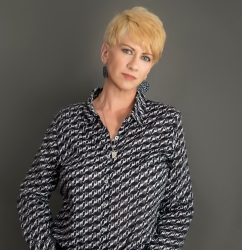 Latest posts by Deborah T
(see all)