Happy Spring Ya'll! Time for some terra cotta pot makeovers!
After burrowing away for the winter, I've been busy. I've been getting ready for planting my garden. Firstly, starting my seeds. Then planting my early-season lettuce, kale and spinach. Finally, planting annuals around the whole yard. My husband built me a fantastic outdoor potting bench with running water. This quickly transformed a lean-to into an entire She-Shed. Then I basically moved in and took over the whole space.
With no garden veggies ready to eat, I am focusing on braving the heavy pollen and sprucing up the whole yard right now.
Meanwhile, I came across a bunch of nasty, stained terra cotta pots that weren't being used. I wanted to fix them up and use them. So after checking out pins on different projects, I decided I didn't want to upcycle them into something new. Instead, I simply wanted nicer looking pots to hold plants.
Before the Terra Cotta Pot Makeover:
I started out with about 20 pots like these: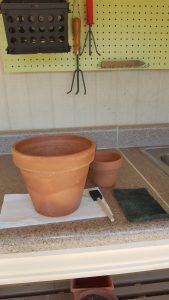 I ended up with this: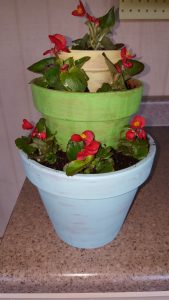 Here's how I took dirty, old pots and created a charming stacked terra cotta pot to use in my yard.
What You'll Need
First, I gathered up all my supplies and put everything together on my new potting bench. Here's what you will need:
Scotch-Brite pad or scrub brush to knock all the dirt and cobwebs off of the pots.
Sponge paint or craft brush (I keep a big box of them on hand from Michaels – no clean up needed. Yay!)
Craft paint in your favorite colors
Small dowel rod (diameter small enough to fit through the drainage hole in the bottom of the pots)
Mod Podge clear acrylic sealing spray
Potting Soil
Flowers, Herbs, or Succulents to plant
Time to Give Those Pots a Makeover!
STEP ONE:
Firstly, clean your pots. So take the Scotch-Brite pad or scrub brush and remove all loose debris from the pots. If you skip this step you will have a bumpy finish to your paint and smear the dirt.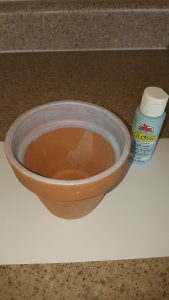 STEP TWO:
Paint around the inside rim and along the top rim of your terra cotta pot. Apply a thin coat to get an antiqued look like mine. Let it dry for about 3 or 4 minutes (I did the rim of two additional pots instead of watching the paint dry.)
STEP THREE:
Put your hand inside the pot and pick it up with your secondary hand. Then dip your paint sponge into your paint and pick up a small amount. After that, use your secondary hand to kind of slowly spin the terra cotta pot. With your dominant hand, you will drag the paint around the pot following the spinning. This gives you a nice, streaky, antiqued looking wash of color. If you like the antiqued wash look, you are done painting. But if you want a solid color, let this dry and start painting again for a more saturated color. I like the softer look personally. And, I'm not very patient to wait for them to dry to re-coat. Let dry completely.
STEP FOUR:
Spray the pots with the ModPodge Acrylic sealer spray to keep the color looking fresh for longer.
STEP FIVE:
Cut your dowel rods to length. The dowel rods will support the pots when you stack them. How long you will cut them depends on the height of the pots you chose. But I didn't measure, I eyeballed it. You need them to get a good bite into the dirt to support the pots so they stand up in the wind.
Then, cut your dowel rods by scoring it all around with a utility knife. In this photo, my husband did it so that I could take the photo. But, even clueless with tools, this is an easy job that I can accomplish. After you've scored it, it will snap off easily in a fairly clean cut. Even if it's not cut clean, it's ok. After all, it will be covered with potting soil.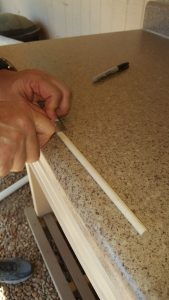 STEP SIX:
Place potting soil in the bottom terracotta pot. Then fill it all the way to the inside of the rim, where the paint started. It's certainly cute to keep some of the terracotta and little bit of paint peeking out from the inside rim.
STEP SEVEN:
Place the second terracotta pot on top of the bottom pot. Position it where you'd like it. Then put the first dowel rod through and dig it though to the soil in the bottom pot.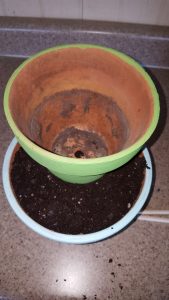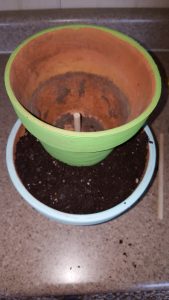 STEP EIGHT:
Repeat step seven by placing the filling the second pot with potting soil. Then place the third terra cotta pot on top of the second and insert the dowel rod. After that, you may need to readjust the height before you plant.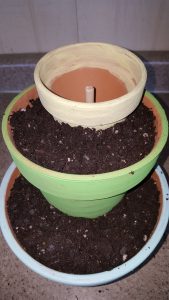 STEP NINE:
Fill the third pot with potting soil.
STEP TEN:
Plant your plants and give them a good, long drink of water.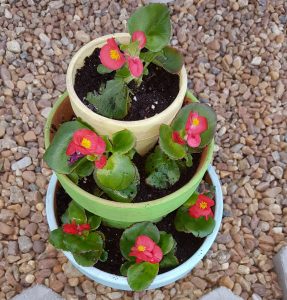 I repainted about fifteen of the smaller terra cotta pots and plan to use them to share plants with some friends. They were headed for the trash, but I'm so glad I took time to fix them up and give them a new, colorful life. Before you give your garden a makeover, always take the time to assess how you can repurpose those things that you already have. You will save money–and end up with unique, repurposed pieces.
#diy #recycle #upcycle #redo #garden #redo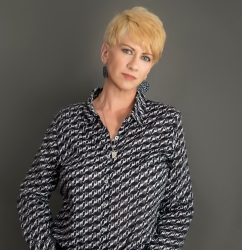 Latest posts by Deborah T
(see all)