Today's the first day of hunting season. This leaves me here on a Saturday with the house all to myself. I've had the chance to putter around at some little organizing projects, snuggle with my dog, and treat myself to a warm, decadent, but still Weight Watchers friendly lunch. I came up with the idea of putting pan-seared flounder over apple and warm kale salad.
Kale is coming into the garden now. The timing seems perfect. It just finally cooled down to the low 70s yesterday, the leaves are starting to fall from my pecan tree, and I actually needed to wear long sleeves this morning. Yep, it's time for kale!
This warm kale salad requires minimal cooking time. There's more time spent on prepping the ingredients. Because the cook time is so short, you need to have everything prepped ahead of time to assemble as it comes off of the stove.
It has the great, bold flavors of a fall garden. Garden fresh kale, carrots, and NC grown apples are topped with chopped crunchy local North Carolina peanuts. The peanuts give it a great crunchy texture for way fewer calories than croutons.
I like to mix my dressing right in a great big white ceramic mixing bowl. Because I eat salads as an entree, I eat pretty large portions. Plus, because I don't have a dishwasher, putting everything in one bowl saves me a dish to wash after I eat. I plate the flounder directly on top of the kale salad, and the little bite of vinegarette dressing is delicious with it. Yes, I know that's kind of lazy. It is what it is, Y'all!
Here's how I made this delicious entree.
PAN SEARED FLOUNDER OVER APPLE AND WARM KALE SALAD:
Prepare the vinegarette dressing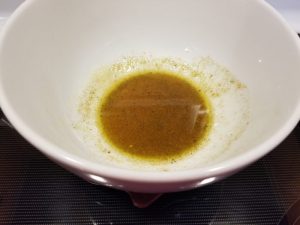 3 tbl. red wine vinegar
1 tbl. extra virgin olive oil
1-2 tsp. Stevia (depending on how much you like the vinegar!)
1 tsp. Mrs. Dash Herb and Garlic Seasoning
3 cracks of whole black peppercorn
Place all of the ingredients in a large bowl, whisk well until blended.
Make the apple and warm kale salad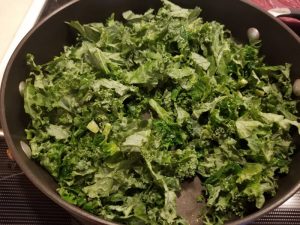 4 large handfuls of kale, cleaned and stemmed
1/4 cup of peeled, cut carrots – I like to cut mine on my fancy slicer to make them look pretty
1 medium apple, diced into small bites
1/8 cup of unsalted roasted peanuts, chopped
1 tbl of extra virgin olive oil
black pepper
Cut the carrots and apples, then place them in the bowl with the dressing. Heat the olive oil up in a skillet. Drop the kale in and use tongs to toss it around in the oil for about 3 minutes. Move it around so it doesn't burn. It wilts down quickly. You do want it cooked down slightly, but don't let it sit too long or it will burn. Add the sauteed kale into the salad bowl. Toss everything.
Keep the peanuts to the side for just another minute…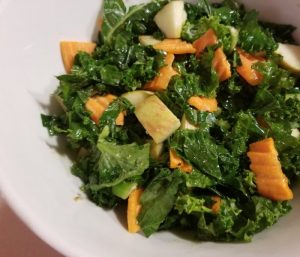 For the pan seared flounder
Filet of flounder (mine was frozen, fresh would be way, way better if you can find it)
pepper
salt
You now have a nice, hot skillet from the kale. Season your flounder with salt and pepper. Drop it into the skillet. Mine literally was cooked in less than 3 minutes as it was a very thin piece. It's a delicate fish, and you probably won't get it to toasty brown without overcooking it. However, don't let it overcook or it will fall apart.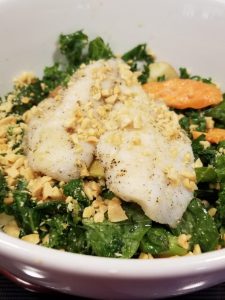 Place the cooked flounder across the apple and warm kale salad. Top the entire thing with those good crunchy peanuts.
This bowl of food was so satisfying, both for the eyes and for my appetite. The flavors of fresh fall produce combine to make just the perfect light salad for one. You may notice that the only salt that I added was to the flounder. I am on a low-sodium diet and cannot indulge in extra salt. But, please feel free to salt away to please your own palate.
Now that I've shared this with you, and the husband is still off in the woods, I think I will indulge in a rare bubble bath.
I hope you get the opportunity to try this dish. It is so quick but so decadent in terms of the big fall flavors.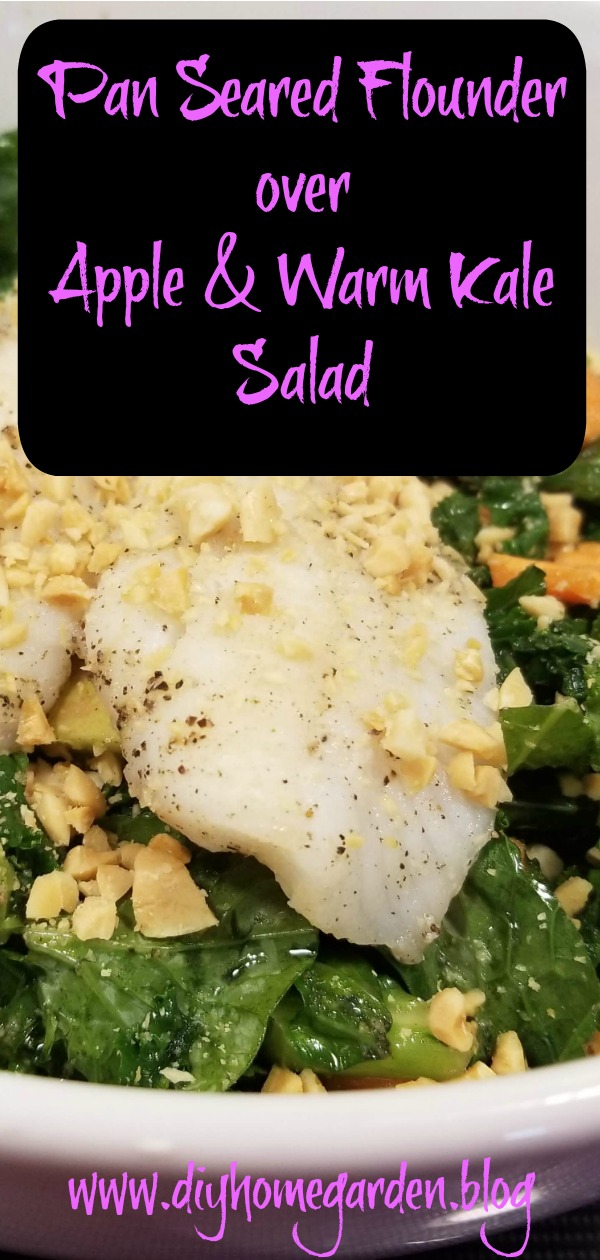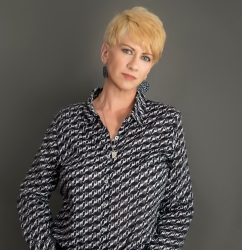 Latest posts by Deborah T
(see all)