Do you use K Cup coffee pods to make coffee? Then you might bemoan the wasted plastic cups you trash each day. But if you also love crafting, especially from recycled materials, then you will enjoy the cute ideas you'll read here today.
Many people swear by making coffee in their Keurig brewers. Before this convenient coffee-on-demand system existed, many people wasted commute time in line at the drive-thru. Not to mention, purchasing coffee instead of making it at home costs over four times the cost!
Still, perhaps you feel guilty about plastic waste. While the current iteration of coffee pods for the Keurig are non-recyclable, several manufacturers working on innovations to eliminate the plastic cup and move towards a single-use pod housed in compostable cardboard. It sounds like this upgrade in materials is still a little way down the road.
These creative ideas will turn your waste into useful, fun, and cute craft ideas until the coffee companies create a more environmentally-friendly solution. Will they eventually go into the trash. Probably. But at least you extended the pod's life cycle and enjoyed yourself making something cute.
21 Surprising, Simple Ways to Recycle K Cup Coffee Pods
We scoured Pinterest for the most adorable things to make! Some of these are children's crafts, and others are for adulting.
1 – Seed Starter
Do you love gardening? Don't waste your money buying seed starting trays at the garden store. Instead, save your spent pods. Put them into a tray or container, so they don't tip over. Fill them with dirt, and plant those seeds. Once you grow healthy seedlings, you'll transplant them. Save the pod for your next round of planting.
One note: The gardener in this image packed the pods into a cardboard box. I would suggest using a sturdy plant drip tray. Could you see the cardboard becoming soggy and flimsy from watering? Great idea, not knocking the gardener, but I see room to make this idea even better!
2 – Make Homemade Bath Bombs
Do you enjoy making homemade bath bombs? Instead of shaping your goodies in a cupcake tin or cake pop mold, consider trying K-Cups instead! These look amazing.
3 – Shape Your Toilet Fizzy Tablets
Many people make homemade toilet fizzy tablets using a few pantry items and essential oils. They drop them into the bowl, let them dissolve, flush, and have a magically clean commode.
Modify the bath fizzy idea above, and consider using used coffee pods to shape your toilet fizzies, too!
4 – Entertain the Kiddos with a Penny Toss Game
Make a fun penny toss game for your little ones. Let the kiddos cover the shoe box with gift wrap in a cheery color or pattern. Dab glue to the bottom of the pod and affix it to a shoebox. Use a low-temp glue gun to avoid melting the K-cups–or little fingers. Give them a handful of pennies and let them toss.
In this image, they used small disposable drink cups, but coffee pods could also work…they will also be a bit more challenging, adding to the fun! But that's just my one-cent input.
5 – Make a Card Holder
Family game night can be challenging for older adults of little kids–the cards can slip out of their grasp easily! Use a sharp craft knife to make a slit, transforming the pod into a cardholder. Now they can enjoy the quality time instead of playing 52 pickup the whole time!
6 – Decorate for Halloween
Halloween decor has never been more adorable! This fun, crafty idea allows you to prepare for Halloween on a super tight budget. These are unique, cute, and they look like they'll be so much fun to make!
Decorate twenty white K-cups (some are brown), drawing cute ghost faces onto them with a permanent marker. Use a craft knife to make a tiny slit in the middle of the cup's bottom, and pop the lights through each one.
7 – Hold Your Crafts or DIY Parts
Stash a few of these in your craft or sewing room for parts. Keep a few on your DIY workbench for holding spare parts.
8 – Organize Your Hair Accessories
No more scrounging through the bathroom drawer for bobby pins, barrettes, and ponytail holders. Purchase an inexpensive stainless steel K Cup storage rack. Stick used pods into the slots and fill them with your hair accessories. Clever!
9 – Freeze Your Herbs
If you garden, then you know that when herbs come in, they are bountiful. Many people freeze their herbs (this is how I store my sweet basil pesto for use). But what if your freezer has an automatic ice cube tray? No ice making molds? No worries.
Clean the pods out with hot water, dry them inside and out. Pack your herbs into K Cups for freezing.
10 – Make a Fairy House
Spark imagination by letting your children decorate a fairy house from a K Cup, permanent marker, construction paper, and school glue. Their creativity might surprise you!
This crafter used paper bathroom cups, but a K Cup would hold up better during the many hours of playtime that will surely follow.
11 – Single Serve Snacks (Portion-control!)
Turn single-serve coffee into one-serving snack containers. My long-time followers know that I am a WW (formerly WeightWatchers) lifetime member. I love to eat salty snacks as much as the next person. But I know that I need to exercise restraint. Weighing an ounce of my favorite snack (local, NC-grown Bakers' Southern Traditions Lightly Salted Peanuts) into one of these babies lets me enjoy a small nibble but prevents me from overeating.
Also, it keeps me from wasting water washing dishes. I either discard the pod once I'm finished with my snack or…as of right now, save it for starting seeds.
I also like to use this for pretzel sticks or my custom blend of Pumpkin Spice Snack Mix. Think gummy bears, goldfish crackers, candy-coated chocolates, or any other tiny treats, as well!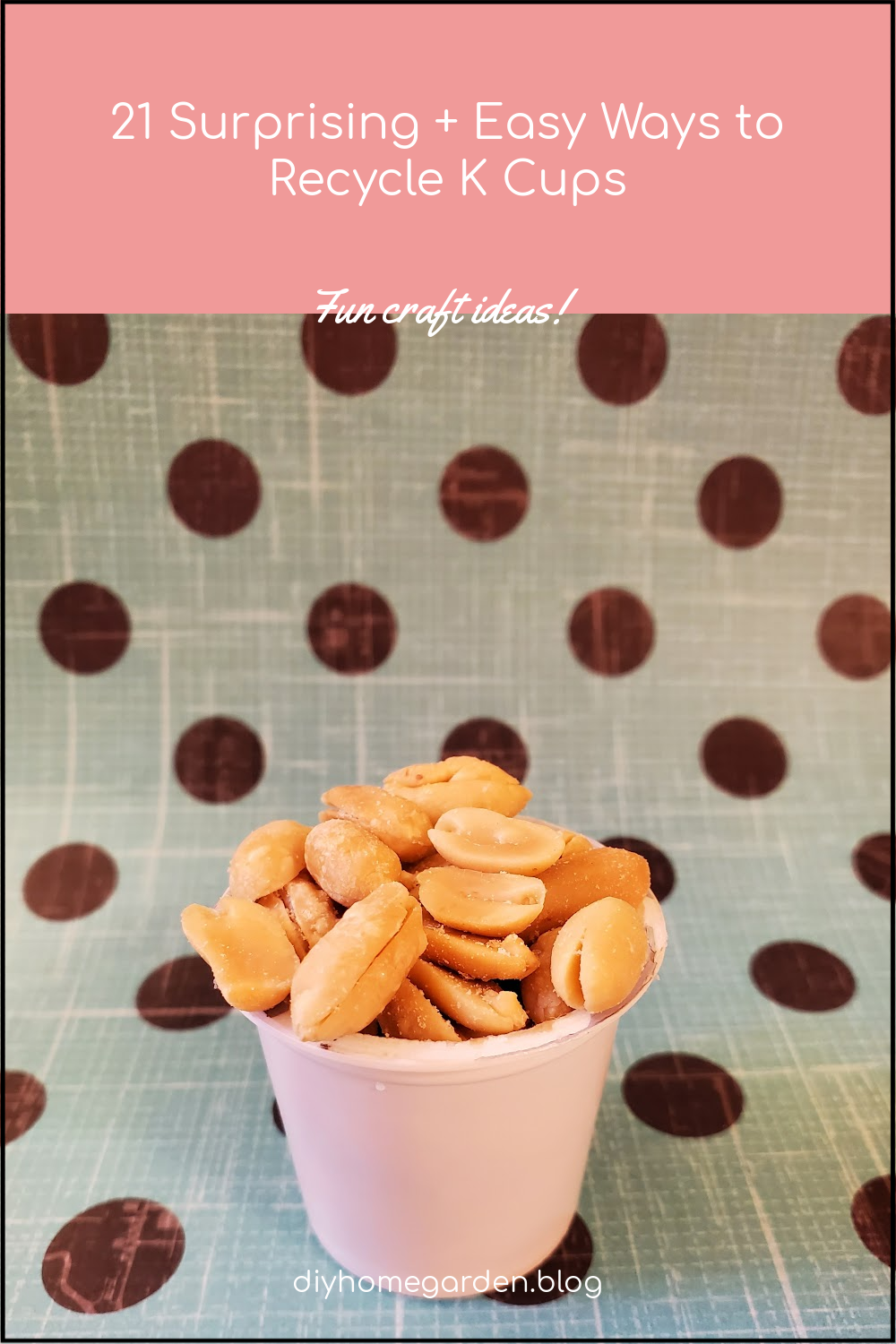 12 – Stamp It Out!
Do you love paper crafting? Dip the rim of the pod in your favorite paint or ink, and you can make a perfect 1 7/8″ diameter circle. No need to spend money on another stamp. Except that they are addictive, lol.
13 – Congratulate a Graduate
Celebrate the graduation milestone with this fun idea. Spray paint the K-cup in the graduate's school colors, decorate, and use it to decorate the buffet table!
14 – Craft a Bird Feeder Out of K Cups and Popsicle Sticks
The plastic pod holds the seed, the popsicle sticks serve as perches for your birds. This craft will be fun for the whole family! Connect the cups with a dot of low-temp glue and hang with yarn. You will create wonderful science-teaching moments once you start to attract birds.
15 – Make an Advent Calendar
Counting down to Christmas is always an exciting time. It also marks the period of Advent, so this project also provides you with educational opportunities. Make this Advent project a family project, and then let the kids poke through each paper on a corresponding day.
16 – DIY Christmas Ornaments
While we are talking about the holiday season… How cute is this mini-tree, decorated with K Cups? This makes a great, affordable, and very thoughtful gift for a coffee lover in your life. Could you also see these as a party favor at your next holiday party? Let each guest remove one from the tree as they leave, perhaps? The wheels are turning…
17 – Christmas Buffet Decoration
Christmas crafts are always fun to make, so let's do one more.
Are you setting up your Keurig and letting your holiday guests make coffee if they want it? This is a cute way to display your selection. Wrap the cups in green tissue and stack them into a tree shape. I can also see this as a Channukah buffet decoration. Wrap the pods in blue tissue, then shape them into a Star of David on a decorative platter.
18 – Thanksgiving Turkey Crafts for Kids
Some brands have brown pods instead of white. (Although I cannot recall them off the top of my head). Save these to make this fun Thanksgiving turkey decorated with googly eyes, craft feathers, paint, and school glue. Fun idea.
19 – Mini Easter Basket
How adorable is this? And so simple… Glue, yarn, grass, and mini-eggs from the craft store. Bet you cannot wait to get crackin' on this one!
20 – Brown Easter Bunnies
Those same brown pieces that you saved for turkeys work well to make cute little bunnies, too!

21 – Make a Chair for a Doll
Kids always want doll accessories, but they are SOOOO expensive! Glue half of a plastic Easter egg to a coffee pod base to construct a chair for your child's favorite doll.
The Takeaway: You Can Recycle K Cup Pods into Fun and Useful Crafts
Hope this list gave you some great ideas on how to use those otherwise disposable pieces. When you reuse them or upcycle them into something useful, you cut down on waste. Plus, you save money on craft ideas by using something that you already have on hand! So now that we got you doing some creative thinking, what will you make? Please share with us on Facebook or MeWe.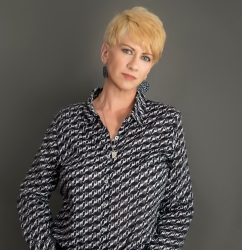 Latest posts by Deborah T
(see all)