Sweet basil pesto is easy to make and freeze for off-season use.
So I looked out my window yesterday and realized that my pot of sweet basil no longer looked like an herb. It had grown into monstrous proportions and was looking more like a shrub. Not wanting to waste my hard work growing it all summer, I harvested it, made some into a fresh salad dressing, and decided to take the rest and preserve it.
My Sweet Basil Pesto is now prepared, frozen, and ready to take out one cube at a time this winter to perfectly season sauces, soups, and stews. I actually froze them in a plain old ice cube tray. You know, the kind that stacks on top of each other from before freezers had automatic ice makers. On a side note, I have a fridge from 1965 and it is older than I am. So the ice cube tray I used is actually one I make ice cubes in.
RELATED POST: Zesty Cucumber Basil Salad
Anyways…after they froze, I popped them out of the plastic tray. Then I wrapped each one in a small piece of foil, and put them all in a dated and labeled quart freezer bag to use in the future.
By the way, this recipe takes a LOT of basil. In fact, I had tons and tons of it and it only made a few cubes. But it is definitely very quick, very easy, very worth the effort. You will be so glad you did this in December!
Challenges to Making It
Traditional sweet basil pesto, as we know, has pine nuts and parmesan cheese.
One challenge…I literally have scoured my local area for pine nuts. The closest store that carries them is over an hour away from my rural farming community. This is just not a popular item locally in North Carolina. I have tried pesto recipes that call for walnuts in place of pine nuts, but to me, they end up giving the pesto a bitter taste. Because I grew up in a city with a large, thriving Italian-American community, I found this shocking at first.
I'm not a huge fan of any nuts (except peanuts – they make me very happy – and are a local product in my area) so I decided to leave them out.
Second challenge…I love parmesan cheese. But when you freeze it, the texture changes. The pesto has an almost gummy & sticky texture after defrosting from it. I now leave out the parmesan cheese and add it when I'm cooking.
Ergo, I came up with my dairy free and nut free pesto. This still has a nice basil texture, excellent flavor, and freezes beautifully.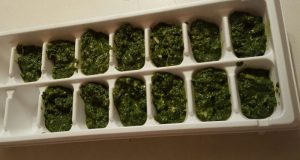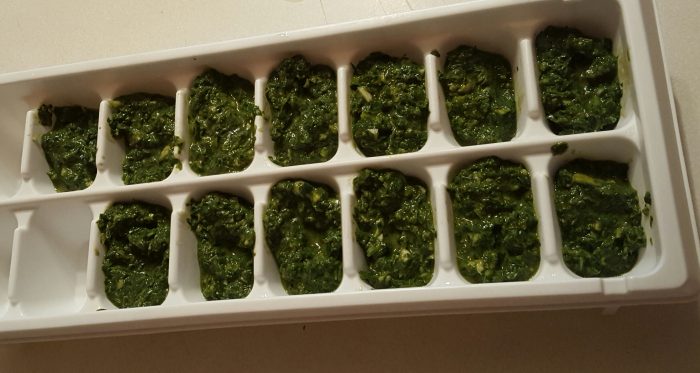 Nut Free Dairy Free Sodium Free Sweet Basil Pesto
(5 minutes prep time, 5 minutes to package after freezing)
6 Large Handfuls of Sweet Basil, freshly harvested and well washed
6 cloves of garlic
1/4 cup extra virgin olive oil
2 tsp balsamic vinegar
2 tsp black pepper
Place basil and garlic in the food processor. Process until finely minced. Add balsamic vinegar and black pepper. Stream in the olive oil slowly through the little chute at the top of the food processor and watch the texture! You may need a little less or more than this depending on the amount of basil. It should be a fairly thick texture.
Use a plain old teaspoon to spoon them into your ice cube trays. Cover with plastic wrap and freeze them for several hours. Pop them out, wrap each one into a piece of aluminum foil, and label and date a bag for them all to go into. You can now pull them out one at a time to use as needed.
As you can see, one batch didn't quite fill my trays. This will vary, use your judgment on the amounts of oil you use and feel free to adjust the seasoning.
One side note, I love salt but am on a restricted diet. I try to use bold flavors like vinegar and garlic to compensate.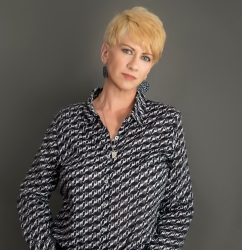 Latest posts by Deborah T
(see all)