When working from home, you want to ensure that you achieve maximum productivity. This means that you need to work from a comfortable home office environment to enable you to do your work with ease.
It can be challenging to create a comfortable area that will boost your productivity. That's why you need to take time and ensure that you follow each step at a time until you achieve your goals.
What Is The Best Way To Build A Home Office?
The size and location of your office depend on the available space. Sometimes, it may not be necessary to construct a separate area for your office. You can decide to set up your office in various rooms within your home and still be productive. Once you choose where to build your office, choose the furniture. Get a comfortable desk, storage cabinets, and chairs.
The next thing you should look into is the tech inventory. A functional office that aims at productivity should have strong IT. Some of the essential items to include in the IT realm are laptops, power strips, printer, headphones, mouse, and keyboard, among other things, you may find worthy of being in the office.
Lighting is an essential element in your office set up. It creates a positive mood for the job and lights up the workspace, making it easy to effectively do your work. Therefore, install quality lighting in your office. Place your desk at a strategic location to get adequate light reflection and make it adequately illuminated.
The last thing is to add finishing touches to the office. This creates an aesthetic appeal in your office, which reflects your state and sense of style. It could be a plant or some curtains with your favorite color, wallpaper, or decide to paint the room.
Where Should Your Home Office Be Located?
Since your primary focus is productivity, you need to be keen when choosing space for your office at home. Selecting the office in a conducive environment can impact your work tremendously. Below are the various places where you can set up your office.
1 – Spare rooms
Hopefully, there is a spare room in your home that has been left vacant for some time. This is a suitable area to set up your office. Ensure the space is used explicitly for the work and not any other activities so that you focus on no distraction. If the rooms already have electrical outlets, windows, and lighting, you will not need to spend a lot of time changing things.
2 – Basement Rooms
Basement offices are quite far from other areas in your home. They create privacy with less distraction, which helps you to focus on your job. However, it's worth noting that you can face lighting and temperature challenges when working from the basement.
In this case, you need to ensure that you set up adequate lightning that will not require you to strain as you do your job. Also, ensure the place has a favorable temperature in all seasons.
3 – The Garage
Garages are also a suitable place for your office. Identify the unused garages and set up your office. However, you may need to renovate the area to suit your needs. In this case, you should be ready to spend some money on renovations, such as installing electric outlets, lighting, heating, and cooling.
What Should I Put In My Home Office?
As you plan to remain productive while working from home, you need to ensure that you have the right tools to boost your productivity. These are essential components that determine whether you achieve your goals or not. Here are some of the critical tools required.
Good Lighting
Light is one of the essential elements in your office. It lights up the workspace and helps you to see clearly. Good lights also change the entire mood and atmosphere of the office environment. Apart from artificial lighting, ensure the room has large windows that will reflect in natural lighting.
Adjustable Desk
Ensure your office has an adjustable desk that you can switch to in any direction, making your work comfortable. An adjustable desk also helps you keep in good health. When using the desk, adjust it to a suitable height that you won't strain when working. Once you get an adjustable desk, ensure you use desk organization tools to arrange for the best results.
Comfortable Chair
Since you will be spending most of your time seated down, you need a comfortable chair to help you do yours with ease. Therefore, identify a chair that has supportive and adjustable features. You may want to use desk organization tools to help you know the right position for your chair.
Personalized Decorations
Decorations help you maintain a happy and comfortable mood while working. So, ensure you decorate the space according to your style and taste. This will keep you engaged and focused on your duties. It's the easiest way to boost your productivity.
How Can I Make My Home Office More Productive?
Sometimes, you can spend hours working from home yet, fail to be productive. However, that should be easy when you decide to take action that can help your office become more productive. Here are several ways to make your office productive and boost creative workflow.
Design an Enjoyable Work Area
If you have a spare room or a garage that you plan to turn into an office, ensure you design it to fit your style and taste. This is where you will spend the better part of the day. So, add a little more meaning by hanging wallpaper, motivational quotes, or appealing artwork on the wall. Also, remove anything that can quickly cause distraction. Such include a television or games area.
Introduce Pets and Candles
Even though not everyone loves pets, they can be a company as you carry on with your job. As you allow pets in, you can also light a candle to make the room enjoyable and change your home's visual tone. This is your home, and you will not annoy anyone by doing what you know works for you best.
Differentiate Your Work from Personal Life
Some people tend to be carried away when working from home, and they can easily mix personal life with work, making it hard to focus on the job. In this case, avoid setting up your office in the most frequently used rooms such as the living room, kitchens, and other shared spaces.
The Bottom Line on Setting up a Home Office to Enhance Productivity
When you focus on creating a lively and comfortable workspace in your home, nothing can stop you from attaining productivity. To ensure a well-organized office setup, you can use a cable clip organizer and other practical tools to create a positive impact in your office.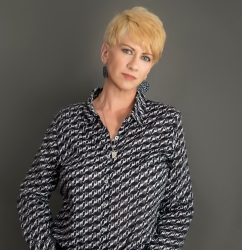 Latest posts by Deborah T
(see all)