Do you ever wonder how to make a garden that will be gorgeous year round? Guess what, you can!
If you have a garden, then you understand how difficult it can be to keep it maintained all-year round. After all, whatever you plant in summer seems to die off in winter, and this endless cycle can leave your garden in a state of disrepair.
How to Make a Garden Gorgeous All Year Long — 17 Vital Elements
1 – Geometric Shapes
If you have a patio or even just a lawn, then you need to stick with geometric patterns. Straight lines are much easier for you to get right when compared to curves and they are also easy to maintain. A lot of people believe that curves can add an element of softness to a garden, and although this is the case, you may find that the edges eventually become jagged and this can really bring down the entire look of your space.
2 – The Rule of Three
It's so important that you keep your garden design simple, and that you remember the rule of three. For example, for the flooring, you could have sandstone, gravel, and grass, but nothing more. By following this rule, you can then keep your space consistent.
3 – Lighting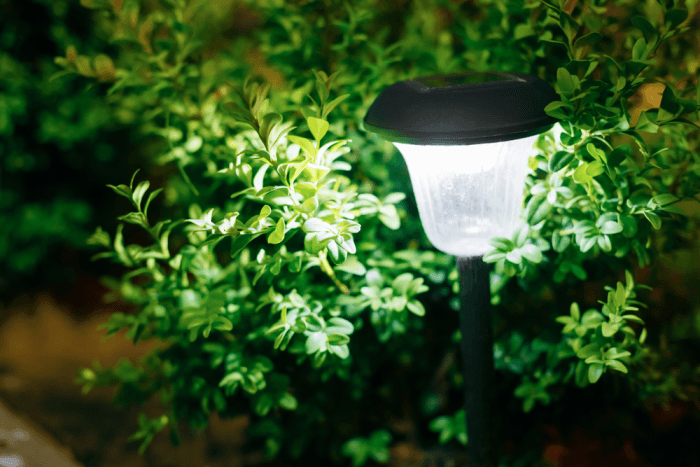 You should always try and make lighting a priority. This will make a huge difference to your space and it also serves a practical purpose too. If you want to add some lighting to your garden then start by adding some solar lights to the side of the pathway. You also need to add some to any sitting areas that you have.
When you have done this, you can then begin to focus on small trees, wall surfaces or water features. This lighting needs to be subtle because sometimes a gentle glow is all you need to add some ambiance.
Lighting up into the evening hours lets you enjoy your garden year round, even in the spring or autumn.
4 – Add Some Privacy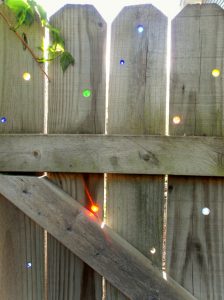 There is a chance that your garden will be overlooked in one way or another. If you want to stop this from happening, then consider having a trellis or even some shrubbery along the top of your wall.
If you are not able to do this then consider putting your seating in one of the more private areas of your garden. This will help you to feel more at ease when you're relaxing in summer.
A fence offers privacy in the garden year round, even when the leaves fall away from the trees.
5 – Furniture Selection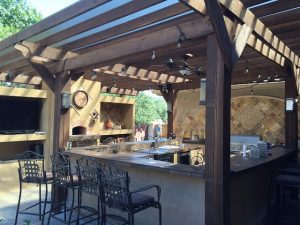 Another thing that you need to think about is your furniture. If you love to have BBQs and parties then you will certainly want to think about having some kind of dining table.
If you prefer to lounge back and relax then a nice padded sun chair may be a more suitable option. Either way, the furniture that you choose will have a huge impact on the overall feel of your garden so it is important that you give it a good amount of thought.
6 – Plant Planning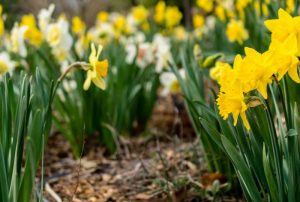 A lot of people make the mistake of having far too many plants in their garden. If you want to stop this from happening, then make a list of everything that you want. When you have done this, halve it.
If you have large clusters of different plants then this will look busy and disorganized. You may even find that it is harder to maintain them as well. For this reason, you need to have smaller clusters of the same type. If you can see the garden from your living room window then don't be afraid to plant some nice flowers right outside.
This will help you to frame the space and when you look out, it will also make a gorgeous garden year round.
7 – Winter Structure
Giving your garden some structure in winter is the key to making your space look great all-year round. When planting your flowers and shrubbery, try and opt for box bushes or any other sturdy evergreen.
This will keep the shape of your garden in winter and it will also stop it from looking bare. Finding striking plants that have the ability to perform well all-year round is also crucial.
Lavender is a great option here, and it looks fantastic in winter, summer, and autumn. If you need some more winter plants then consider crocus or even tulips. They will make your garden look sensational in the colder months and the brighter the colors, the better.
8 – Climbing Plants and Vines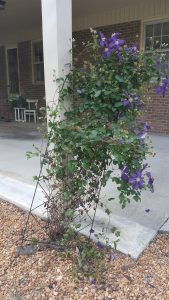 If you have a fence or wall then this doesn't need to be kept bare. Climbing plants can add a lot of character to space and some of them thrive all-year round too. If you want to make an impact in summer then roses are great and they can also add a nice scent.
9 – Bulbs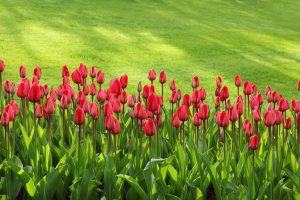 Bulbs can add a lot of seasonal color. Think about daffodils, alliums or even agapanthus. If you want to get the best result then consider putting them in plant pots rather than planting them directly into the soil. The main reason for this is because they only last for a few months, and the last thing that you need is a bare patch in your garden when they die off.
10 – Water Features
A lot of people think that water features are super expensive. This is not the case at all, and you can even get ones that are self-contained. Solar powered water features are widely available too, and this can be a great way for you to save money. If you are concerned about the amount of water that a feature is going to use then slimline tanks can help you to store rainwater with ease.
11 – Paint


Sometimes all you need is a fresh coat of paint. Choose a color that reflects your garden and paint the fence, the wall or even a bench. This will give you an instant boost of freshness and it will also boost the overall aesthetic appearance of the garden too. If you can you should always opt for a lighter color where possible as this will bounce the light around the garden and it will also make it appear bigger, which is always a good thing.
12 – Eliminate the Clutter
If your garden is full of clutter, then this is never a good thing. Tidying up is the best thing that you can do to boost your overall garden's appearance. This is especially the case in winter, so make the effort to keep all of your paving neat and trim back any overgrown bushes. This won't take you long, but it can make all the difference to your space.
13 – Lawn
You need to think carefully about your lawn. Grass requires a huge amount of regular cutting in the summer and you also need to maintain it as much as possible in the winter too. If you don't have time to do this then think about getting some artificial grass. You might also want to think about turning the space into a courtyard garden or even losing the grass altogether. You can easily lay down some paving or even opt for decking. When you do this, you will soon find that the whole space comes together and it's super easy to do.
14 – Storage Solutions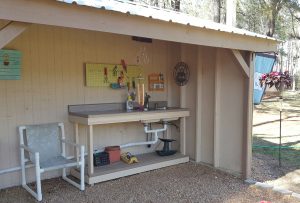 You can never underestimate how much storage space you need in a garden. After all, you need somewhere to put your compost, unused plant pots, gardening tools, watering cans, lawn mowers and more. If you don't have enough storage space, then all of this will turn to clutter and it will bring the overall appearance of your garden down as a result. If you don't have any storage, then consider investing in a portable unit.
15 – Don't Overcomplicate Things
Overcomplicating your garden is quite possibly the biggest mistake that you can make. You need to avoid using too many materials and you also need to avoid adding too many different items as well. If you do, then you may find that your space looks super busy and that it is even harder to maintain.
16 – Drainage
A lot of people overlook drainage. It helps to make sure that you don't have any drainage covers in the garden and it also helps to analyze your narrow channels too. Sometimes it is possible to cover any covers that you do have with a couple of centimeters of gravel. When you do this, you don't affect the drainage of the garden but you can easily make it look way better.
17 – Weeds
Pulling up weeds is another huge mistake. You need to dig them up entirely because if you rip them out and leave the roots behind then they will only grow faster, and this can cause you even more issues.
If you are having a hard time digging up your weeds, then it helps to invest in a quality garden fork. This will help you to leave as much soil behind as possible and it will also help you to remove as much of the plant as possible.
Weed killer can be good but you have to remember that it will also kill off any plants that are close as well. For this reason, you should use it sparingly or even focus on using it in controlled areas. This will help you to stay on top of the general appearance of your garden and it will also help you to avoid killing off anything that you've just planted.
With these tips on creating a garden year-round, you will extend the pleasurable feeling that comes from tending your yard.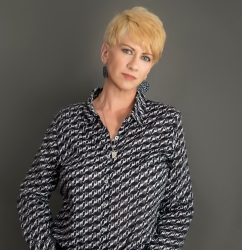 Latest posts by Deborah T
(see all)