After making a wish list and planning for weeks, my she shed is finally done! Completed, it features a workbench at my height, storage, seating for when I want a break from gardening, and…running water!
It gets hot in the North Carolina sun. The She Shed gives me a shady place to get out of the sun. It's in a location where there's usually a nice gentle breeze. This gives me a pleasant respite from working on my gardening. It's a place where I can sit back, enjoy a sweet tea, and watch my garden grow.
PREPPING THE AREA FOR THE SHE SHED
My husband and I cleaned out the lean-to of our barn, which had been housing a pile of scrap wood. We hauled away the junk and I had a perfect blank space. Because this space is not enclosed, it will get wet. So a good layer of rocks ensured that I will not have a muddy mess if I feel like going out after a rainstorm.
BUILDING THE POTTING BENCH AND SINK
The Hubby gets "Husband of the Year" for building my potting bench and running water to the barn for me. My parents recently remodeled their kitchen and kindly saved me a good piece of countertop and their old sink.
The Hubby built a basic, sturdy wood frame and attached the countertop and sink. He caulked around any areas where the laminate countertop could let in moisture so that it will last in the humidity of summer. I was very happy that he built this to accommodate my short height. It's very convenient to have a workspace lowered just a few inches for me.
He added a storage shelf at the bottom of the workbench so that I have space to keep all my flower pots and fertilizers. He used hardwood oak pallets that he disassembled for the wood.  These were also free, a local manufacturer actually trashes them.  Gasp!
We painted all exposed wood with two coats of exterior paint leftover from painting our shutters. I want this to last for a really long time!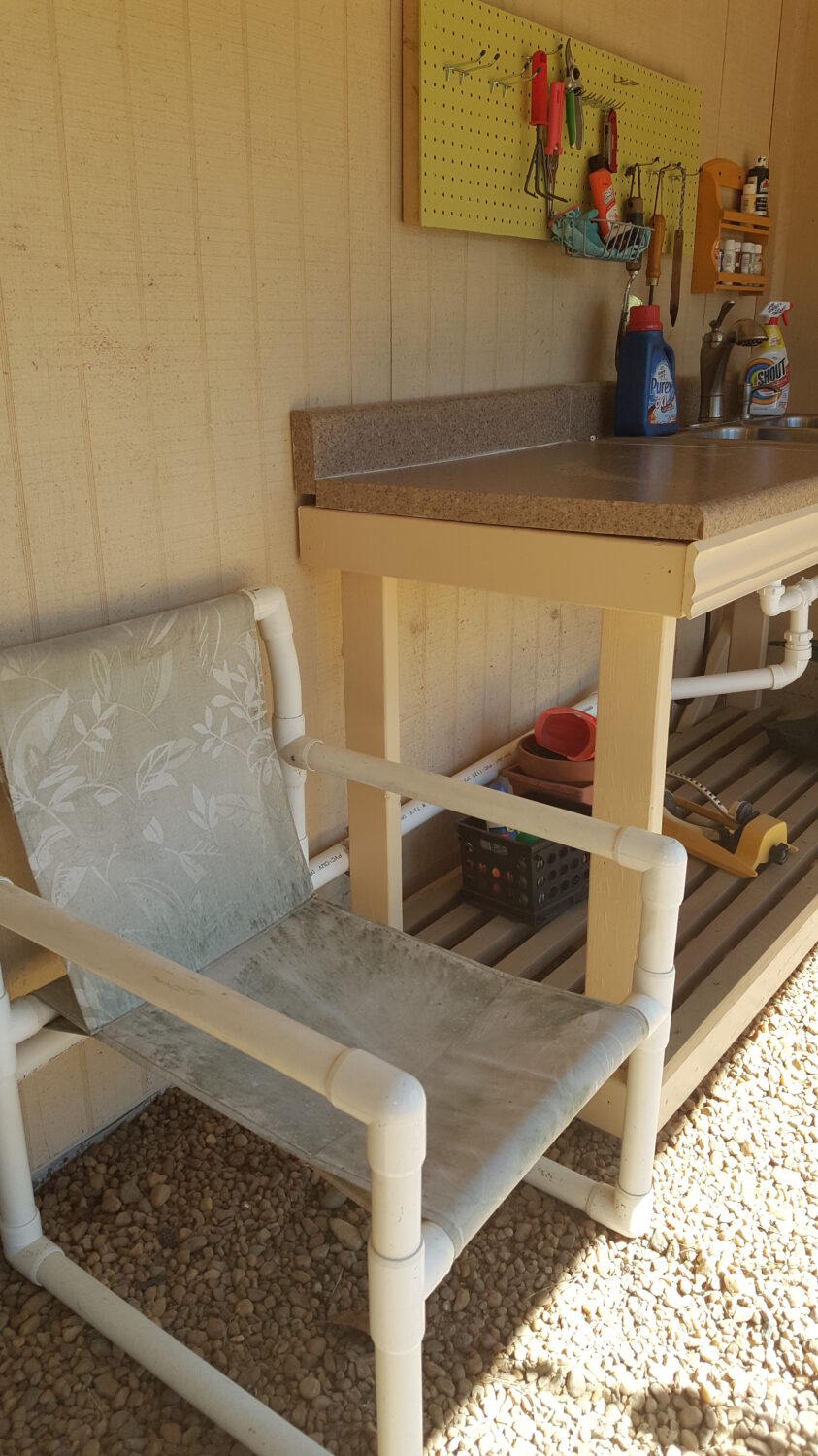 PLUMBING THE SHE SHED
I'm so impressed with the running water. As an avid gardener and crafter, a sink outside is a huge convenience for me. I'm able to wash my hands and water plants whenever it's time for me to pot them.
Firstly, he drilled through the wall next to the sink and added a hose connection. I just pull out the hose and hook it up as I need it. He then used pvc pipe, installed at a slight downward angle to run the water out the opposite end of the She Shed. Lastly, the water drains into a stormwater ditch at the end of the building.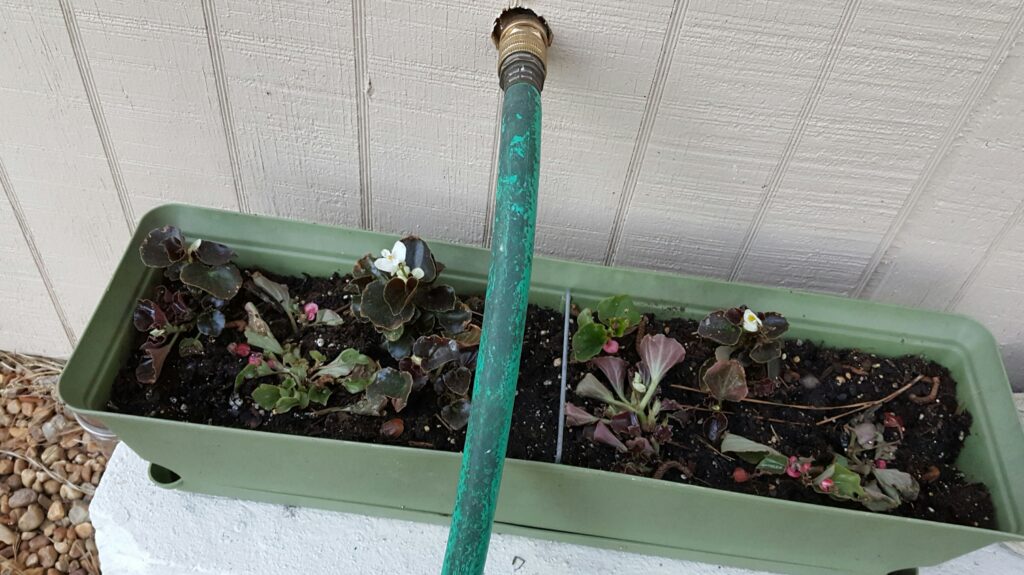 FINISHING TOUCHES
While I really wanted a workable space for my projects, I also wanted some pretty touches. So I took the time to add functional and decorative items.
I have a chair to sit in and rest on when I feel like getting out of the sun. Then I painted a pegboard a bright color to add quirky, fun tool storage. A wall-mounted spice rack from a yard sale got a fresh coat of bright color spray paint and now holds my craft paints. I added a decorative outdoor plaque. I hung two baskets of bright pink impatiens to add brilliant color.
In addition, I added two cute windchimes whose melody tinkles gently as I work. The sound is so relaxing, don't you agree?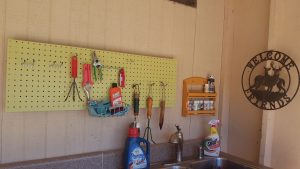 On a final note, there's only one member of the family who's not impressed with the She Shed. Rocco, my toy fox terrier, hates it. His mommy and daddy figured out that it's a great place for a doggie spa day. He is not a fan.
UPDATE: 7.5.17
As my garden has grown, my she shed has become my favorite spot in the yard. I personalized it with a towel rack upcycled from an old wooden ladder, I added hanging potted plants and wind chimes and made it quite cozy. As the garden has grown, it has become a secret, hidden space in the yard. Of course, I'm looking forward to spending many hours in my little slice of heaven.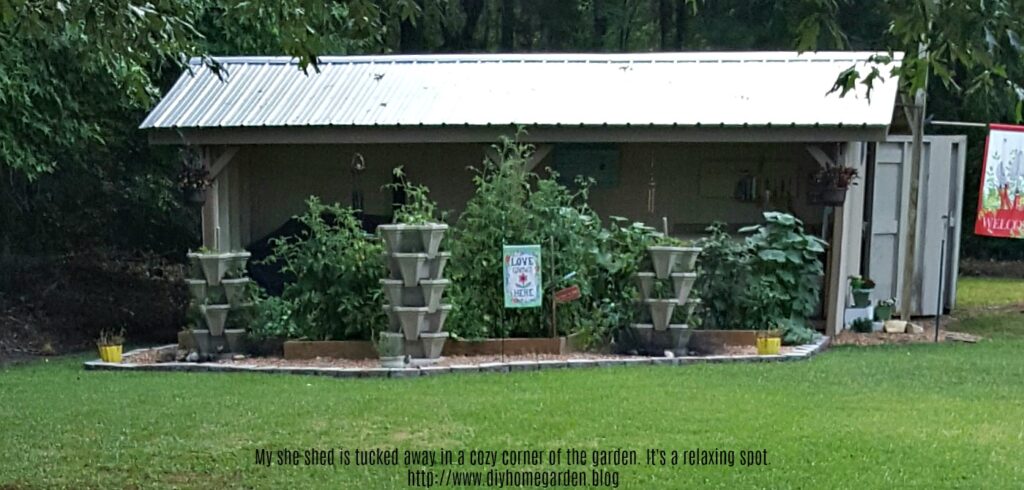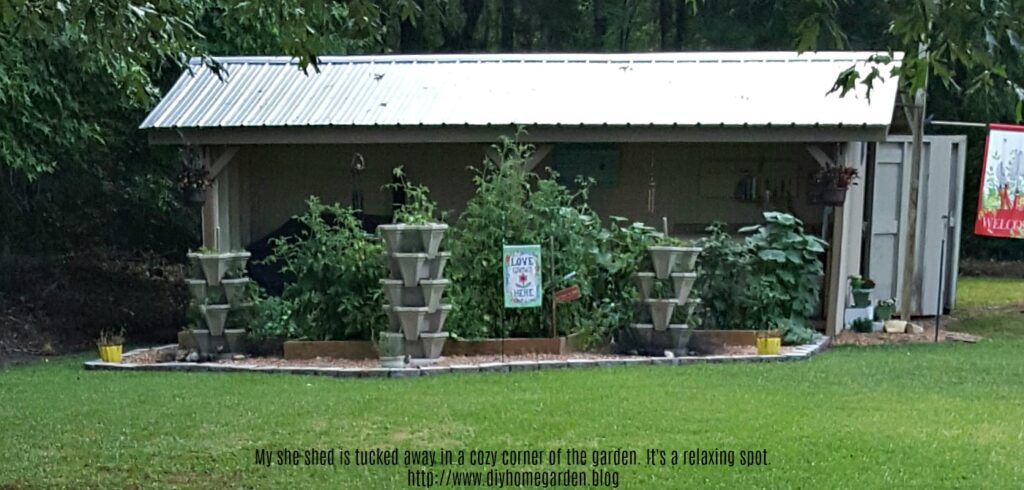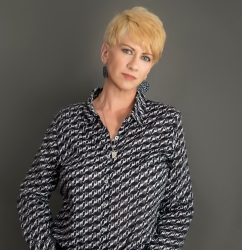 Latest posts by Deborah T
(see all)