I've been increasingly frustrated by the dirt and grass tracked into my house all day long. No sooner than I clean the kitchen floor, it's messy again! I live in a fairly small home and there's no foyer or mudroom. You enter directly into the living room or the kitchen. Period. I needed to create a mudroom without having room for one.
We live in the country. My hubby works outdoors. Bless his heart, he never removes his boots when he comes inside. It's not that he doesn't want to, but he literally has no place to do so.
Create a Space Near Your Entrance
I took a look at the space just outside the kitchen door. It's paved, it's covered by a carport, and it stays dry. We live in a moderate climate, no extreme cold temperatures.
In my case, we had the ideal space for an outdoor mudroom. If you don't have a paved, level area, you can use patio pavers to create define the space. Whatever works, but it must be near your main door and accommodate a chair and somewhere to change shoes. It will be more likely to be used consistently if the area is protected from the weather like a covered patio or awning.
I recruited my hubby to help me build a bench to be the cornerstone of my outdoor mudroom. I had an old, rickety trestle bench I had picked for free out of an old barn. The top of the bench was dirty and stained, but the base was sturdy.
Hand-crafted Bench for my Outdoor Mudroom
While I love DIY projects, and I know a little bit about a lot of different projects, my husband is amazing at woodworking.
When I mentioned that I had picked up the trestle bench, his eyes lit up with excitement. He loves this kind of project. I literally picked out the colors I wanted and he took it from there.
In a previous post, I mentioned that my husband has an endless supply of oak pallets at his job. I have used them on other projects, including my outdoor garden sign. They have tons of character, and he grabbed those to build a new bench top.
Of course, you certainly can use any bench or chair. My husband offered to build me this bench, and I was thrilled to accept that offer.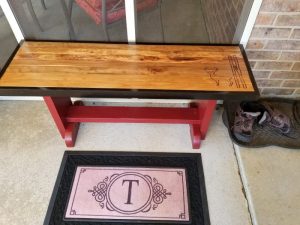 I will share step by step instructions on how he built this bench in a day or two!
Add Accessories
I added a welcome mat where we could wipe our shoes, a boot tray, and a boot scraper to subtly nudge people (a-hem, my husband) into using the bench to remove their dirty shoes!
It apparently worked. Last Friday, I had an estimator come out to give us a price on some work. It was rainy and muddy. After he finished with some measurements, he grabbed his little booties to slip on over his shoes, sat on the bench, and put them on before entering the house to write up his quote. I was tickled with that.
While we still need to shake the rainwater off our coats before we come inside and will be limited on using it during freezing cold in February, our little outdoor mudroom should do just fine.
It's not always about the size of the home. It's about how creatively you use the space you have. Make it work for you!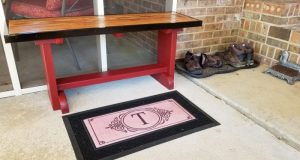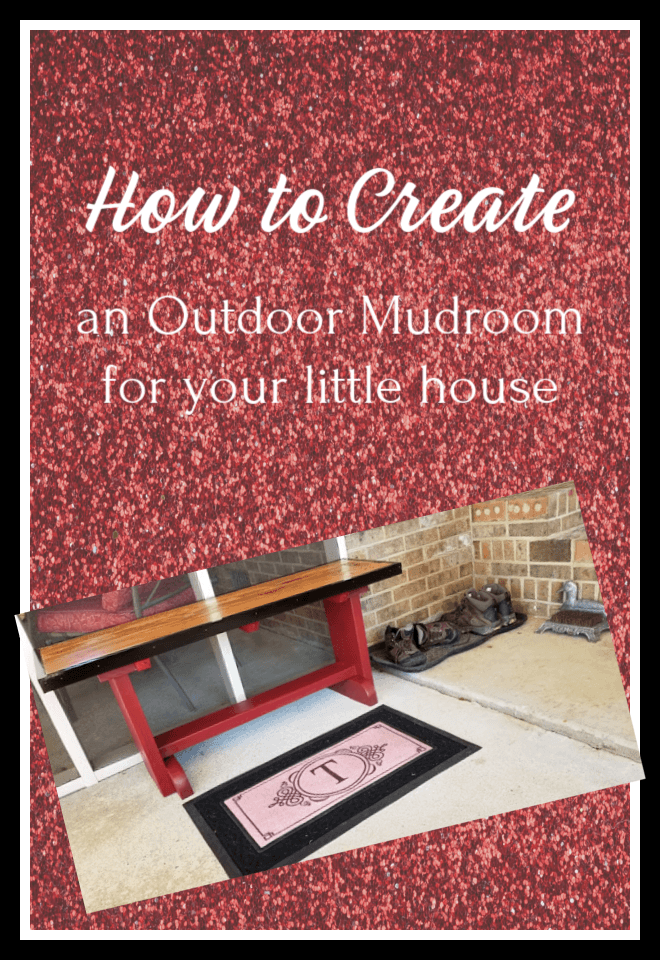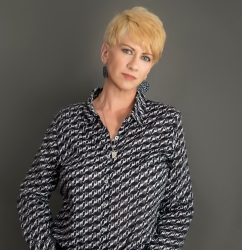 Latest posts by Deborah T
(see all)