I once had one friend ask me for a good recipe for a marinade sauce to prepare meat in order to make carne asada in a true Mexican style. I was a little shocked by his question because where I come from, the meat doesn't need anything else than the heat from red hot mesquite charcoal and some salt.
RELATED POST: Easy and Juicy Carne Con Chile – Authentic Mexican Cuisine
Carne asada is a Mexican tradition that replicates some ancient behavior of hunting and preparing everything to eat. Hence the traditional landscape of the men around the fire and preparing the meat, and the women preparing sauces and everything that we need to eat the meat the way is meant to.
Of course those ideas are over now and you can usually find everybody chipping in and helping with what they can. That's what carne asada is all about: friendship, companionship and a great meal that's you should all share.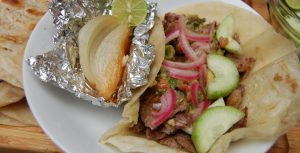 For the Grill
Half-inch slices of a nice not too greasy meat, we usually use chuck but you can use sirloin or whatever you prefer. Two pounds should be enough for two or three people.
Green onions.
White onions.
Sausages or other stuff that you'd like to eat, like ribs or a different kind of meat.
For the Sauce
Two tomatoes.
A small white onion or half a large one.
4 – 5 serrano peppers.
2 California peppers.
A can of light beer.
For the Stuff you put on your Taco
Instructions: Getting Ready
I like to have everything ready before we start the fire. So first, we'll get the sauces and other toppings done:
You will use the red onion, apple vinegar and oregano to make pickled red onions, which is extremely easy. Slice the onions and put them in a small container, cover them with the apple vinegar, put the juice of one lemon (optional) and a pinch of oregano.
Prepare the white onions first, since you will cook these on the grill. Slice these into four pieces and wrap them in aluminum foil.
The sauce is a kind of sweet sauce that people call "drunken sauce". This is because it uses beer as a main ingredient. Slice everything in about half inch squares and put it in a small saucepan. This way, you are ready to place it on the grill when it's time. Don't worry about the amount of peppers I used. Believe me, is a sweet sauce.
The other things that I like to have prepared beforehand are a guacamole and a sauce, I usually use the Salsa Bandera Guacamole recipe that you can find on this post, since it has both things. But you can go with another sauce if you want to.
Instructions: Starting the Fire
To get the fire started you can use this trick: place a kitchen napkin with a little bit of oil on it in the middle of a square made out of charcoal.
Cover it with more charcoal and then use another napkin to light the fire from the inside.
You should NEVER place meat when the charcoal still has flames coming out of it. In stead, use this time to cook the things that you need first, like the onions (both green an white), sausages and the drunken sauce.
Be sure to, at this point, add the beer to the sauce and cover the sauce pan. Be aware of how your sauce is cooking, you'll need to smash it a little bit from time to time.
Once the charcoal is still red but has no flames, is time to put in the meat.
Wait until some blood starts to come out of the meat and add some salt to your liking. Then turn the meat around.
Cook meat as much as you like it, I really prefer my meat medium rare.
Slice your meat into little pieces while you heat some tortillas on the grill.
Set up your tacos as you like, I recommend a thin layer of refried beans first, then the meat, guacamole, cucumber, onions and sauce.
Instructions with Pictures
Preparations
Prepare the pickled red onions: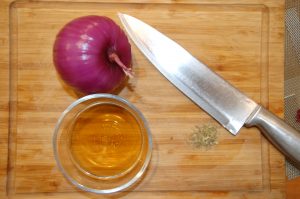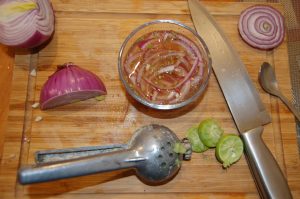 Prepare the white onions: cut onions into four pieces and wrap them in aluminum foil.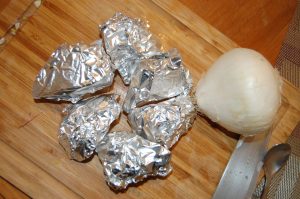 For the drunken sauce (which is a sweet sauce) cut tomatoes, peppers and onion into inch size pieces and put them in a sauce pan. This will be the first thing to put in the grill.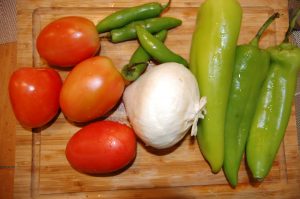 Time to cook!
To start the fire on the grill, place a kitchen towel with a little oil on it in the middle of a charcoal square.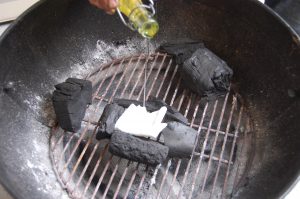 Cover the towel with more charcoal and use another towel (or piece of paper) to start the fire from the inside, the oil should help a lot.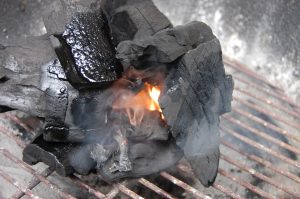 Once you start the grill, place the things that you can cook on such a high flame: the onions and the sauce. Sausages can also go in now.
At this point, add the beer to your sauce.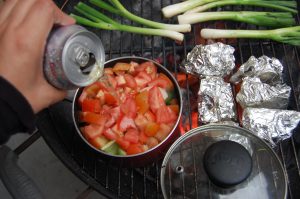 Smash the sauce from time to time to make it more sauce-looking.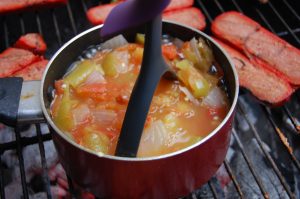 Once there are no strong flames coming out of the charcoal, put the meat in. Wait until there's blood coming out of the meat to add a little bit of salt to your taste, and then turn the meat, just once.
Once you have cooked the meat to your liking, cut it into pieces. You should also already have every topping ready and your tortillas warming on the grill.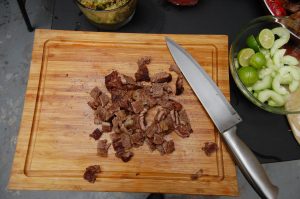 Assemble your taco as you like. Onions are amazing and delicious complements to carne asada, add a little lemon and salt and go nuts!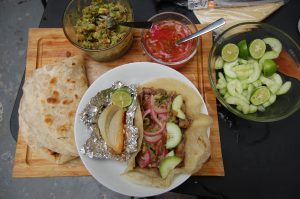 Don't forget your sauce! Remember, this sauce is not spicy at all. The peppers in your guacamole should add some spice to your tacos but let me know if you want some recipes for amazingly tasteful and hot Mexican sauces!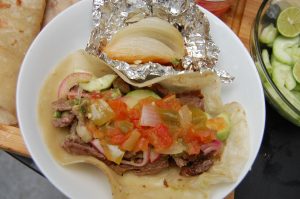 When to Cook Carne Asada
In my house we eat carne asada whenever we have a birthday or want to spend some time with friends for no particular reason. Carne asada is a community trademark for us. Brings us together and is always delicious. And it also has so many things happening around it that the meat is just an excuse to make other stuff like sauces, guacamoles, beans, eat a little grilled sausages or ribs and have a great time.
Let me know how your carne asada turned out and if you still want a good recipe for a hot sauce or a marinade sauce, I can fix you up!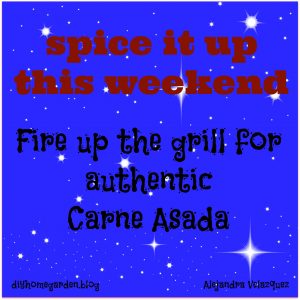 Latest posts by Alejandra Velazquez
(see all)