These are 6 affordable DIY projects that can add instant curb appeal, boost your home's perceived value, and give you pride and enjoyment. Certainly, you want your home to look beautiful. You don't need to have the largest or most expensive home in the neighborhood. In fact, curb appeal is often about the charming touches not the size of price tag of the home.
Sound expensive to you? Or, does it sound like it will take too much time?
Not at all! I will show you how to spend a small investment in money and one weekend in your life to update your home's exterior. Indeed, your home can look its best with just a little bit of effort.
BEFORE YOU START YOUR DIY CURB APPEAL PROJECTS:
This is a touchy kind of subject. None of us (myself included) likes to hear that we've let things get just a touch out of hand!
Before you start your project, I'm going issue you a challenge. Stand back at the road facing your home. Use your cell phone to snap a photo or two. Come back in, and pour yourself a cup of coffee. Look at the photos objectively. Do you see unpruned shrubbery around the front? Litter in the ditches or yard? What does your front door or porch look like? Are there weeds growing through cracks in the driveway? Are your shutters sagging?
RELATED POST: How to Improve Your Curb Appeal and Interior Decor at the Same Time
Sometimes, we get so accustomed to things the way they have been that we fail to see the way they appear to others! This isn't a judgment.
I, too, have been in that very position.
Looking at your yard through a camera lens gives you a detachment. This means you will develop an objective view and see the things that really do need addressed. Some of the suggestions I am sharing may apply to you. Others may not. These are suggestions that are easy to fix, low-cost DIY projects that will beautify your home. Being honest in noticing what needs addresses is crucial to success.
1-CLEAR OVERGROWN SHRUBS & TREES
COST: FREE
If you see out of control shrubbery or trees, take an hour or two to prune them back. This is not a favorite task for me personally, and I'm guilty of putting this off at my house. Pay particular attention to the areas around your windows and close to the home.
There are a few reasons that regular pruning is important.
First, pruning your shrubs and trees helps them stay healthy. This means that they will live longer. In the long-term, it can save you a tree removal bill. A healthy tree adds beauty, shade, and looks inviting.
Second, burglars love to find homes with overgrown shrubs around the foundation. This gives them cover as they are breaking into a home. For your own safety, keep shrubs well-shaped and away from the windows.
Third, well-shaped trees and shrubs just look better.
Clearing overgrown shrubs or trees is one of the best ways to make instant curb appeal.
Some homeowners do this project themselves for free. However, others are not handy or don't have the right tools to complete the job. No problem! Hire an expert tree pruning company. You won't regret spending the money!
2-PULL UP THOSE WEEDS
COST: FREE
In addition to pruning the trees, take a couple of hours and pull up all the weeds from your flowerbeds. All of them! Don't forget the ones that spring up through the cracks in your driveway, either! Trust me, I know this is a hateful job. Get the kids to give you an extra pair of hands…it builds character.
As you are pulling the weeds, try to grab all the roots. I know, sometimes they break off. Really, they grow back better if you break them. Also, try to make sure that seeds stay on the weed. Don't let them go to seed in your yard or flower beds.
This is heavy, labor-intensive, and hard work, but this job will give you instant gratification.
The good news is this: Once you have completed this job, keeping up with it is much easier!
3-REMOVE LITTER AND TRASH
COST: FREE
Nothing says "I gave up" more than trash, litter, and debris in a yard.
Keeping litter and trash picked up is a constant battle for me. You see, I live only a couple of miles from the local landfill. The garbage trucks pass constantly by my home. All day, every day. They leave paper and debris behind them constantly. If I don't get out and pick it up every few days, it starts to clog my storm drains which can cause flooding.
Certainly, you get annoyed that passersby litter your space. It's not your mess, but yes you need to clean it up.
This is a quick 10-minute job about twice a week. It should be a regular part of your weekly yard care.
In addition, haul off piles of scrap wood that you intended to use but never did. Ditto for limbs and brush. Wood piles are breeding zones for snakes, ticks, mice, and other nasty critters. Hauling a pile of wood may take a couple of hours, but it gives your yard a clean and fresh look right away.
4-PAINT THE FRONT DOOR
COST: $25
It has been said that the eyes are the window to the soul. The same analogy can be drawn to your front door. It's what draws people into your home. It's where formal guests enter. Give your house a front door that adds charm and an inviting feel.
In fact, think of this "DIY Paint Your Front Door" project as an opportunity. You can spend about $20 on a quart of high-quality paint. I recommend Sherwin-Williams or Valspar as these brands apply smoothly, are fade-resistant, and dry without streakiness. Spend your money on the quality brand for this job.
Don't match the front door to your home. In fact, your visitors should see the front door and know immediately that this is where they go. Make it a distinct, rich color that will draw the eye. While you can pick a trend color, classics such as navy blue, barn red, or emerald green are classics that never go out of style. Also, use your instincts to select the color that's best for your home.
After the paint is dry, add extra color by adding a DIY low-cost wreath. A wreath is a traditional symbol of greeting and welcoming to friends and family who visit your house.
5-PLANT ANNUALS
COST: $100
Nothing adds more color and charm to your home's exterior than adding annual flowers to your garden. So set yourself a budget of $100 and plan to purchase plants for key areas like the front of the home (around the foundation), near the mailbox, and in any containers or hanging baskets you may have on hand.
I like to purchase my annuals rather than starting them from seed. In short, I prefer to plant and immediately admire them. I like to see the exact color, read the care instructions, and smell them. But that does come with a fairly steep price tag.
Shop around. You can usually find healthier annuals for less money at local nurseries as they cut out the "middle man." I usually spend about $100 per season on my annuals, and I get a lot of them for that money. I love seeing the instant results!
6-MULCH YOUR FLOWER BEDS
COST: depends on needs
Mulching your flower beds will help add to the overall look of your home. But I can't tell you the cost. There are too many factors such as what type of mulch you plan to use and how much you need. For instance, my home is in the midst of a pine forest. So we get our mulch for free by raking up clean pine straw from the woods.
When I have purchased mulch in the past, I have found that it's better to buy it from a local landscaping company. No hauling expensive bags in the back of your car this way. They generally sell it by the load and deliver it right to you. You get more for the money and with less hassle!
Mulching is important for several reasons.
Firstly, it helps to prevent weeds from taking your yard back over. Secondly, it helps the soil retain moisture and nutrients. Lastly, it just looks awesome!
CONCLUSION:
You can add curb appeal to your home with just a little bit of time and on a tight budget. So if you can afford to do all these tasks in one weekend, then that's great. If you need to spread the expense out over a few weeks, that's also fine. Moreover, find cost-effective ways that work within your budget.
You will likely fall back in love with your home. Indeed, it may even motivate you to take on a few new DIY challenges that will improve your home's exterior appeal.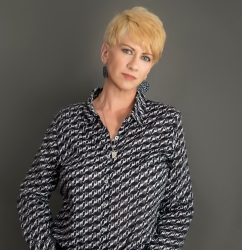 Latest posts by Deborah T
(see all)