This may sound weird to you, but Cheese Soup is an actual dish that is very common in the northern region of Mexico. It is extremely simple and makes a great dish any time of the day. It is one of those things that we can eat first thing in the morning, at lunch and dinner, sometimes in the same day and most people won't ever complain about it, because is tasty, simple and fulfilling.
RELATED POST: Grilled Ham and Cheese. Creamy, Easy, Cheesy Goodness
Here's the recipe for surprisingly easy cheese soup.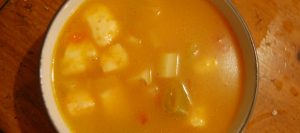 You'll need:
To make about 1.5 gallons of soup. Yes, you can make less, that's just something that we Mexicans find very hard to manage.
5 Potatoes
2 tomatoes
Half a medium size onion
Tomato paste or puree (optional)
Cheese, I prefer dry kinds of cheese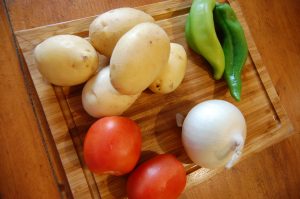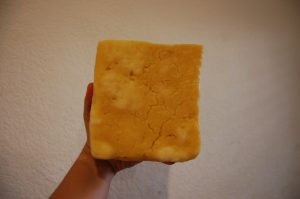 Instructions
Dice the veggies into bite-size squares.
In a large pot, add some olive oil and put the onions and peppers first.
Then add the tomatoes and potatoes and stir for a couple of minutes until the tomatoes get soft, don't let the potatoes get golden brown.
Here you can add the tomato puree or paste if you want, I did since I like the color, body, and taste that it adds, but most people don't use it.
Immediately after that, add enough water to cover everything and double that. You can add more water if you feel you need to, later.
Let that simmer until you feel the potatoes are soft enough to your liking.
In the meantime, you can dice the cheese into bite-size squares, even smaller if you want.
When you feel the soup has the consistency you want, especially the potatoes, add the cheese and turn the heat off. Cover the pot.
The heat from the soup will take care of the cheese, you don't want it to completely melt unless you think you'd like that better. The point is yo actually chew the cheese when you eat the soup.
Serve in a bowl and add sauce, peppers or salt to your taste. I didn't add any salt since the cheese is already salty so I didn't think it needed any more seasoning.
Eat with flour tortillas or by itself.
Instructions (with pictures)
Start with the onions and peppers. Side note: you can actually cook the peppers first the way we do with chiles rellenos.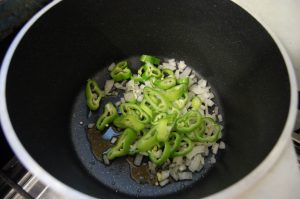 Add the tomatoes and potatoes.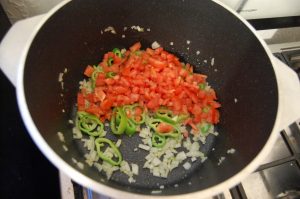 Add the water and let it simmer. In the meantime, dice the cheese.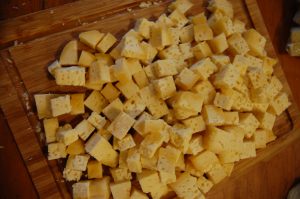 Wait until you're pleased with the potatoes and add the cheese. Remember, you can put the cheese on the table and let everyone add as much as they like. Serve hot.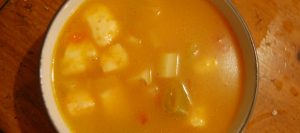 Let me know what you think about this traditional dish from Sonora! It's delicious and the flavor changes if you use different kinds of cheese. It is great comfort food for the coming fall months!
Latest posts by Alejandra Velazquez
(see all)