Bulleit Bourbon Bacon Jam.
The name alone defies any further description. It's rich, savory, salty, and slightly sweet, a well-balanced and delightful treat. This is really a feast for your eyes, nose, and taste buds.
I have been wanting to perfect my bacon jam for some time. I've made it before, but it was always missing a little something. A good dose of Bulleit Bourbon and my problem was solved. Hmm. I wonder how many people have said that before?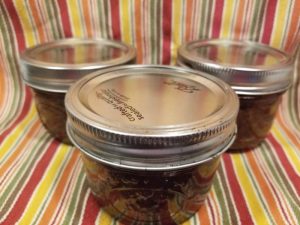 When I made my batch, I was able to get three half-pint jars out of one batch. With the upcoming holidays, you can keep a jar for your fridge, take one to your Thanksgiving hostess, and eat the other jar right away. I promise you, your kitchen will smell so amazing that you won't be able to resist.
After I took a taste of this bacon jam, I immediately made fresh biscuits and started spreading it on everything I could find. Weight Watchers, be damned! My favorite way to indulge–my family-favorite potato drop biscuits.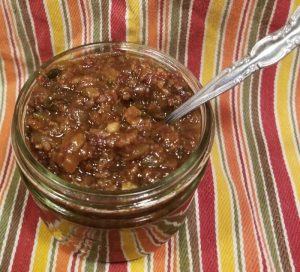 Bear with me on the ingredients list. It looks overwhelming, but every single thing in here lends itself to the finished product. You'll have to trust me on that.
While it makes 3 jars, I would only keep it in the fridge for 2 to 3 weeks, max. After all, it is made with fresh ingredients. Even though the lids on the jars popped into a sealed position for me, they are not safely "canned." Make this and share it or eat it right away!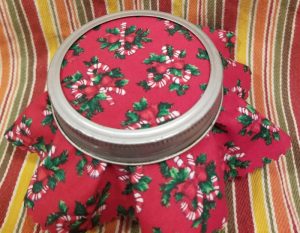 BULLEIT BOURBON BACON JAM
Here is how to make a batch of this decadent treat.
Bacon Jam Ingredients:
25 strips of regular cut hickory bacon
4 cloves of garlic
2 bunches of green onions
1 medium-sized yellow sweet onion
2 tsp of chili seasoning mix (if you don't make my recipe, 2 tsp. of a packaged seasoning can work)
1/2 cup of Bulleit Bourbon – do not substitute for the cheap stuff, as if won't taste good. I've tried it!
1/4 cup maple syrup
1/4 cup balsamic vinegar
1/2 cup brown sugar
1 tbl. Dijon mustard
3 tbl honey
How to Make Bulleit Bourbon Bacon Jam:
Cook all that beautiful bacon. I laid mine on a parchment paper-covered tray and baked it until it was lightly crispy. I put it at 375 for about 20 minutes.

While the bacon is cooking in the oven, you'll want to cut the tops and tips off of the green onions. You primarily want the fleshy white bulb and about 1/4 of the green stems for this recipe. Save those top sections of green onion…I have another recipe to share and we won't waste those! Roughly cut the green onion into rings. Toss them into a large pot.

Dice your sweet onion and mince your garlic. I ran my garlic through my handy garlic press and dropped the garlic directly into the pot. This allows you to handle the garlic less so your hands don't stink.
Pull the bacon out of the oven. Add a teaspoon or two to the pot with the onions and garlic. Saute the onions and garlic for just a moment or two. Don't burn the garlic!
Pull the bacon apart into short pieces, toss them in the pot.
Add all the remaining ingredients to the pot. Be very careful when you add the Bulleit Bourbon that you don't start a fire. Simmer uncovered on low heat for about 45 minutes, stirring often. Your mixture will reduce as it bubbles.

Bulleit Bourbon Bacon Jam in the pot developing delicious flavor

After you've reduced down the bacon jam, let it sit for about 15 minutes to cool slightly. It will be very chunky and messy looking. That's ok because we're going to take it for a spin in the food processor to make it gorgeous.
Add the now cool enough to work with bacon jam to the food processor. I used my manual food processor as it's less hassle than digging out my electric model and finding an outlet in my old kitchen. Process until the jam has a nice texture and even appearance.

After a spin in the food processor, this is the texture of your bacon jam.

Use a spatula to spoon into the 3 clean half-pint jars and scrape up every tidbit off the side as you scoop of the food processor bowl. Enjoy eating and sharing!
Believe me when I tell you, your home will be the best smelling house on the block when you're done making this. You will hardly be able to control yourself. The flavor is almost indescribable.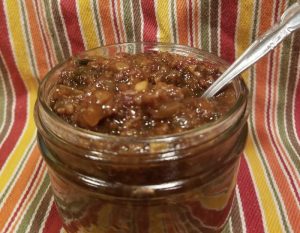 Cooking with Alcohol
On a final note, be cautious when cooking with alcohol. It's flammable. The alcohol burns off during cooking, but watch it carefully. In addition, don't waste money on cheap alcohol or you will have bad food. I find Bulleit Bourbon to give me reliable results every time I use it.
Wrap-Up
Y'all, this is a must-try-at-least-once indulgence. Please let me know if you tried it. Once you do, I'm sure you'll want to make it for everyone on your Christmas list.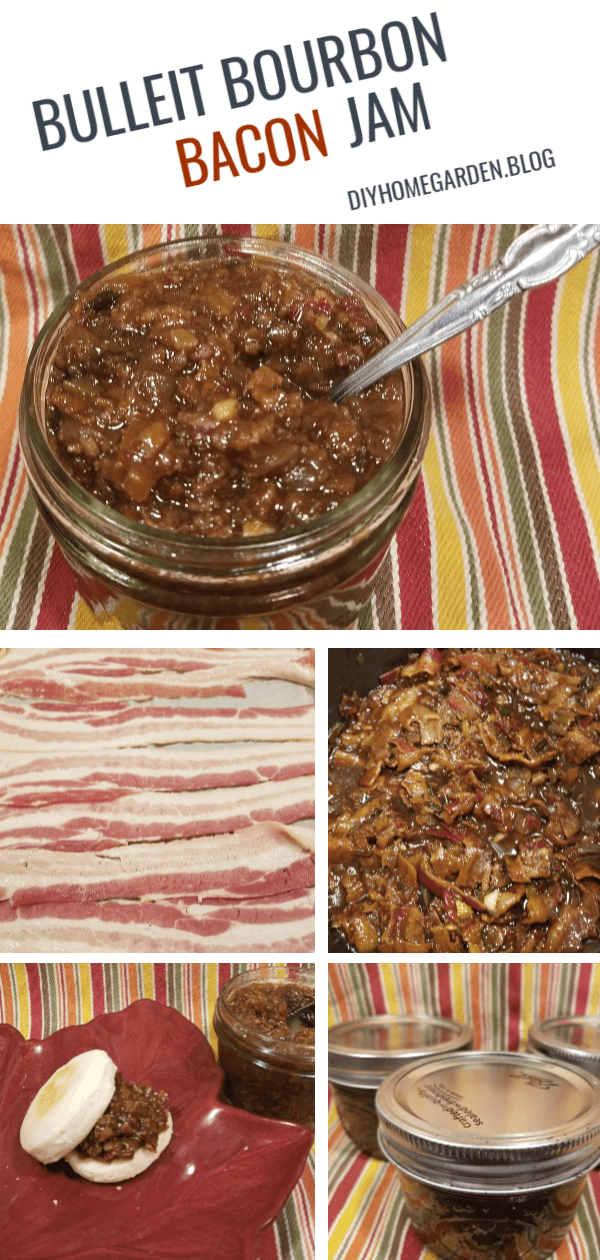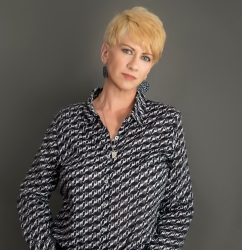 Latest posts by Deborah T
(see all)