If you have ever wondered about how to put leftover mashed potatoes to good use, look no further than this light, fluffy, and delicious potato drop biscuit recipe. This article will explain how to make these with just three ingredients. And even better–you'll enjoy piping hot biscuits in about thirty minutes.
No more wasted leftover mashers–your family will beg you to make this repeatedly.  I often make these heavenly little bites of goodness, splitting them open and loading them with honey ham and a slice of cheddar for a quick hot breakfast, pairing them with a hearty soup or stew at lunch, or to sop up gravy alongside meats.
Undoubtedly, you will find many uses, too!
Why I Prefer to Make Potato Drop Biscuits Instead of Rolled Biscuits
Before we get to the recipe, let's look at why you'd make potato drop biscuits instead of rolling them.
What is a drop biscuit?
You make these potato drop biscuits (or any other biscuit recipe) by mixing your batter and dropping evenly-sized spoonfuls directly onto a prepared baking sheet. This is why bakers call these drop biscuits.
What is the difference between a potato drop biscuit and a rolled biscuit?
The batter you use to make drop vs. rolled biscuits is the same. However, the prepping method is different.
To make traditional rolled biscuits, you first prep the batter. Then, you roll out the dough on a floured surface, hence the name. Finally, you cut the biscuits into circles using a special cutter. Drop biscuits are simple, but they are also more forgiving. 
When you make rolled biscuits, you must pay attention to the height of the dough as you cut. Also, if your dough is a bit too sticky, it can become challenging to work with.
This potato drop biscuit has a high moisture content from the milk and butter in the mashed potatoes, and it is a little bit stickier than traditional biscuit dough. So that's my main reason for simply plopping the dough onto the baking sheet instead of rolling this recipe.
How to Make Three-Ingredient Potato Drop Biscuits
You can use any baking sheet that you prefer. As you will see in these recipe photos, I typically prefer my Pampered Chef stoneware baking sheet. Yes, it is a bit pricey. However, I get even heat, and excellent results, and I don't need to add baking spray or oils.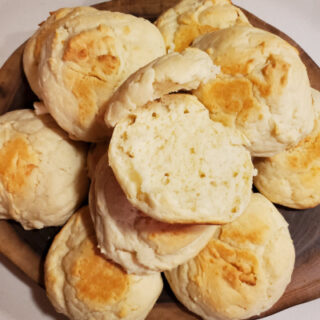 Heavenly 3- Ingredient Potato Drop Biscuits
Yield: 12

Prep Time: 5 minutes

Cook Time: 30 minutes

Additional Time: 30 minutes

Total Time: 1 hour 5 minutes

Put leftover mashed potatoes to excellent use--make these heavenly, buttery potato drop biscuits. They take only three ingredients and bake up in thirty minutes.
Ingredients
1 cup of leftover mashed potatoes (made with butter and milk or sour cream)
1 cup of 2% milk
2 1/3 cups of your favorite baking mix (Bisquick or other similar product)
Instructions
Preheat your oven to 400°F. If you use metal bakeware, spray it with non-stick spray; however, if you use stoneware as shown in the pictures, you will skip the spray.
Measure the milk and mashed potatoes into a medium- to large-sized mixing bowl.
Slowly add in the baking mix a little bit at a time, using a sturdy spoon to mix the ingredients as you go.
Depending on the thickness or moisture content of your specific mashed potatoes, you might need to add a little more-or less--of the baking mix. You want the consistency to be slightly sticky and rich with potato-goodness!
Use a spoon to drop the dough onto a baking sheet, making 10 to 12 biscuits, depending on how large you'd like them to be.
Put the sheet in the oven and set the timer for 25 minutes.
When the timer buzzes, flip the biscuits over so they face down to the pan, set the timer for five minutes, and pop them back in the oven to finish baking. . This will give them a nice, golden crust on the top.
Remove your potato drop biscuits from the hot oven carefully and serve while they are piping hot!
I know you will love these fragrant and buttery goodies as much as you loved the sweet potato biscuits I shared a few weeks ago. The method to make them…very similar, but the flavors are distinct.
Regardless, please share this post across social media and connect with me to share how these worked for you. Until I post again, have a happy DIY day!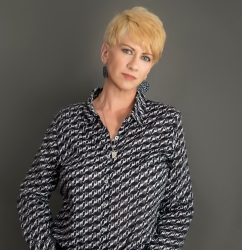 Latest posts by Deborah T
(see all)