Maple bacon corn muffins are a treat for a cool fall morning. In fact, I bake them on Sunday morning and serve them piping hot. You get 18 muffins out of one batch. As a result, you have plenty of muffins left over to keep on hand for a quick weekday morning breakfast.
RELATED POST: Honey Maple Peanut Butter Protein Bites
My husband really loves to pop the muffin in the microwave in the morning during deer hunting season. He rises very early and he can eat it in his Jeep on the way to his tree stand. But for me, I don't need an excuse to eat these…I will eat them all week long just because they are so very delicious.
They are very simple to make and take a basic classic corn muffin to a whole new level. The addition of bacon and a hint of maple is comforting and satisfying. The taste is almost like a pancake in a muffin form. Yummy!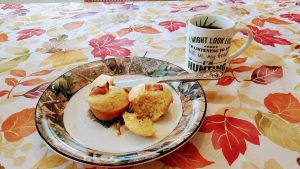 MAPLE BACON CORN MUFFINS:
muffin ingredients
1 1/2 cups corn flour
1 1/2 cups self-rising flour
1/2 cup granulated sugar
2 eggs (beat)
4 tbl butter (melted)
8 strips of cooked bacon (cut into pieces)
1/2 cup maple syrup
1 1/4 cup of milk
baking instructions
Firstly, preheat your oven to 400 degrees.
Cook your bacon and cut it into strips. Then save 18 small width-wise strips to garnish the top of the muffin.
In a large mixing bowl, mix your dry ingredients: corn flour, self-rising flour, and sugar.
Make a well in the middle of the dry ingredients and add the melted butter, milk, and maple syrup. Mix all ingredients together until well-incorporated. Then fold in the bacon (minus the pieces to decorate the top). Your batter will be slightly wet and not super thick, like a regular muffin batter. If it's too thick, add another splash of milk.
Grease 18 muffin cups with non-stick spray. Then divide the batter into the 18 cups. Lastly, place on two separate racks in the oven for 15 minutes. After 15 minutes, pull both trays out and put the garnish bacon on top without mashing down the crown of the muffin (which should be starting to form). Swap trays so that the one from the bottom moves to the top and vice versa. Bake for an additional 10 minutes.
After the total 25 minute bake time, remove the muffins to cool. But I bet, if you're you won't be able to wait!
FINAL REMARKS

Feel free to have a little fun with this recipe. So if you'd like more bacon, add it. But if you like less maple flavor, decrease the maple syrup and add that same amount back in milk. This is a fun recipe to keep on hand to take when you're invited to a brunch.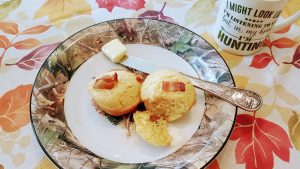 I like to serve my Maple Bacon Corn Muffins with a piping hot cup of coffee, but my husband prefers a cold, tall glass of milk (to go in his Yeti cup!) What would you like to drink to wash down your Maple Bacon Corn Muffins?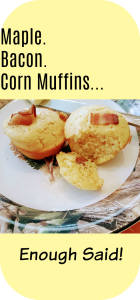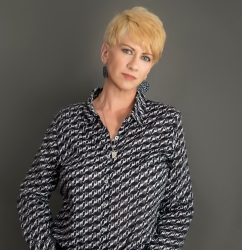 Latest posts by Deborah T
(see all)