It's a well-known fact that Americans love guacamole. In fact, they eat tons of it during Cinco de Mayo. Guacamole is the heart of a party, whether is a small get-together with your closest friends or a huge family reunion, Mexican homes have always a place right in the center of the table for a bowl of a special recipe of the best guacamole they can make.
The key to great guacamole is in the avocado. Pick the ones that have a slight tenderness to the touch, not too saggy or too hard. The best avocados usually have a thinner skin and a very good tip to make sure your avocado is just perfect, is removing the little stem at the top, you'll be able to take a sneak peek into the avocado, if the color is a live green and fresh-looking, you got yourself a great avocado.
RELATED POST: Recipe for Savory alarita Avocado Spread for Wraps or Salads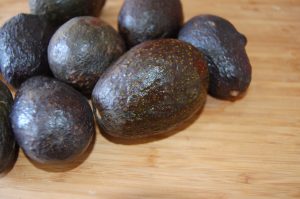 Each region and family has their tips and tricks to achieve the best taste in guacamole. My family is from two different sides of Mexico (right in the north and about in the middle), and every taco place has its own version of this ultra-versatile dip and sauce. I've tasted a ridiculous amount of guacamole in my life, not everyone is great, some lack of flavor, but rest assured that these three recipes will definitely leave you wanting some more totopos to dip into them.
1. Soft and Spicy Guacamole
If you want to use your guacamole as a sauce too, you gotta add some spice in it. This recipe is perfect to put in your tacos, tortas, and burritos. Is extremely easy to make and is probably the one that takes less effort in this list.
You will need:
Avocados. Pick as many as you want, depending on how much guacamole you want to make.
Serrano Pepper. A dangerous type of pepper, smaller and spicier than the Jalapeno. Go with your instincts on this, if you like it hot, grab one or two per avocado. A standard measure would be one pepper per 2 avocados.
Cilantro or Coriander. This herb is a must-have in any Mexican home. Full of aroma and flavor, whatever you can grab in between two fingers should be enough.
Sour cream. To add some tartness, beautiful color and body to your guacamole.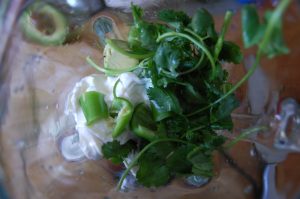 Put everything into a blender, add half a cup of water to help it get going, give it a few pulses and then blend it well. You should have a homogeneous mix that's completely green, no lumps or traces of any other color or green hue.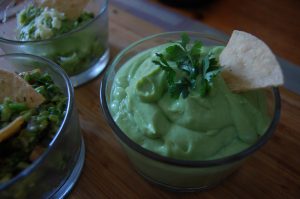 2. Handmade Guacamole and Fresh Cheese
This is exactly what it sounds. This guacamole is more of an acquired taste since fresh cheese can add a more acidic and funky smell. But the texture makes it perfect to eat. Is fairly simple to make although it requires god-tier expertise picking the right avocados.
You'll need:
Avocados. Soft ones, maybe a little softer than usual but again, no saggy avocados.
Fresh cheese. Or any cheese that makes crumbs, for that matter.
And that's it! Just put the avocados (slice them in four pieces to make it easier) and pick a fork. Smash them a little bit, we want some crumbs in here.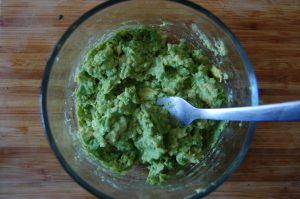 Add the cheese and mix them well. A pinch of salt goes a long way too.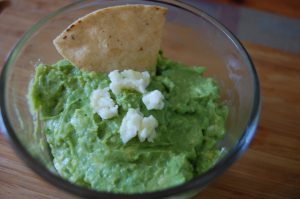 3. Salsa Bandera Guacamole
Salsa bandera is commonly known as "pico de gallo", which is a sauce that's made out of tomato, onion, cilantro and serrano pepper, all finely diced and mixed together. This guacamole goes the extra mile.
You'll need:
Tomatoes. I used saladette.
Onion. I rarely use red onion but I wanted this to have more color and style, but white onion works as well.
Serrano peppers. If you can't stand the spiciness, you can replace it with chile guero (yellow hot pepper) which are not as hot.
Cilantro
Fresh lime juice
Avocado. Of course.
Salt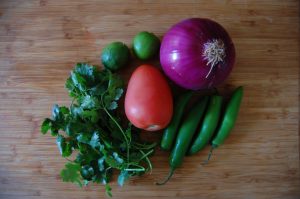 Slice everything in little squares, including the avocado, and put in in a small bowl. Add the juice of a lime (one or more limes depending on how much guacamole you're making) and add a pinch of salt. Mix it all together and that's it. Is very easy, healthy and delicious. This is probably my favorite one on the list.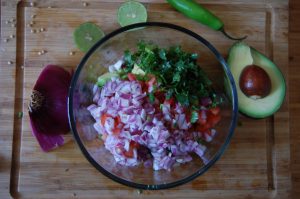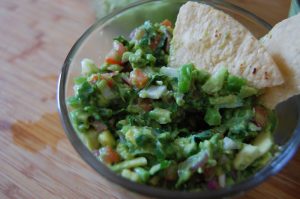 Mexican cuisine is not science, is pure heart and instincts, is aroma, spiciness, color, and freshness. Follow your heart, take a chance and put that crazy idea of an ingredient in guacamole. You found new peppers? Put 'em in there! You like black pepper on everything? Go ahead! Nothing is off limits!
In the meantime, you already have these three delicious and simple recipes that would make your Cinco de Mayo celebration a hit! Dip in!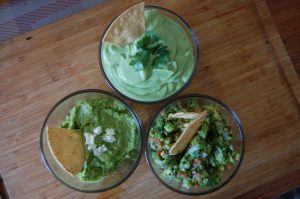 Latest posts by Alejandra Velazquez
(see all)