I wanted to share with you a recipe for a savory avocado spread for wraps of salads. It only takes a few minutes to make, and it adds so much flavor to an otherwise kind of boring wrap.
I lost just over seventry pounds on Weight Watchers (ww). But I am getting bored to death of the same old, same old foods! While avocado is not a "zero points" food, the flavor it packs is so worth the points!
In October, I discovered a local brand in my area called Alarita. So I have tried their salsas and rubs, and they are amazing! Because of that, I looked for a way to work this local product into my recipe. But please note, I am not an affiliate with their company, I just really love the product. I thought it's worth sharing a great way to use it. I'm sure you can switch it out for a local rub in your area, as well!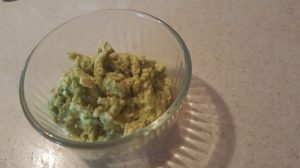 Recipe: Alarita Avocado Spread
Grab your kitchen supplies, let's make this yummy sandwich topping!
Kitchen Supplies You Need:
That's it. It really is just that easy!
Ingredients:
1 very ripe Haas avocado
1/2 tsp chili powder (optional: if you want a little extra something)
1/2 tsp. garlic powder (because I add garlic to almost everything!)
2 tsp alarita spicy dry rub
1/2 tsp cumin
1/2 tsp lemon juice
1 or 2 grates of fresh lemon zest
Instructions:
This is as easy as it can be, y'all!
Open the avocado. If you don't know how…score all the way around the middle of the avocado. Then pull the two halves apart. Grab a butcher knife, and keep your fingers back for this! Lie the avocado with the pit side up on a cutting board. Then whack into it with the butcher knife and lift. That big pit will come right out.
Scoop out the avocado "meat" and place it in a bowl with a flat bottom. Use the back of a fork to mash the avocado until it's fairly smooth.
Add the alarita seasoning, chili powder, garlic powder, and cumin, to taste.
Add the lemon juice and zest. The lemon juice will keep the avocado from turning an unappetizing brown.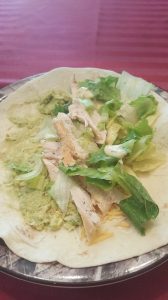 The Bottom Line on Avocado Spread, Using Alarita seasoning
For my WW peeps, 1/4 of an avocado is only 2 points so this gives you four servings. There are no points in the spices or lemon. This is fewer points than most salad dressings and adds a creamy and delicious flavor while keeping your point count low!
In addition, avocado is so healthy. It contains Vitamin A, Vitamin B complex vitamins, potassium, fiber, Vitamin E, and Vitamin C. It contributes to heart health, digestive health, shiny hair, stronger nails, and glowing skin. What's not to love?
As always, please feel free to follow my page so you get updates as soon as they post!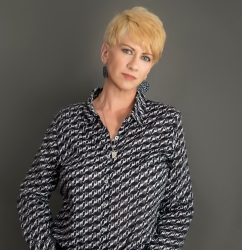 Latest posts by Deborah T
(see all)