Venison sliders are delicious little cheeseburgers made from a savory blend of beef and venison. They are perfectly portioned to grill up quickly or when you want a lighter bite. Moreover, they give you the flavor of a lighter cheeseburger, thanks to the addition of venison.
Sliders are a fantastic way to get big, bold flavors in smaller, cuter packaging! Because they are only a couple bites, they're fun to serve at a summer cookout. Because they can be managed one-handed, they allow your guests to mix and mingle. Also, they allow your guests to sample many different offerings since they won't fill up on a giant cheeseburger.
Plus, sliders are just too darn cute! Who wouldn't love a teeny sandwich?
When I make these, it's enough to eat the day I make them and several for the freezer for a quick prep meal after working all day. They are super simple to make.
RELATED RECIPE: Hearty Deer Camp Casserole
VENISON CHEESEBURGER SLIDERS
Here's how you can prepare these moist and delicious little sliders.
ingredients:
1 lb. ground venison
1 lb. 80/20 ground chuck
1 tbl. Montreal Steak Seasoning
1 clove very finely minced garden-fresh garlic
1 tbl. Worcestershire Sauce
3 shakes liquid smoke
1/4 cup Heinz ketchup
1/4 cup finely grated Parmesan cheese
cheese for topping
toppings of your choice
instructions:
Mix the venison and ground chuck together in a large mixing bowl. Mix together until you have a consistent ratio or beef to venison. They are slightly different in color, you will be able to see.

Use 80/20 ground chuck with your venison. You'll have a moist burger. Indeed, the venison needs that fat!

Add in the Heinz ketchup, liquid smoke, Worcestershire Sauce, Montreal Seasoning, garlic, and Parmesan cheese and mix once again to incorporate the flavors. (Note: You can use whatever brand of ketchup you prefer. I'm a western Pennsylvania native. To me, Heinz is the only brand to use.)
I use a 1/4 cup measuring cup to help guide me on my portion. I fill the measuring cup with meat + an extra tablespoon or two per slider. Shape them into equal patties. I make a thumbprint in the middle or each slider. This is a trick I stole from the Food Network (Bobby Flay). It keeps the burger from getting a hump in the middle as the fat draws up during grilling.
When you have shaped the venison cheeseburger sliders, you should have about 12 portions.

Because they cook quick, sliders are the perfect after-work meal.

Grill each one until fully cooked, about 5 minutes on each side. This can vary depending on the heat of your particular grill. Resist the urge to mash down on the burger and flatten it. Venison needs moisture and pressing down will release the flavor and moisture!
Melt your cheese during the last two minutes of cooking.
Finally, remove and serve. Offer a buffet of creative toppings and let your guests pick their favorite! I like to serve mine on King's Hawaiian rolls when I have a crowd to feed. When I am making dinner on casual Saturday with the husband, I serve on top of my Easy Homemade Dinner Rolls. Whatever way suits you is perfectly fine!
You'll Love These Venison Sliders!
Consider these quick-cooking Venison Cheeseburger Sliders for your summer cookout or for a quick after-work bite. So, do you love this idea? If you do, then be sure to check out our venison sloppy joes, too. Or, as I like to say…Sloppy Doe.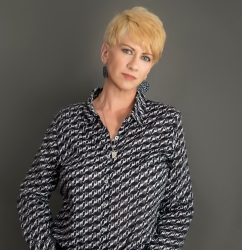 Latest posts by Deborah T
(see all)