Deer camp casserole is one of those lazy weekend dishes. It's perfect for Saturdays when my hubby is deer hunting since I never know exactly when he'll walk back in the door–that depends on the success of the hunt.
The meat and beans for deer camp casserole slowly bubble in the slow cooker. I can throw those in while he's off deer hunting in the early morning. When he comes home at lunchtime, I assemble the rest and pop it in the oven while he cleans his equipment.
This is a simple recipe. He takes along the ingredients even when he goes away to deer camp. It's a big hit with the guys. The guys the hearty flavors and it really sticks to the ribs and warms them up after hunting.
Deer Camp Casserole
Ingredients:
1 lb. ground meat (I used 85% lean beef – you could use ground turkey or venison if you have that on hand)
1 jalapeno, finely diced
diced tops of one bunch of green onions. These were left from when I used the bottoms for my Bulleit Bacon Bourbon Jam–I promised y'all I was going to use them up! You could also use a yellow onion, but we prefer the very mild onion flavor of the green onions.
1 tbl. of homemade chili seasoning
2 cans of chili beans, whatever heat you like–we used regular heat
1 1/2 cup Monterey Jack or Cheddar shredded cheese
1 boxed cornbread mix (and whatever measurements the box calls for)
Directions:
Brown the ground meat in a skillet. Toss the green onion tops in to wilt down just a little bit.

Cook the ground meat through and add the green onions to flavor it as it cooks.

Drain the meat and onion mixture and add it to your crockpot. Add the two cans of beans, the chili seasoning, and the jalapeno. Set the crockpot on low and let it go at least 4 hours. If you need to go longer than 5 hours, set it to the "keep warm" setting.

Simmer Deer Camp Casserole in the crockpot for four to five hours

Bake the cornbread in a greased 8×8 glass pan. Follow the package instructions. I also layer cracked black pepper over mine to add a peppery bite.

Bake off the cornbread before you add the meat and beans. I like to crack black pepper over the cornbread batter.

When the cornbread is done, layer the beans and meat mixture over the bread, spread it evenly across the top.

Layer the meat and bean mixture evenly over the baked cornbread.

Sprinkle the shredded cheese across the top of the pan. Place back in the hot oven until the cheese melts.

Cornbread, ground beef, beans, and bubbly cheese. Deer camp casserole.
Serve this with sour cream and chives. It's absolutely delicious. Enjoy!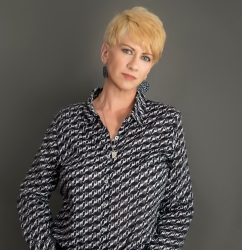 Latest posts by Deborah T
(see all)